It's all becoming clear to me: Labour must choose a candidate from the younger generation as its next leader
The party needs someone who believes in wealth creation as well as fighting inequality, and who recognises that the sweet spot of British politics is still in the centre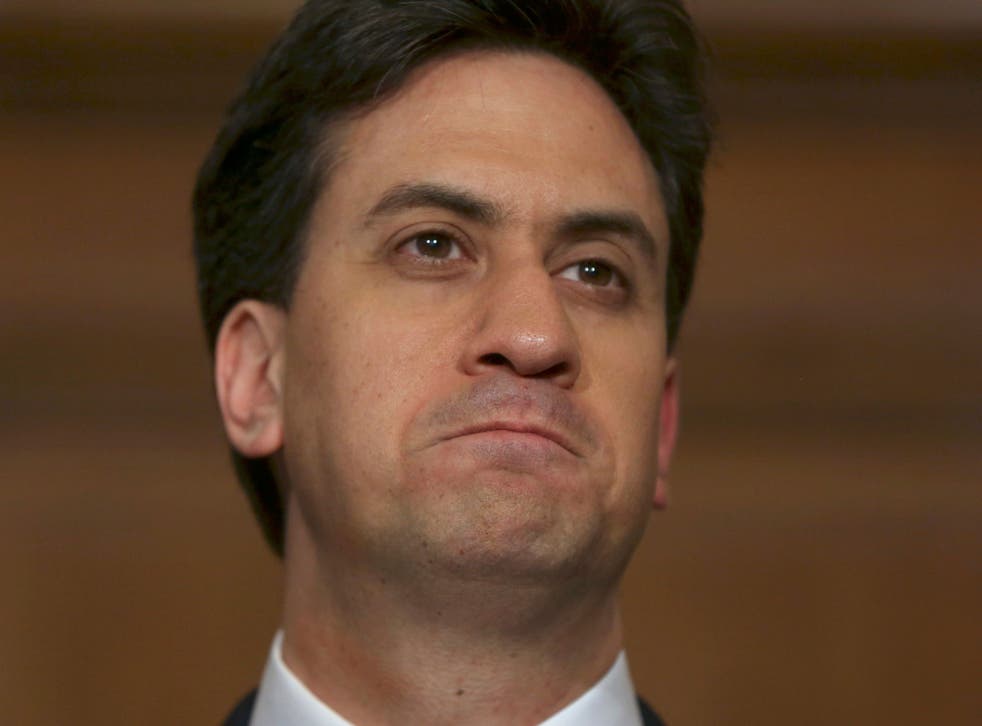 My optician gave me some surprising news last week. A few years ago, I started to become short-sighted and for the first time needed glasses. But when I went for my latest check-up, I was told I am becoming long-sighted with age. As this long-sightedness approaches, it is beginning to cancel out my short-sighted problem. This quirk in my vision means that, as these two things cross over, my eyesight will be, for a few months at least, better than it has been for years.
I was reminded of this cheering news early on Friday. For the first few hours after the polls closed, until the broad rump of the results came in, senior Labour figures were publicly insisting that Ed Miliband did not need to stand down. We must wait for the actual results, they said, not wanting to see what was right in front of them. By breakfast time, the scale of Labour's defeat was clear. As there always is for the losing party on election nights, there was a crossover moment, a bit like my eyesight, when Labour figures dropped the pretence and short-sighted denial and saw things clearly. But, the further on from the result we get, is the Labour Party going to lose its vision again?
Two of the front-runners for the Labour leadership are Yvette Cooper and Andy Burnham. Cooper was elected in 1997, Burnham in 2001. I am not someone who succumbs to the cult of youth, but I believe Labour would be heading for another five years in opposition after 2020 if it does not choose a candidate from the younger generation. This is not about actual age – one of the possible contenders who I believe could win is Liz Kendall, who, at 43, is only two years younger than Burnham. It is about a fresh start, articulating renewal, and, as Alan Johnson said, the future.
If Labour wants to win power in 2020, they cannot have someone who arrived in Parliament two decades earlier, served under a prime minister who won three elections and then sought to distance him or herself from that same prime minister. As it was, the 2010 election was heavy with Labour's dynastic baggage, direct descendants of Tony Blair or Gordon Brown: Ed Balls, Ed Miliband and David Miliband. Sure, Kendall was a former special adviser to a Blairite health secretary, Patricia Hewitt, but her arrival in Westminster in 2010 means that she can legitimately put distance between her old boss and any candidacy. Critics of Chuka Umunna, a strong front-runner this weekend, say he has travelled the journey from Compass on the left to the Blairite right of the party. I would see this not as a fault but an advantage. He is a potential unifying force and looks like a winner. Tristram Hunt, who has the out-of-the-blocks advantage of simply looking like a prime minister, sent a clear message to the modernising wing of his party when, at 1.27am on Friday, he admiringly described Will Martindale, Labour's unsuccessful candidate in Battersea, as a "wealth creator".
At the same time, while the contenders should be free from any Blair/Brown hereditary privilege, they cannot deny their most successful leader. Crucially, any candidate who puts themselves forward can win only if they see the Blair era not as an aberration but a model for success. Those who try to move away from Blair do so because of everything he did post-2003, including Iraq. This is a short-sighted assessment of history, because it fails to see what Blair actually did pre-2003, which was to win two landslides from the centre ground.
While Blair didn't have a collapse in Scotland on his hands, I believe that Labour can recover some seats by 2020 as voters start to feel disaffected with the SNP. Until then, Labour needs a leader who believes in wealth creation as well as fighting inequality, and who recognises that the sweet spot of British politics is still in the centre. It needs someone with clear, 2020 vision.
Living on in the Lords
I am still struggling to take in the sheer crushing defeat the Lib Dems suffered – losing 49 MPs. Their entire tally of eight MPs is smaller than the Labour leadership runners and riders. It is sad that the party of democracy has no female Lib Dem Members of Parliament, although in the House of Lords there are many fine peers, male and female.
There are 101 Lib Dem members of the Lords, and it wouldn't surprise me if the parliamentary party, in the next five years, recasts itself as a liberal conscience in the upper chamber, keeping a check on the new Conservative government's legislation. Given that the Lib Dems have been so keen on Lords reform, it would be ironic if the party's renaissance started there. But this is a party that has been taken to the brink of extinction several times – as Sir Menzies Campbell pointed out on Friday, it came back from near-death in the 1930s – and they know how to make the best of a bad situation. Since 7 May, more than 3,000 people have joined the Lib Dems. A reason to hold chins up.
29 per cent and counting…
Despite the loss of Lib Dem women MPs, the overall representation of women in the Commons increased by a third overnight, up to 29 per cent. This is brilliant news. Watching the results coming in, I noticed new women of all parties who look like they will be stars of the 2015 intake. The fight for more women must not stop until it reaches 50 per cent. I also couldn't help noticing how Justine Greening made a big John Majoresque pitch in her acceptance speech in Putney about "levelled-up Britain" and highlighting her comprehensive-school, northern background. While we've all been looking at Theresa May as the state-educated alternative to Boris Johnson as the next Tory leader, have we failed to notice that Greening could be a contender in 2020?
Webb's consolation prize
Just one final thing about the Lib Dems: Steve Webb, who lost his seat in Thornbury and Yate, was the architect of the coalition's pensions reforms which allowed people to cash in their annuities before retirement. MPs no longer receive "golden parachutes" or resettlement grants after leaving Parliament, but they still get generous pensions and "winding up" expenses. Perhaps Webb could take his own advice and buy a Lamborghini?
Join our new commenting forum
Join thought-provoking conversations, follow other Independent readers and see their replies