ITV leaders debate: what you missed if you were down the pub – a poor-quality pub discussion
Our Chief Political Commentator watched the party leaders – minus Theresa May and Jeremy Corbyn – so that you didn't have to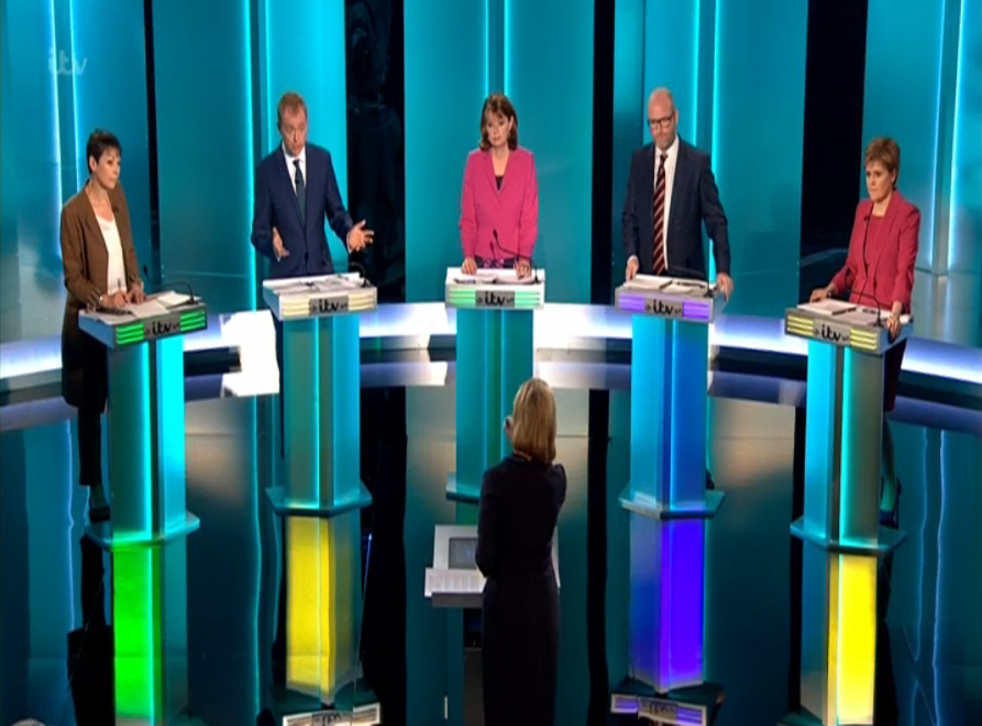 It was like BBC Question Time without the jokes. At least on Question Time they sometimes have experienced, confident politicians who can be funny. Unfortunately they also book comedians who tend not to be funny, but that is another complaint.
My complaint about this programme is that it was not very interesting. Five minor party leaders discussing what Theresa May should be doing was less interesting than a discussion among random people on Twitter or down the pub. The problem was that there was no purpose to it. Two of the leaders represent devolved nations and explicitly reject any role for their parties in the government of the UK. One represents a party that has nine MPs, one more than the Democratic Unionist Party, which wasn't represented. One co-leads a party that has one MP, namely her, and the other represents a party that has no MPs any more and has just touched 2 per cent in an opinion poll, behind the Greens.
Still, at least Paul Nuttall of Ukip provided something like jokes, albeit unintentionally, getting Leanne Wood's name wrong twice and allowing Farron to play the game of goading him to bring every question back to the subject of immigration.
The five find-outers tried fitfully, when they remembered, to direct their remarks to She Who Should Be Here. "I want to address the person who isn't here and who should be here," said Tim Farron, telling an imaginary Theresa May that he has a plan to put a penny on income tax for the NHS.
He spent the opening exchanges on Europe complaining about "Theresa May's Brexit plan, backed by Jeremy Corbyn". But after that Corbyn was the absent party who got away with not turning up to the show. He was a good demonstration of the social rule that, if you don't turn up to an event, no one will spend very long asking why you are not there.
They couldn't even keep up the attack on the Prime Minister, because it was always more interesting to attack each other. Mostly it was the four of them having a go at Paul Nuttall of Ukip, except when Caroline Lucas launched unprovoked, fierce and frankly puzzling attacks on Tim Farron.
As happened in the seven-way debate two years ago, Wood and Nicola Sturgeon were the most impressive performers, but most viewers couldn't vote for them. Sturgeon's act is completely transparent, but no doubt effective. She complained about the benefits freeze across the UK even though her government has the power to do something about it in Scotland and even to raise taxes to pay for it. She did her clever bit of saying she didn't know much about education in England but she didn't think you improve education by taking food out of the mouths of children. This ought to sound hollow to anyone who lives in Scotland, who knows that schools there are falling behind and that the SNP has been responsible for them for nine years.
So the one politician on the show who has executive power refuses to use it and spent her time criticising the conduct of a government with which she wants nothing to do. She and Farron and Caroline Lucas agreed with each other, attacking "extreme Brexit", although everyone knows they can't do anything about it. It was interesting that Wood didn't join in: this might have had something to do with Wales voting to Leave.
But you might as well have spent the evening listening to the person next to you in the pub telling you what's a disgrace and what the government ought to do about it.
Join our new commenting forum
Join thought-provoking conversations, follow other Independent readers and see their replies