Why I'm glad Ivanka Trump is now leader of the free world
It is a bit like having a Democratic advisor by proxy when Ivanka gets to have a say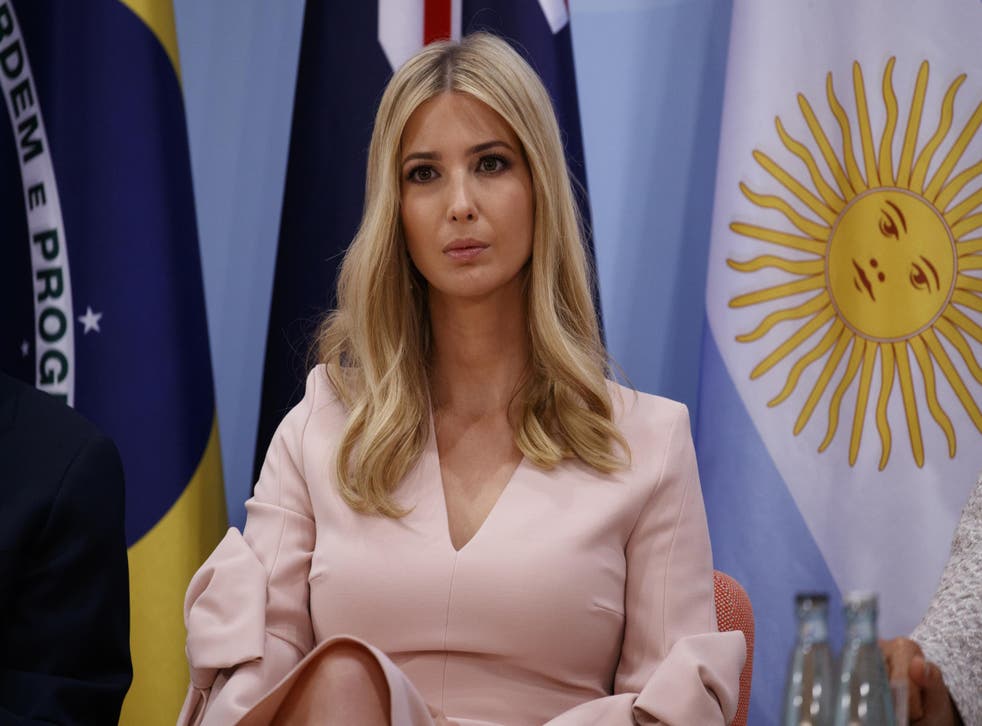 Maybe someone told Donald Trump it was "Bring Your Daughter to Work Day", but seeing images of Ivanka Trump wedged between the Prime Minister and the President of China at the G20 Summit is certainly arresting.
People used to say that the Trump presidency was beyond parody – which was true – but it's now gone beyond the known parameters of parody. We're barely six months in to Trump's reign: whatever next?
Still, given everything, maybe we should be grateful, pragmatically, that the First Daughter was up there at the most bigly of diplomatic top tables. She is, by all accounts, more level headed and far less insecure than Daddy, and we all know of her principled interventions on Syria.
G20 Protesters take Hamburg

Show all 8
She is smart where her dad is challenged; charming where he is a boor; humane where he is heartless. It is a bit like having a Democratic advisor by proxy when Ivanka gets to have a say, or at least there's a White House where someone isn't another "yes man" massaging the gigantic Trump ego and nursing his insecurities.
So Ivanka is "a good thing". Maybe she'll get him to ease up on the Mexican wall, protectionism and climate change. Maybe.
Still I would concede it is constitutionally problematic. Ivanka holds an official title as an unpaid adviser to the President, but she ranks way down the order of precedence when sitting in for the President. We've really not seen a White House quite like this where the President runs things like America is just the new family business, but there are some partial precedents. Not even the Kennedy brothers were as nepotistic as this, but their absolutely loyal blood relationship was key to JFK's brief administration. Bill Clinton gave his wife health care policy to deal with, a much more outrageously unconstitutional action than Trump asking his daughter to take his place at one meeting.
Woodrow Wilson, a century ago, preferred his wife to run affairs after he had a severe and debilitating stroke, because he disliked his vice president so much he didn't want to have him take over. No one told the country though. Eleanor Roosevelt's undoubted power in the Franklin Roosevelt years, and Nancy Reagan's sway over Ronnie, were maybe the closest parallels to the Ivanka situation.
Angela Merkel eye-rolls at Vladimir Putin during conversation at G20 summit
Tragicomically, President Jimmy Carter once told the nation that his approach to geopolitics was informed by what his 12-year-old daughter Amy said to him. This did not assist his attempt at re-election.
So, first families have always mattered more than many people care to think. With a hereditary unelected head of state, families are a natural way of doing business, as when Kate Middleton took over from the Queen as patron of Wimbledon, and Prince Charles stood in for Prince Philip at the state opening of Parliament. With an elected head of state, such as President Trump or President Macron, say, the role of wives and relatives are always going to be trickier because they have a real human relationship with the politician but normally no constitutional or political standing. Filial bonds cannot be undone by legal convention. Thus, it is an untidy state of affairs that can't really be helped. Sometimes it works well, sometimes not.
On balance, Ivanka is probably a bonus for the G20. Maybe she will one day be there in such global forums in her own right as an elected president. Why not?
Join our new commenting forum
Join thought-provoking conversations, follow other Independent readers and see their replies