Before Jeb Bush can 'fix America', he's somehow got to fix his own abysmal presidential campaign
Out of America: The Bush brother who was thought to be a shoo-in for the Republican nomination is facing a meltdown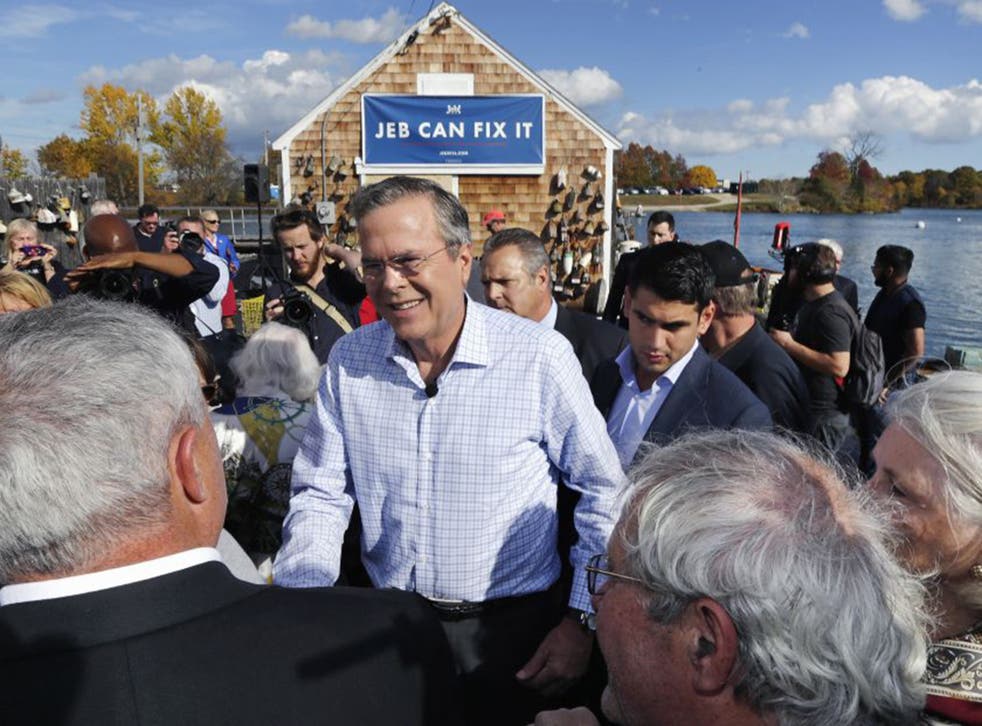 In the wake of his miserable showing in the Republican debate last week, Jeb Bush rolled out a new and grimly apt campaign slogan on Friday in New Hampshire, the early primary state he probably has to win if he is to have any chance of securing his party's 2016 nomination. "Jeb Can Fix It," it proclaims. But fix what? Before he can fix the country, he's somehow got to fix his own abysmal campaign.
The Bush family political network and the Jeb financial juggernaut, it was assumed, would cow every serious rival. Jeb seemed to think so too. Rarely, though, has a candidate come across as so vapid, and never can one have so utterly misjudged the mood of his party.
Jeb Bush is a nice guy and a serious guy, who once was a very able politician. By common consent, he was a successful governor of Florida, whatever you thought of his policies. Students of his family dynasty will remember that Jeb was the son that "Poppy" – George H W Bush – hoped and believed would make it to the White House, not that feckless rapscallion George Jnr.
Then came 1994. Against the odds "Dubya" won the governorship of Texas, but Jeb was defeated in Florida. Four years later Jeb did make it to the governor's mansion. But by then the battle of the brothers was over. It was George W, not Jeb, who was vying for the presidency in 2000. The younger sibling's role was simply to deliver his crucial swing state – which he did, but only just, and with a large helping hand from the Supreme Court.
Presidential prowess? Republican candidates in televised debate

Show all 10
However, it has been obvious for ages that the Republican base, those activists who turn out for primaries and caucuses, is not looking for nice guys. It wants candidates who vow to "tear down Washington" – which is why Donald Trump, the retired neurosurgeon Ben Carson, the former Hewlett-Packard chief executive Carly Fiorina, and the firebrand Texas senator Ted Cruz, are combining for about 60 per cent in most polls. Jeb has ambled on oblivious, stuck at single digits in the polls. He's talked about running "with joy", promising not to pander to neanderthal conservatives in the primaries – even though every Republican nominee in the past couple of decades has had to do so.
Even Bush père, a gentleman if ever there was one, used to hold his nose every four years and go into what he used to call "campaign mode", making outrageous assertions about opponents. Jeb, however, doesn't seem to be able to do "campaign mode" for long. And when he does, it's clear he hates every second of it.
Ditto the debates. "I'm not good at them," he freely concedes. "If you want an entertainer [read Trump] I'm not your guy." Instead, he's the one on stage with the nice smile and a reasonable approximation of gravitas, who finds it impossible to sneer, Trump-like, at his rivals, or harangue them as does Cruz. Instead he gets mauled by them.
Alpha-male Trump simply bullies Jeb. But not only Trump. Chris Christie, the pugnacious governor of New Jersey, had his best campaign moment so far by wading into Jeb after the latter had given a mildly humorous answer to a question about fantasy sports. "We're talking about fantasy sports," Christie erupted, "when the economy is floundering, millions don't have jobs, and al-Qaeda and Isis [Islamic State] are at the gates?"
Poor Jeb. But even that put-down wasn't his most excruciating moment. That had come earlier, when Bush half-heartedly attacked his one-time protégé, the young and charismatic Florida senator Marco Rubio, for missing votes in Congress. Crisply, Rubio turned the criticism back on Jeb, who was then left fumbling for a riposte as Rubio rolled right over him.
Mere debating points to be sure. But these are the incidents that determine debate winners and losers, who's on the up and who's on the way down, or out. Most embarrassing of all, the pupil had humiliated his erstwhile master, in front of a live television audience of millions. Politics is a cruel trade. But it doesn't get much crueller than that.
And even that's not the whole of it. When he entered the race last May, Bush was assumed to have the Republican establishment – party grandees, Congressional leaders, big business and Wall Street – all locked up. The nomination battle, it's been assumed almost from the outset, will boil down to a contest between a champion of the establishment and an outsider: be it Trump or Carson – or maybe Cruz, if voters conclude that a minimum of political experience is in fact required to beat Hillary Clinton.
The debate has only hardened the impression that Rubio is a much better "establishment" horse than Bush. Yes, Jeb has got $100m (£67m) in his political action committee coffers. But that money can't be used for direct campaign expenses, rather for generic ads. Far more important, on a day-to-day basis, are ordinary donors, whether small ones or the "bundlers" who collect hundreds of thousands of dollars from individuals in their fundraising networks and then give the proceeds to a candidate's campaign.
Bush's own fundraising has already stuttered to the point where he recently had to lay off hundreds of staffers and slash spending by 40 per cent. Now there's a risk his donors will defect to Rubio. If so, the game will be up. In fact, it may well already be.
Conceivably, Jeb will be able to fix things, but only by running a leaner, meaner campaign, and betting the ranch on New Hampshire, which looks like the friendliest of the early voting states. He'll surely stick around for a while: Bushes don't throw in the towel before a vote has been cast. But he comes across as a candidate from a more civilised political era that has vanished.
The lone consolation is that conventional wisdom has been mistaken at every step of the campaign. About the staying power of Trump, about the appeal of Carson… so why not about the resurrection of Jeb Bush?
Join our new commenting forum
Join thought-provoking conversations, follow other Independent readers and see their replies