Next week's crucial by-elections could signal the end for Jeremy Corbyn – he is right to be worried
If another Labour leadership battle ensues, Corbyn will realise he has lost much of his earlier support. His fan club in the party membership is appalled by his weak leadership over Brexit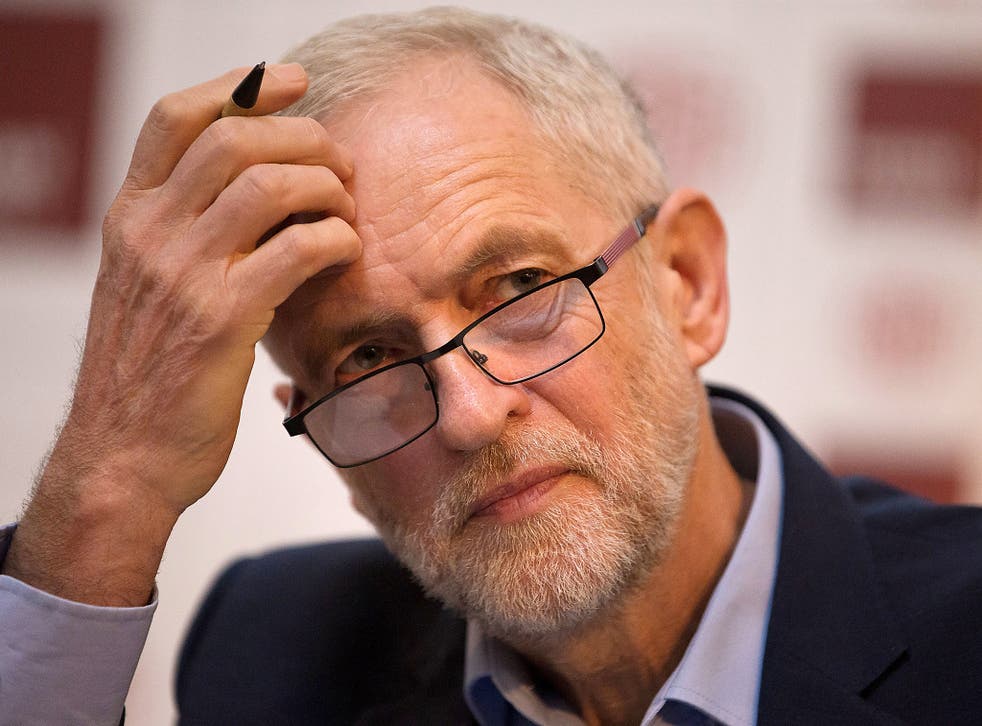 Their diary commitments reveal a lot about our politicians. Theresa May's decision to visit Copeland on Wednesday shows that the Conservatives believe they have a chance of winning next week's by-election there, which would be the first time a governing party had captured a seat held by the Opposition for 34 years. Jeremy Corbyn, meanwhile, is not expected to return to the Cumbria constituency – a signal that Labour is preparing for the worst. Instead, the party appears to be hoping to avoid a double defeat next Thursday by seeing off a real threat from the Ukip leader Paul Nuttall in the Stoke-on-Trent Central by-election.
If Labour loses either one of these two contests there would be another wobble about Corbyn's leadership. He will find that he has fewer friends than in his previous crises. Something important has changed among the Corbynistas: they know that their project – to translate the genuine surge of support for Corbyn among party members to the whole country – shows no sign of bearing fruit. If anyone still had any doubts then this week's YouGov survey dispelled them: Labour (on 24 per cent) not only trails the Tories by 16 points but is in third place behind Ukip among working-class voters, highlighting Brexit's devastating effect on Labour.
"Team Corbyn knows it's not working; they are starting to blame each other," one Labour official said. This explains Corbyn's decision to sack his ally Jon Trickett as the party's election campaigns coordinator. But the problems go right to the top. Corbyn has proved incapable of sticking to a strategy or even a media plan, as shown by his quickly aborted attempt to say he was "not wedded" to EU free movement. He retreated before he had even formally announced it after Diane Abbott kicked up.
Nigel Farage's Stoke speech in 60 seconds: Banner banter and a £1,000 bet
At the same time, Corbyn has alienated some of his fan club among party members, appalled by what they regard as his weak leadership over Brexit. Pro-EU Labour MPs agree. Bizarrely, some now find themselves feted for voting against triggering Article 50 by left-wing activists who until last week were out to get them.
Critics believe the Labour leader could have extracted more concessions from the Government by threatening not to back the Article 50 in its final third reading vote. However, Corbyn would probably faced an even bigger backbench rebellion if he had played with fire in this way. With pro-European Tories unwilling to rock the boat, there was no guarantee of Labour defeating the Government.
There is a growing view across all sections of the party that Corbyn should not lead it into a 2020 general election. But in the crazy world of Labour, that does not mean he won't. His closest allies might not allow him to stand down even if he bowed to the inevitable by admitting he is not the right man for the job. First, they want to secure a rule change at the party's annual conference this autumn which would ensure a left-winger would be on the ballot paper in a future leadership contest (by reducing the number of nominations a candidate needs from 15 per cent to 5 per cent of Labour MPs and MEPs).
If this change were passed, Corbyn would almost certainly resign. Team Corbyn would hope to hand over the torch to a soulmate, the current flavour of the month being the untried Rebecca Long-Bailey, the shadow Business Secretary. But with party members cooling towards Corbyn, someone from the non-Corbyn soft left might have a better chance of winning: either Clive Lewis, who quit the Shadow Cabinet to vote against invoking Article 50, or Lisa Nandy, who would probably form a dream team and not run against each other.
Ukip's Paul Nuttall launches by-election campaign in Stoke
From the centre of the party Chuka Umunna would stand, and Yvette Cooper might offer herself as the unity candidate. Other Corbyn critics believe centrists should build bridges with the soft left and rally behind Nandy or Lewis as the only way to bring the party together and avoid a devastating general election defeat.
However, the anti-Corbyn forces are mobilising against the proposed rule change in order that MPs and MEPs could prevent a hard left candidate running for the leadership. If they block it, as they might well, then Corbyn's inner circle would tell him to soldier on for the sake of the left rather than stand down and risk handing the levers of power to a non-believer. So with Labour deadlocked, a weakened Corbyn could limp on, even to 2020. As one soft left MP put it: "It would like the closing scene in the film El Cid, where Charlton Heston's character is dead but his body is nailed to his horse and still leads his army into battle."
What a sorry state Labour is in, and there seems no escape.
Join our new commenting forum
Join thought-provoking conversations, follow other Independent readers and see their replies