Owen Smith wanted to be a slick version of Jeremy Corbyn – but he's ended up as a dodgy sexist copy
Smith has been captured telling Plaid Cymru leader Leanne Wood that her 'gender helps' her get TV coverage. He labelled himself the 'normal' candidate with kids when standing against a woman who is openly gay. And yesterday he called for Labour to 'smash Theresa May back on her heels', while simultaneously accusing Jeremy Corbyn of being responsible for misogyny in the Labour Party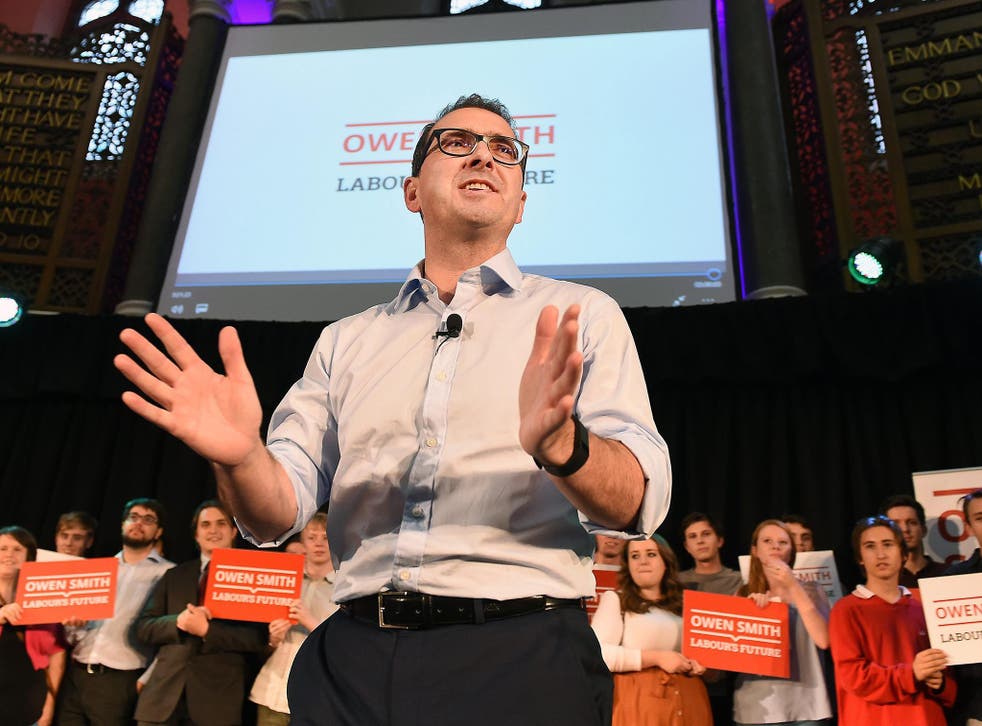 Believe it or not, it's been just over a week since Owen Smith emerged as the Parliamentary Labour Party's "unity candidate". But even the most ardent opponents of Jeremy Corbyn have been somewhat disappointed by Smith's campaign. One MP – who is backing him – has been rumoured to have suggested that his chances of success register at "below one per cent". And with Sarah Champion rejoining the Labour front bench in recent days after resigning just two weeks ago, it seems that the futile attempt to oust Corbyn may be falling flat.
Smith seems to be having difficulty finding what he stands for. You read the morning briefing and it all seems as though he's very continuity-Corbyn. By dinner time, he's saying that the current Labour leader and Tony Blair have a lot in common. Yes, it's difficult to keep up with. He seems to move from one position to another with great ease. Smith will jump from suggesting Corbyn is part of a hard-left clique to arguing that he hasn't embraced radical policies in the space of an afternoon.
It's hard not to notice that much of the attacks against Jeremy Corbyn have focused on personality rather than politics. In his Newsnight interview on Monday, Smith spoke of the "worry that Labour isn't serious about security, that it's a lesser issue for Jeremy", before bringing his "patriotism" into question. But just because Corbyn declines the opportunity to incinerate hundreds of thousands of people with nuclear weapons, should we therefore see him as anti-patriotic?
In actual fact, all Corbyn talks about is security. He challenges the government every single day on their failure to provide UK citizens with the security of a decent home of their own, the security of work and employment rights, the security of a welfare system that is fair on disabled people, and the security of not having the rely on emergency food banks in 2016. This coded attempt to paint Jeremy Corbyn as somewhat anti-British is expected from the far-right, but not from a so-called comrade of the left.
And while much of this leadership campaign was supposed to focus on Smith being the smooth operator that Jeremy Corbyn apparently isn't, the contender has made a series of mistakes that serve to undermine his point of being the one able to take Labour's message to the country.
Smith has been captured telling Plaid Cymru leader Leanne Wood that her "gender helps" her get TV coverage. He labelled himself the "normal" candidate with kids when standing against a woman who is openly gay. And yesterday he called for Labour to "smash Theresa May back on her heels", while simultaneously accusing Jeremy Corbyn of being responsible for misogyny in the Labour Party.
Now, perhaps the Labour leader could do more to target sexism, but to suggest that misogyny has only existed within Labour since last September is wrong – and if Smith really cares about women within the Labour Party, then he shouldn't use their plight as a political weapon only months after sneeringly suggesting that the leader of Plaid Cymru got more air time than him because she was a woman.
But this isn't the only area Smith has been face-palmingly bad on. He's also accused Jeremy Corbyn – a lifelong champion and campaigners for rights at work – of running the Labour Party the same way the disgraced Mike Ashley ran Sports Direct. He yesterday accused John McDonnell of avoiding the issues of rights at work and never leading on this issue in the house. This also came after Owen Smith reiterated his opposition to zero-hours contracts by backing a one-hour contract. What a radical change indeed.
The most ridiculous claims made about Jeremy Corbyn

Show all 11
Even after releasing his twenty pledges, it was clear that much of what Smith was promising has already been supported – and, in most cases, suggested – by the current leadership. Given that this whole attempt on Corbyn's leadership is apparently about "competency", it really does beggar belief.
This whole contest was supposed to be about Smith positioning himself as a Prime Minister in waiting. After pledging to make Corbyn "President of Labour" it seemed that all he might actually have over Corbyn is a bit of PR skill. He's proved with recent gaffes that he hasn't even got that.
This act of pretending to be Corbyn while also attacking him personally will not work. At the end of the day, why would you want a dodgy copy of something when you can have the original?
Join our new commenting forum
Join thought-provoking conversations, follow other Independent readers and see their replies