Jeremy Corbyn's policies on women are impressive – and would be more so if they ever had a chance of being implemented
Considering that sexism is rampant on the left at this time – with women expressing their views being met with that notorious Twitterstorm of abusive and often misogynistic 'campaigners' – forgive me if I feel a little cynical about how all of this is going to work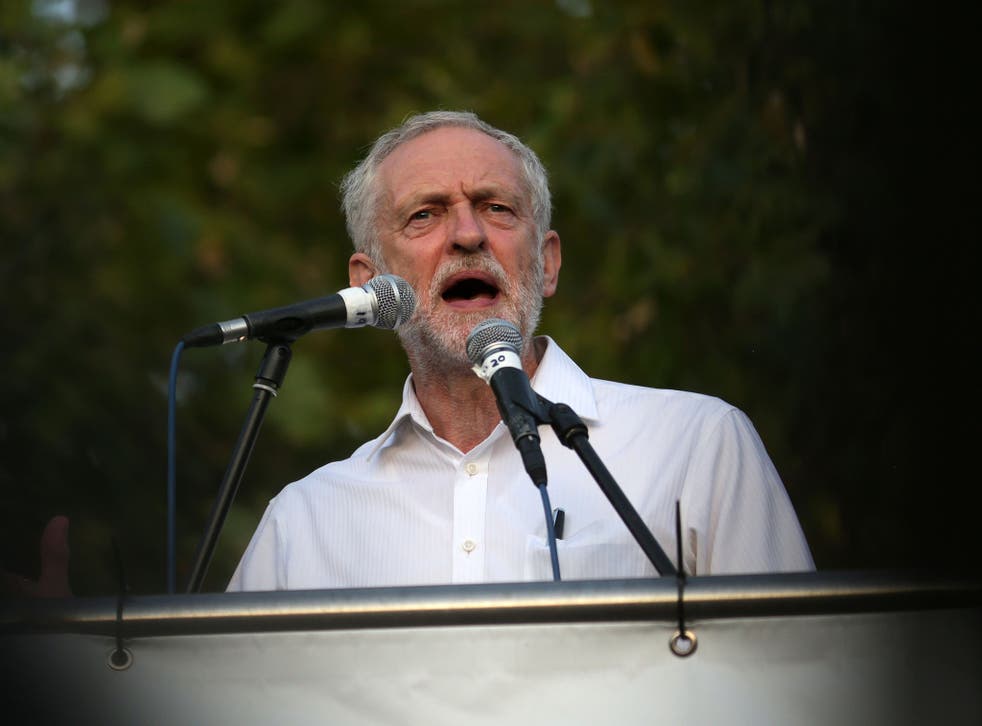 Last night, Jeremy Corbyn, along with Angela Rayner, Diane Abbott and Christine Blower, announced his women's policies. Personally I was rather sceptical about the event before I attended, given the issues with women within the Labour Party, and the constant vitriol towards them on social media. How could Corbyn possibly put forward a credible manifesto for women's rights when his own female MPs are subject to such abuse?
My mind was slightly put at ease after hearing Angela Rayner give an impassioned speech about her upbringing, her lack of any GCSEs over grade C, and becoming a mother at the age of 16. Discussing how Sure Start centres helped her to become a good mother to her son, and how the welfare state helped her to progress in life, it was clear that the Shadow Minister for Women and Equalities knows what she is talking about. I dislike the idea of a middle-aged man preaching to me about women's rights, but with Angela's support in that position, Corbyn's preceding words seemed more credible.
Diane Abbott made it very clear that Corbyn has been supporting women's equality and rights long before it was in vogue – he was discussing this issue when it was still an "other" to the politicians of the time.
Jeremy Corbyn: We need to democratise the internet
So what does he actually stand for now? Corbyn remains committed to all-women shortlists, and wants to create an educational environment where women aren't just pushed towards traditionally "female" degrees or jobs. He provided a rather heart-warming anecdote about how a young engineer told him that his mother, as a teacher, had encouraged her into the sciences.
So far, so good – but how does one orchestrate a mass cultural shift? Considering Jeremy's movement is "like a genie out of the bottle, that isn't going back anytime soon" (his own words), is it possible that with his social mobilisation skills, he will be able to force a shift towards true gender equality?
Considering that sexism is rampant on the left at this time – with female MPs, reporters and everyday women expressing their views online being met with that notorious Twitterstorm of abusive and often misogynistic "campaigners" – forgive me if I feel a little cynical about how all of this is going to work.
Yes, the genie is out of the bottle – but with that has come a wave of misogynistic abuse that also cannot be contained. Arguably, the situation has gotten worse – and Jeremy's plan was rather thin on the ground in terms of putting forward a plan of how to actively tackle this reactionary slide back into politically driven misogyny. In Luciana Berger's most recent interview, she described a website that has reportedly been set up purely to discuss how much of a "filthy Jew bitch" she is.
Labour leadership contest: Jeremy Corbyn vs Owen Smith

Show all 8
Other policies included achieving equality within the workplace and providing vital funding for domestic violence and rape shelters. The policies, all in all, were very fair, well thought through and rounded – nothing extremist or particularly surprising.
With 67 per cent of Labour women surveyed claiming that they would vote for Corbyn, he can rest assured that his years of gender equality activism in the past have paid off. However, activism is one thing – implementation is another. If Corbyn is unable to convince the electorate following his assumed victory over Owen Smith in the leadership election, such vital reforms will never see the light of day – and the Tories aren't exactly spearheading a similar campaign anytime soon.
Corbyn's plan is comprehensive, tangible – and has the support of many women. But unless he can convince us that he is as strong a party leader as he is an activist, such policies will simply gather dust.
Join our new commenting forum
Join thought-provoking conversations, follow other Independent readers and see their replies