Lady Gaga's fans expected political defiance at the Super Bowl – but they got protest by subtlety
What a chance this was to sound a discordant note against a US Government that stands for everything Lady Gaga is not. And what a shame it was lost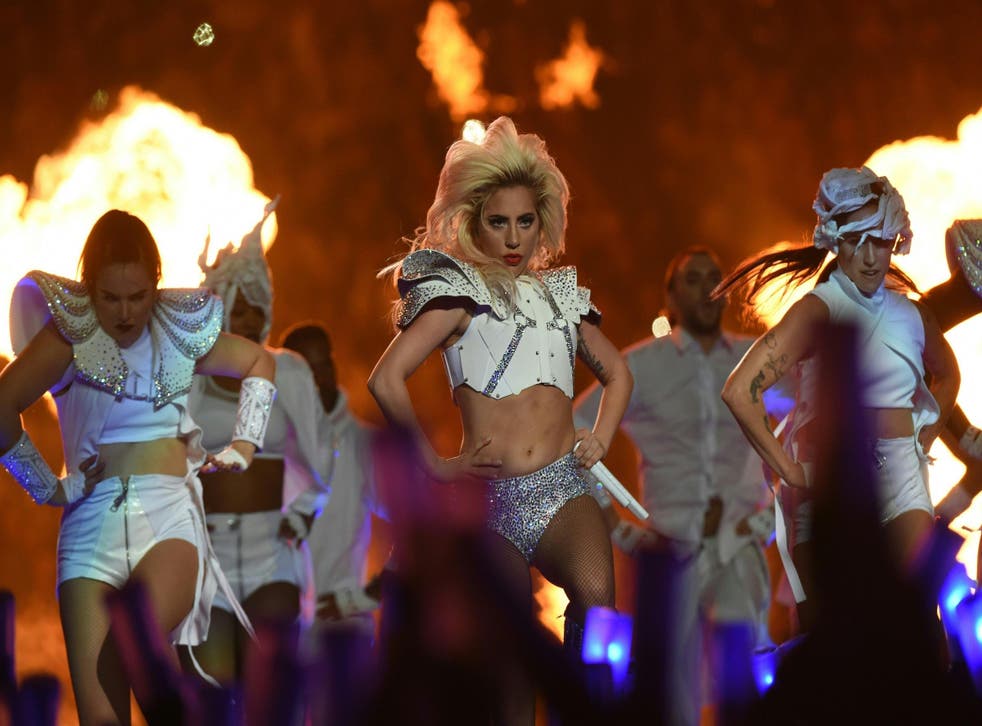 The first time I saw Lady Gaga live I was 15 and infatuated with her and everything she stood for. She was bold, unapologetic and an incredible performer. Despite attacking a piano with her stilettos, her voice transcended the occasion; she completely beguiled the audience. I remember leaving the concert in a daze because what I'd witnessed had shaken me. The whole event radiated a message of acceptance and defiantly celebrated individuality. To a teenager who was undergoing those natural feelings of inadequacy, it was an unbelievable feeling to be part of it.
In contrast her performance at the Super Bowl this weekend was painfully underwhelming. And that's difficult for me to say, because I'm one of many who felt let down by her yesterday.
Ahead of the show, Lady Gaga promised fans a performance that would be "inclusive" and celebrate the "spirit of equality". The sponsors of the show, Pepsi, said it would be "uniquely Gaga".
Lady Gaga jumped from the roof at the Super Bowl
As a musician, Lady Gaga has always represented rebellion. From her first break into music she undermined the expectations of fashion and pop music. Who can forget her iconic meat dress at the 2010 VMAs, or her controversial electronic ballad to Judas? For her latest career move to be so significantly underwhelming is baffling.
Even her voice felt lacklustre. Boasting of the most powerful set of lungs in the industry, she barely gave the Super Bowl audience a taste of its potential. Perhaps the choreography got in the way – there are of course certain entertainment expectations of the half-time show – but I would have much preferred to see her at a piano and listen to her voice rippling through the stadium.
Her vows to incorporate equality and inclusivity sparked rumours of a highly politicised performance, a show that would tackle President Donald Trump's threats to LGBT rights and racial inclusivity. That is exactly what I, and most of her fans, took to mean "uniquely Gaga".
What we saw was the protest of subtlety, which has never been her style.
Admittedly she began the half-time show with a poignant medley of 'America the Beautiful' and 'This Land is our Land', which some were quick to label a challenge to Trump's Muslim travel ban. But where was the dialogue with her audience?
Lady Gaga performs at Super Bowl LI

Show all 24
During her 2009 Monster Ball tour, Lady Gaga intertwined music and conversation throughout the night, breaking from song to shout messages about self love and acceptance. Her Super Bowl performance felt like a PG film with a few sex jokes left in for the parents.
The strongest moment of the show was her choice of 'Born This Way'. The lyrics – "No matter gay, straight, or bi/ Lesbian, transgendered life/ I'm on the right track baby" and "No matter black, white or beige/ Chola or orient made" – were everything her fans wanted. Where was this defiance elsewhere? A performance full of these moments would have been controversial and progressive. More than that, it would have been iconic.
Past Super Bowl performers have set the bar for merging politics and music. The staggering numbers of eyes across the world trained on this annual spectacle means it has become a political platform too. What a chance this was to sound a discordant note against a US Government that stands for everything Lady Gaga is not. What a shame it was lost.
Join our new commenting forum
Join thought-provoking conversations, follow other Independent readers and see their replies