Letters: Tax credits and a Chancellor who can't do the sums
The following letters appear in the 21 October edition of The Independent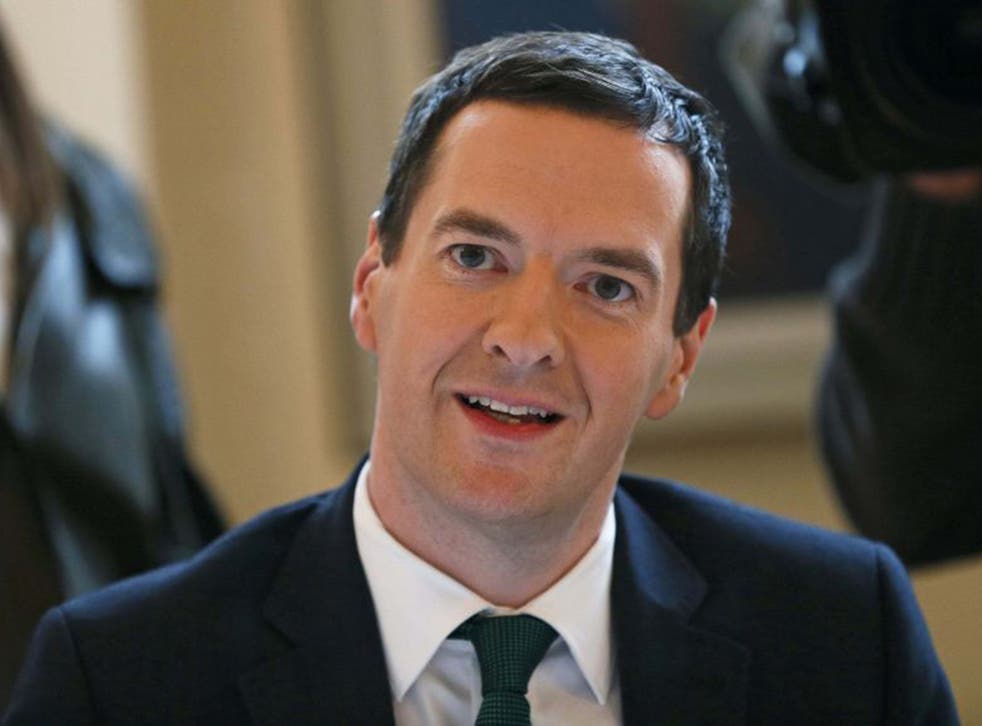 The debate on tax credits may force George Osborne to change tack, pull a rabbit out of the hat, or plough on regardless. Whatever happens it is clear that the economy is not safe with the Conservatives when the Chancellor and Prime Minister cannot do the basic sums and realise their proposals will leave millions of families up to £1,200 a year worse off.
Despite reputable bodies saying the sums do not add up they just keep repeating the same mantra: our introduction of the living wage and raised tax thresholds will mean workers are rewarded.
If the Chancellor, the Government and Iain Duncan Smith were not so blinkered in believing it has to be cuts or nothing, they might consider alternatives. Make zero-hours contracts illegal. Make companies making millions in profits pay at least a living wage (this is different from the living wage Cameron keeps talking about) and start to listen to the critics as well as their supporters.
The Government talks about "one nation" but is making the gap between haves and have-nots greater than ever.
Graham Jarvis
Leeds
Steve Richards (20 October) compares the working tax credit cuts to Margaret Thatcher's tax cuts. He is right in terms of its impact on the poorest, but not in terms of its political impact.
Mrs Thatcher was nearing the end of her political life: the poll tax, coupled with Europe, caused her to be replaced as Tory leader. Tax credits and Europe are two banana skins for the present government, but there is one massive difference. Then there was a Labour Party on the rise and increasingly being seen as an alternative government. Now Labour has placed itself way outside the mainstream and it is difficult to imagine how many banana skins the Government would have to slide on before Jeremy Corbyn was seen as a prime minister in waiting.
Stuart Russell
Cirencester
Freezing working age benefits will mean lower living standards for millions. Far from being unsustainable, welfare entitlement needs to be encouraged in a low-wage, high-rent economy. Why should people go without because they cannot find a better paid job or a cheaper home?
The living wage will not improve matters for more than a year. What happens to families in the period between?
Gary Martin
London E17
Civil partnership for opposite-sex couples
The three million opposite-sex cohabiting couple families in the UK should keep an eye on the House of Commons this week.
A Ten Minute Rule Bill today by Tim Loughton MP will propose changing the law to permit these "happily unmarried" couples to enter into civil partnerships. Currently, only same-sex couples can enter into a civil partnership, but MPs from across Parliament, including Stephen Twigg, Caroline Lucas, and Andy Slaughter, agree that the law as it stands is nonsensical on this point.
And the courts also agree that there are questions over whether the current policy contravenes the UK's equality legislation: permission has been granted for a judicial review to take place next January.
There are many men and women who don't feel comfortable with the symbolism and cultural baggage of marriage, while others have had negative experiences that have turned them away from the institution. Yet for refusing to marry, they are denied the same legal and financial rights as couples who do.
For example, unmarried partners (even those with children) do not qualify for the inheritance tax and pension benefits being showered by George Osborne on "couples" (married or same-sex civil partners). Many of these opposite-sex couples would like to qualify by registering a civil partnership, like same-sex couples who do not wish to marry.
We, supporters of the Campaign for Equal Civil Partnerships, just want equal treatment.
Charles Keidan

Ava Lee
Campaign manager, Campaign for Equal Civil Partnerships
Martin Loat
CEO, Propeller Group
Fiona Millar
Gemma Mortensen
Elsie Owusu
Dr Rebecca Steinfeld
Peter Tatchell
Robert Wintemute
Professor of human rights law, King's College London
Treat London's airports equally
Stewart Wingate (letter, 17 October) concentrates his focus on Heathrow issues and ignores those at Gatwick, where noise is a fundamental issue now.
We are told that planes are quieter now but in 2006 Gatwick received just under 5,000 complaints, in the same period of 2015 it has received just under 20,000.
Is it not time that we agree that London has five international airports on its edges, and simply improve the rail connections to each.
Gatwick is not in London and has the second worst railway line in the country, which can't be expanded, and the M23, that will be full by 2040 even without a second runway. Gatwick will cost taxpayers billions in infrastructure costs which has not been budgeted for by the Airports Commission. Spend the billions on rail, connect the whole country, reduce the carbon footprint of every passenger, and stop playing lip service to those who own airports that simply seek to benefit shareholders and not us on the ground.
Sally Pavey
Warnham, West Sussex
Permission for a transplant
Jeremy Laurance ("The state of donation", 20 October) gives a clear view of organ donation.
In about 40 per cent of instances where a patient had signed the organ donor register and then dies, his family or friends refuse to allow organs to be removed for transplant. In about 90 per cent of instances they regret this later on.
If when signing the organ donor register form the next of kin also signed it in support, this would strengthen the hand of the transplant team to transplant the organs despite some family or friends refusing. It is time that the NHS Blood and Transplant Authority amended the form to give space for this double permission.
Dr Chris Burns-Cox
Wotton-under-Edge, Gloucestershire
Long-distance grammar school
Further to Ian Driver's percipient letter (17 October), it is accepted by the Tory Education Secretary, Nicky Morgan, that Labour legislation in 1998 barred any new grammar schools. The new Sevenoaks grammar school is justified as an extension of an existing girl's grammar school in Tonbridge, over nine miles away.
Mrs Morgan said that "the proposal represents a genuine expansion of the existing school and that there will be integration between the two sites in terms of leadership, management, governance, admission and curriculum". Note the omission of reference to physical integration, which is a figment of the imagination. On the Morgan criteria an existing Kent grammar school could open an extension in Yorkshire.
I am afraid that the Education Secretary's decision was a political one to help the local electorate to avoid paying private school fees.
David Ashton
Shipbourne, Kent
How many Sydney harbours in Wales?
Kathy Marks, your Australia correspondent, introduced a new metaphor when describing a huge proposed coal mine in Queensland (16 October). The mine will be "one of the world's largest, covering an area seven times the size of Sydney Harbour".
Never having visited Sydney, I have no idea of the size of Sydney Harbour. The image of something seven times its size has no relevance for me. Would that be the same as 20 football pitches, or perhaps half the size of Wales, more usual measurements of area provided to your UK readers?
Jon Summers
Petton, Devon
Bishops finally face up to jihad
Too late, bishops of the Church of England have called for action to save Christians of the Middle East.
For decades they might have demonstrated their beliefs and heroism by rescuing Palestinian Christians; and Iraqi and Syrian churches during these three years of jihad. Having challenged clergymen on the threat to their brethren from Islamic militants I have met only with evasion and apathy.
That they try to appear as if they are taking action by shaming the Government is to their shame.
Rose Moloney
Moray
Remembrance of our war dead
Dai Woosnam may be assuming too much (letter: "First poppy of the year", 19 October). Every day is the anniversary, currently possibly the centenary, of the death of somebody who died in the Great War. I wear a poppy on 23 August. No patriotism (false or otherwise) – just remembering a family member.
Charles Cox
Worcester
Join our new commenting forum
Join thought-provoking conversations, follow other Independent readers and see their replies