EU nationals are pawns in Nicola Sturgeon's Westminster game
Please send your letters to letters@independent.co.uk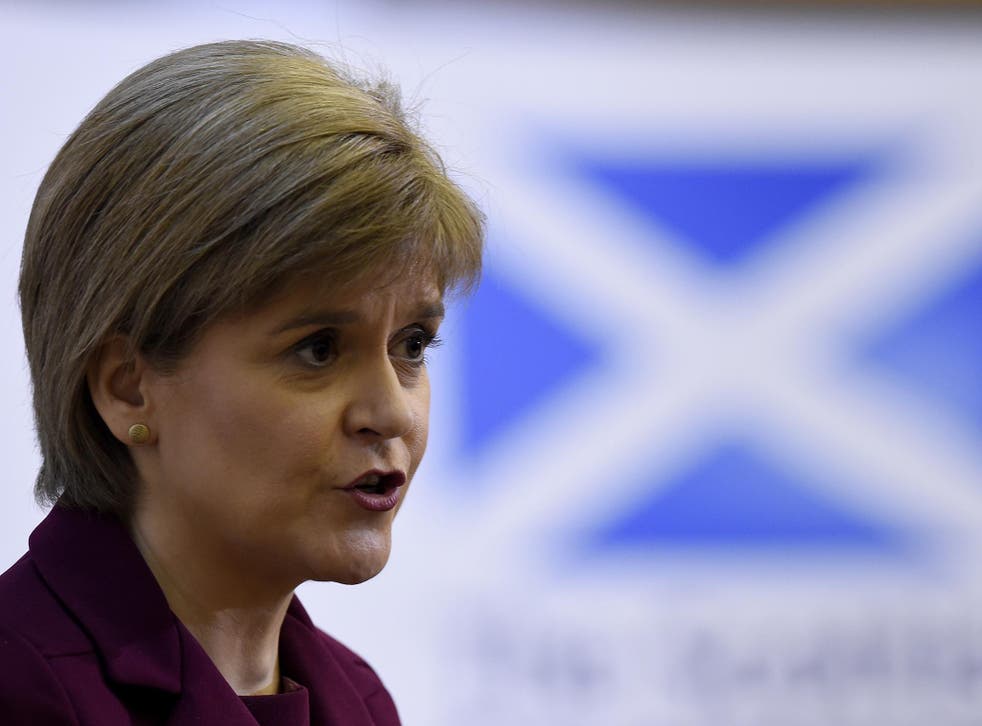 So Nicola Sturgeon is to host an EU national's event at Edinburgh Corn Exchange on 17 August. Why?
Immigration law is reserved to Westminster so Sturgeon has no authority in this legislative area. The reassurances she makes to EU citizens are not merely hollow rhetoric but misleading.
That said, not even Nigel Farage nor Boris Johnson has ever suggested EU citizens should leave – and Theresa May has repeatedly stated her clear desire and intention to protect the rights of EU citizens living here.
The nationalist leader is aware immigrant communities largely opposed her UK break-up dreams in 2014. So, with her focus always on yet another referendum, she now reaches out to them, thirsty for their votes. The tragic reality is Sturgeon is using EU nationals, at this time of political turmoil, as pawns in her relentless game of Them and Us with Westminster.
Martin Redfern Edinburgh
Jeremy Corbyn
Politicians and political commentators are so obsessed with who is winning that they are not taking account of the frustration that is shaping politics in the UK. It was evident in the referendum and again in the Labour leadership elections. A large part of the electorate is not convinced that the establishment are capable of governing the country fairly and competently. They see individuals out to grab power, act in their self-interest and unwilling to think through the consequences of their hastily prepared populist policies.
What they have failed to see is that Corbyn is gaining support not for radical left-wing politics, but for a different approach to politics.
Left to itself the Labour Party establishment would lose a third election because they have not stood up for principles that are fair and humanitarian. I suspect that the growing membership of the party is much more broadly based than anyone imagines. They will not select as candidates MPs who do not wholeheartedly support the principles that Corbyn stands for.
They should stop worrying about what they think voters might support and use Corbyn as a catalyst to change the party into something that the electorate can support.
Jon Hawksley London
Theresa May
As a geographer, as she strides across the Alps, the Nordic-walking Theresa May will be familiar with the idea of triangulation. It is a method which has become popular across the social sciences as a means of obtaining reliable evidence from several sources with little margin of doubt. The proposition that the PM could map a Swiss mountain of a majority is not as woolly as edelweiss. It is one as hard as Alpine rock, supported by three reliable sets of data.
First, there is The Independent's poll a month since she came to office (13 August) indicating that she is Britain's most popular politician. More importantly, she is rated in her own right, with no need to hold out a fluffy Boris toy to the voters. Her second reference point is that she is also soaring ahead in all the other opinion polls, by a wide margin, way ahead of anything David Cameron achieved. The triangle of proof is completed with Labour's free-falling poll ratings and Jeremy Corbyn's farcical descent into negative territory and a civil war with his own party.
She should translate it into an autumn general election, before the last rays of her glorious Swiss honeymoon fade. By November, the mercury will fall, with striking train drivers, doctors and teachers, along with dark economic clouds, just over the horizon.
Anthony Rodriguez Middlesex
All athletes should pass doping tests
I enjoyed reading and agree with Mary Dejevsky in her article "Banning Russia's Paralympians from Rio 2016 sends a terrible message about the rights of disabled people" on 12 August. Doping and other forms of cheating are not exclusive to Russian athletes. To blame all of a team's athletes for the alleged failures and violations is ridiculous and illogical. On top of that, denying the handicapped a chance to compete when they already have reduced chances to succeed in any society is amoral.
If the international Olympic and Paralympic committees want to prevent future doping scandals, they should require every athlete to pass doping tests – not just selected or randomly chosen athletes. Punishing Russia by preventing athletes from fairly competing sends the wrong message.
Michael Pravica London
Join our new commenting forum
Join thought-provoking conversations, follow other Independent readers and see their replies