Letters: Floods show depth of climate change denial
The following letters appear in the 9th December edition of the Independent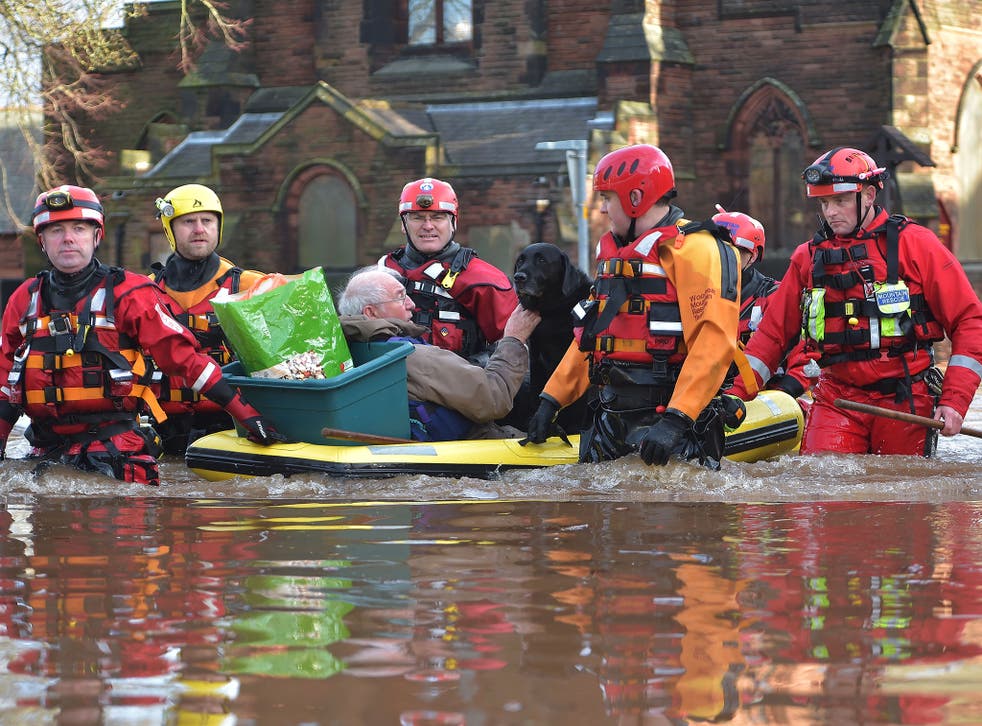 After the floods in January 2005, new flood walls were built throughout the city of Carlisle and those who had been flooded were told that the new defences were good for everything except for an occurrence of once in every 250 years. But it has happened again, after less than 10 years, with the River Eden rising half a metre above the new walls.
Where did the once in 250 years come from? Historical data? Clearly whoever made these forecasts overlooked the fact that we are now experiencing dramatic changes in our climate which mean that historical data is no longer valid. Is this not another form of climate change denial?
Ian K Watson
Carlisle
"China's next test is to square growth with the environment" says Hamish McRae (2 December), but China should have considered the environment before growing its economy.
China's headlong rush for economic growth has rendered its cities wholly unfit for human habitation, and especially dangerous for pregnant women. Roughly one death in five among the adult population of China can now be attributed to air pollution.
Despite all the fine speeches in Paris, China has 368 coal-fired plants under construction, and is planning a further 800. Society no longer needs to send armies to destroy human civilisation. It just needs to continue with business as usual.
Dr Robin Russell-Jones
Stoke Poges, Buckinghamshire
When it comes to combating climate change the debate is immediately dominated by cost. When it comes to war, cost hardly gets a mention, the pockets are endlessly deep.
Similarly, compare the rhetoric of the approaching apocalypse applied to the terror threat, with the restrained tones of doubt that still permeate the climate change debate.
The reality of course is that the real apocalyptic threat comes from climate change, and, as the floods in Cumbria so aptly demonstrate, it needs urgent attention now.
Paul Donovan
London E11
The Met Office has said that human-induced CO2 emissions made Storm Desmond seven times more likely to occur than if those emissions were not present.No single extreme weather event can be directly attributed to climate change, but the presence of CO2 in the atmosphere increases the likelihood of their occurrence.
The response to Storm Desmond shows that the UK government is woefully unprepared for the consequences of a warming planet.
While the major powers continue to pursue their immediate national economic interests, climate disinformation disseminated by think-tanks, big oil firms and mainstream media have made an effective global agreement impossible.
Alan Hinnrichs
Dundee
Watching Prince Charles argue piously for action against global warming at the climate change conference in Paris (report, 1 December), I had to remind myself that strangely there isn't a solar panel to be seen in his Poundbury estate, though he specifies what colour houses must be.
David Cameron, too, was in the line-up, despite having recently cut the UK's investment in renewable energy to the bone ("Green power plants 'will not be built' after subsidies axed", 27 November).
How refreshing to read that Mr Hollande, the host country's leader, is planning a joint project with India, to invest $1tn in solar-power generation in sunny but poor nations. Quite an example for the world, as well as showing us up for what we are.
Mike Joslin
Dorchester
Criticism of Sharia courts is ill-founded
Your front page report of 5 December claims that Sharia courts in Britain condemn many women to "marital captivity".
I have been an intern at the Islamic Sharia Council in Leyton for the past three years and strongly refute the claims made by the article and the study.
The ISC has always maintained a strict position on both domestic violence and violence against women. Whenever a case of domestic violence arises, the ISC encourages the woman to go to the police (if she hasn't already done so) and in some cases has contacted the police and relevant authorities itself in order to protect the woman and her children. Indeed, the vast majority of cases at the ISC involve some level of domestic violence, and this is a ground for divorce which many women choose to cite when applying for an Islamic divorce.
The ISC does not run on a parallel legal system as you say. It is made clear to clients from the start that they are only applying for an Islamic divorce and that they must go to a solicitor if they require a civil divorce. In fact, it is a requirement in our application form that a client has obtained or taken steps to obtain a civil divorce prior to seeking an Islamic divorce. The ISC does not rule on custody matters and this is clearly stated to clients, who are encouraged to seek legal advice from a qualified solicitor, whom we may refer them to.
The ISC has always maintained that it is open to collaborating with the relevant local authorities and police, and has done so over the last two years.
This article is very unhelpful to both the British Muslim community and the wider community, and I fear that it will result in an increase in Islamophobia and hate crime.
Maria Javed
London NW10
Women must be part of the curriculum
We urge the Education Secretary Nicky Morgan to reconsider her decision to strip the topic of feminism from the A-level politics syllabus (report, 20 November). The new draft syllabus has all but erased any reference to feminism. All that now remains is a shoe-horned reference to suffragettes and suffragists under the topic "pressure groups". This sends a very worrying message to both young men and young women that feminism has little to no place in politics.
The political history taught in schools is already biased towards the action of men. This, despite the fact that throughout history women have helped to shape our country, delivering significant achievements economically and socially.
It is vital that we recognise women as political thinkers, if we are to ensure that women are more equally represented in society. We passionately believe that this should start in the classroom. Yet the new syllabus refers to just one woman as a key political thinker, alongside 15 men.
We hope that the Government will consider our deep concern over the proposed A-level politics syllabus and revise the current draft accordingly.
Vivienne Hayes CBE, Women's Resource Centre
Frances O'Grady, TUC
Laura Bates, feminist campaigner and writer
Sam Smethers, Fawcett Society
Kate Green MP
Christine Blower, National Union of Teachers
Caroline Criado Perez, feminist campaigner and writer
Baroness Margaret Prosser
Bea Campbell OBE, writer
Lucy Powell MP
Baroness Joyce Gould
Marai Lasai, Imkaan
Jan Floyd Douglas, Rosa UK
Baroness Haleh Afshar
Lee Eggleston, Rape Crisis England and Wales
Mary-Ann Stephenson, former Women's National Commission
Melissa Benn, writer and education campaigner
Labour is the new nasty party
Jeremy Corbyn will doubtless be accused by rightists within the press and his own party of being "authoritarian" if he reshuffles the shadow cabinet, but he surely now has to act. The man just can't win, with his irredeemable New Labour enemies.
Their cynical calculation is that if they keep bullying, hectoring and manoeuvring for long enough, an exasperated 66-year-old will just throw in the towel, with Benn or Umunna ready to pounce. It is only through the indulgence of the establishment commentariat that these people are still able to wield such disproportionate, undeserved influence.
The nasty party aspects of New Labour must now be exposed for all to see: Blair's shamefully disloyal comment that he'd rather see Labour lose in 2020 than win under Corbyn; Charles Clarke's recent vicious public attack on Corbyn (on Any Questions); and the nasty vengefulness of those Tory-lite right-wingers who will never accept Corbyn's ascendancy.
Corbyn has nothing to lose now but to confront these destroyers head on, and "out" and shame them publicly. Indeed, it could well be the making of him as a decisive leader, and he would get massive support across the land for standing up to those New Labour nasties in his own nest.
Dr Richard House
Stroud, Gloucestershire
History revisited in Afghanistan
Here is a quote taken from The Times published on a previous Wednesday, 9 December: "The position of the British in Afghanistan does not appear to be one whit improved – for this plain reason, that whatever victories the gallantry of our soldiers may achieve, we have not acquired any hold on the affections of the people." The year was 1840.
Ron Paterson
Sheepscombe, Gloucestershire
Climate change in the garden
Let us hope that those who have written to you about mowing their lawns in December have not been using motor-mowers, the emissions from which would further contribute to global warming and necessitate yet more unseasonal mowing.
Duncan Howarth
Maidstone, Kent
Join our new commenting forum
Join thought-provoking conversations, follow other Independent readers and see their replies