Older people deserve better than Theresa May's manifesto
Please send your letters to letters@independent.co.uk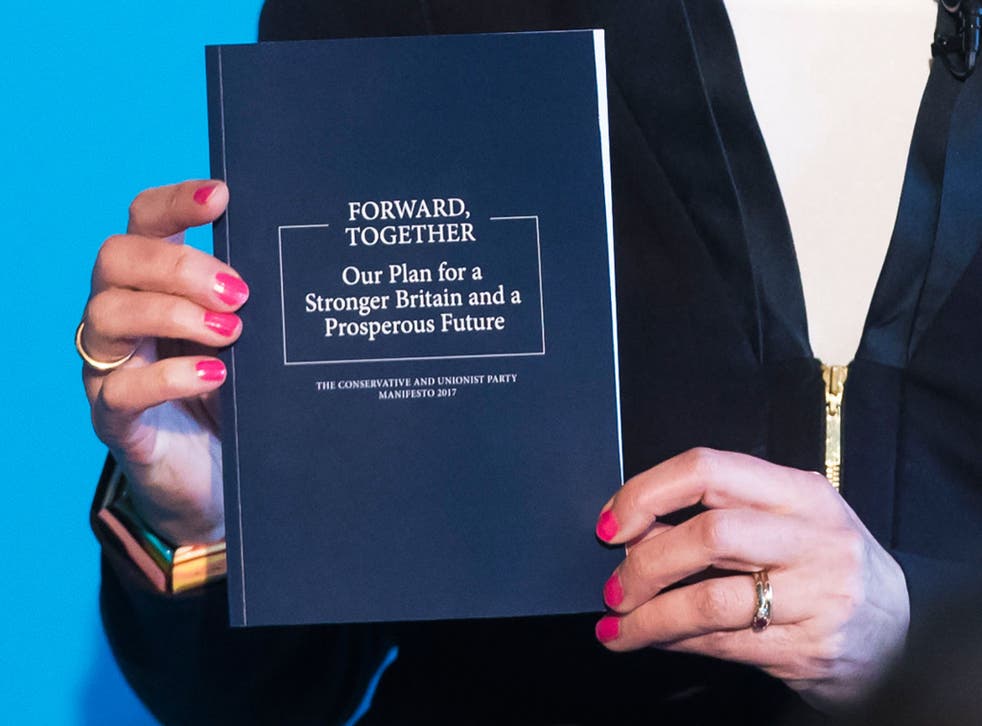 From the publication on Thursday of the manifesto from the party most likely to form the next government, it appears that once again an opportunity has been lost to properly address the social care crisis blighting this country.
Despite being told from all sectors that social care needs root and branch reform to end the plight of more than 1.2m going without the care they need, social care is still viewed as a Cinderella service. As Sir Andrew Dilnot commented, the latest proposals will not address the dire need for long-term better funding and ironically might put people off seeking care in their own home because they will now fear having to sell their home to pay for it. People needing care will still face the prospect of losing a huge proportion of their estate, even if it is now after they have died. Older people deserve better.
Mike Padgham
Scarborough
Winter fuel payments
Regarding the axe on winter fuel payments I agree that a form of means testing should be used in order to cut the payment to those "wealthy" pensioners who don't need it.
On the basis of the proposed means testing by only using pension credit recipients as those in need, many pensioners receiving only a government pension will lose what is an essential help to the cost of keeping warm during winter.
The Government is hardly likely to spend the necessary cash accurately weeding out those that don't "need" the cash because it will be easier, though grossly unfair using those in receipt of pension credit as a marker.
Name and address withheld
It has been observed that one of the greatest challenges faced by Britain today is our ageing population – a natural consequence of people being healthier and living longer. It seems that the Conservative Party have a plan to deal with this: by closing hospital A&E departments, by making healthcare generally less accessible, by stripping away benefits from the ill and the disabled and by forcing those most in need to choose between eating and heating.
What does the Labour Party have to offer, by contrast? Lifelong care for our whole population.
People need to consider this next month when they go to the ballot box.
Julian Self
Wolverton
Trump's trip to Saudi Arabia
The Saudis have thrown a lifeline to President Trump with an audience with Arab, Gulf and Muslim leaders. Do we really need to be lectured about Islam and how and what Muslims should do to thwart the scourge of violent extremism and extinguish the raging fires of terrorism? Is terror only confined to Muslim lands? Is Islam a radical ideology as Trump exclaimed during his campaign trail?
We, Arabs and Muslims, have become a laughing stock in the international arena; welcoming a man known for his anti-Muslim rhetoric who banned unjustifiably our co-religionists from entering his country?
Munjed Farid Al Qutob
London
Professor Stephen Hawking has said human survival depends on finding a new home beyond the Earth (Stephen Hawking says we must colonise other planets to ensure human survival, 20 May). That may be true, but I hope we learn how to look after this planet before we mess up another one.
Patrick Cosgrove
Shropshire
Join our new commenting forum
Join thought-provoking conversations, follow other Independent readers and see their replies