Manuel Valls' defection to Emmanuel Macron is about far more than fear of the French far-right
Ambitious politicians seeking more than an easy life are attracted by an original thinker. Macron, not yet 40, has the energy and dynamism to solve his country's endemic problems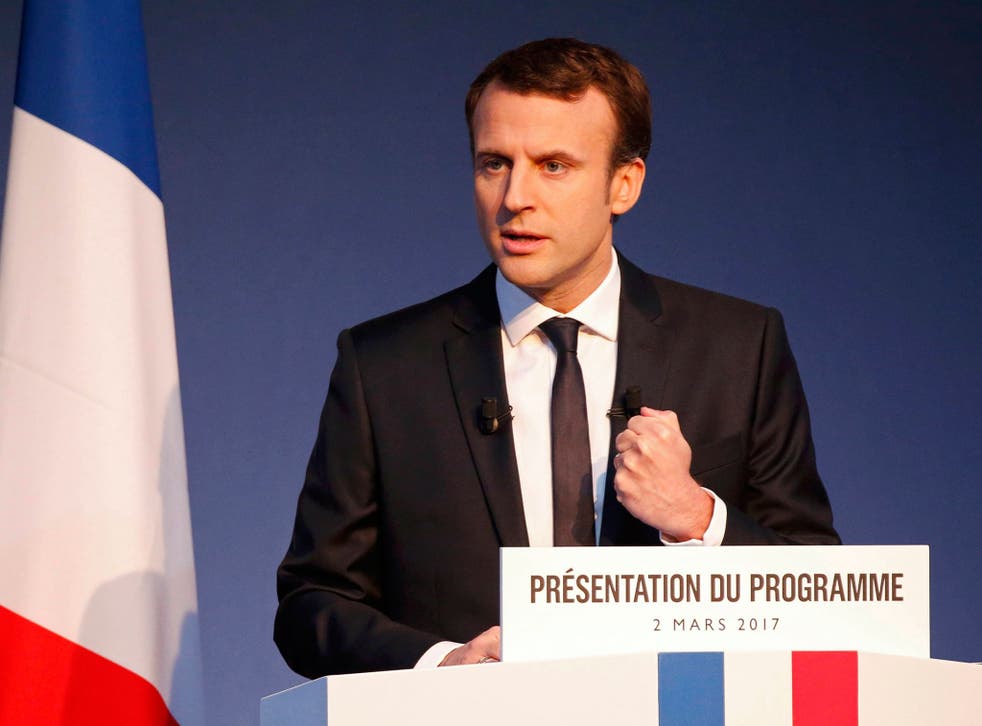 If this were a routine French presidential election campaign, then the defection of Socialist bigwig Manuel Valls to another side would be considered an absolute sensation.
And Valls, until recently his country's prime minister, has indeed been portrayed as a wretched traitor for backing the independent Emmanuel Macron to become head of state in May. In so doing, he has betrayed the party he joined as a teenager, letting down scores of ideologically-driven colleagues who helped propel him to the second highest office of state.
The race for the top job at the Elysée Palace is by no means an ordinary one, however. Valls' decision to join Macron's En Marche! ("On the move") electoral vehicle was always predictable. The truth is that French politics is in an absolute state of flux, and nothing shocks anymore.
Traditional parties are racked by infighting, and the scandalously cosy system within which they work is unravelling. Despite claims by increasingly discredited, sleaze-ridden figures on the Right to be the voice of "anti-establishment" radicalism, it is Macron who wants to force real change.
Until last year he too was a member of the incumbent Socialist government. As economy minister, he pushed monetarist reforms that infuriated those in his party desperate to hang on to the class struggle sacred cows of the past.
Marine Le Pen: Britain is 'already reaping all the benefits' of Brexit
Now Macron intends to do things differently, stating that the old Left-Right divide has led to decades of regression. It is easy to view the last five years of Socialist rule under President François Hollande as a disaster, but that is lazy hyperbole. What has in fact happened is that France has carried on quietly declining, just like it did under Hollande's conservative predecessors, Nicolas Sarkozy and Jacques Chirac. Failure has been managed in exactly the same way as it was before; essential structural modernisation remains ignored.
In such circumstances, ambitious politicians seeking more than an easy life cleaning up on expenses and perks are attracted by an original thinker. Macron, who is not yet 40, comes across as a fresh-faced doer – one with the energy and dynamism to try and solve France's endemic problems.
When he announced his decision to back Macron on Wednesday, Valls said the most pressing reason was to stop the rise of Marine Le Pen's far-right National Front. She is expected to win through to the second round of voting, with polls now suggesting a head-to-head between Le Pen Macron in May.
Le Pen's links with racists and anti-Semites are a huge worry for many in France, as are her primitive economic policies and her pandering to despots such as Russian President Vladimir Putin.
There are far deeper reasons for Valls's volte face, however. As prime minister, he styled himself as a Tony Blair-type reformer. Just as the New Labour leader revolutionised his fading party, so Valls stood up to the dinosaurs of the French Socialist Party (PS), calling on them to adapt their cherished dogmas to the real world.
Benoît Hamon, the official Socialist presidential candidate, actually resigned from Valls' cabinet in 2014 over its pro-business initiatives. He described them as the "nail in the coffin" of the party. In another melodramatic flourish – this time evoking Julius Caesar's Ides of March – Hamon has accused Valls of stabbing him in the back, saying he represents "those who no longer believe in anything"
Hamon probably got that last part right. Valls is undoubtedly a very cynical opportunist, whose primary objective is furthering his own career. Macron has already pledged that he will not give Valls a position in any future government, no matter how much toadying goes on over the next few weeks.
Yet the Valls move is indisputably a triumph for Macron. Pragmatism defines successful modern politicians who are determined to win elections, and with just a short time before the voting booths open, both major French parties are a very long way off victory.
The PS is just like Jeremy Corbyn's Labour: full of worthy aspirations but utterly incapable of regaining power. Beyond Macron, Hamon's vote is also being destroyed by the former Trotskyite Jean-Luc Mélenchon, who refuses to join forces with the PS. A Hamon-Mélenchon dream ticket to the Elysée would not be inconceivable at this late stage, but the Left remains hopelessly split between liberals, social democrats, and extremists.
Instead Macron's only realistic opponents are Le Pen – who is under investigation for fraud and on course to be trounced in the second round – and the Républicains party candidate, François Fillon. He has already been indicted in relation to a range of extremely grave crimes, along with his British-born wife Penelope Fillon. The fact that the Fillons, once stalwart Roman Catholic conservatives, are, in the manner of Le Pen, acting like rebels fighting the judicial system and an allegedly hostile media is yet another testimony to France's rotten political establishment.
The disgraced Fillon comes from a Gaullist tradition: he is meant to personify a sturdy, moral France grounded in Republican values. That his campaign is now mired in accusations of theft and corruption shows how badly the country needs a shake-up. Macron appears to be the only serious contender prepared to rise to the challenge.
Join our new commenting forum
Join thought-provoking conversations, follow other Independent readers and see their replies