This is what would have to go wrong for Marine Le Pen to win the French presidential election
Will Hamon's and Mélenchon's supporters back Le Pen's opponent to keep her out of office, as the polls suggest?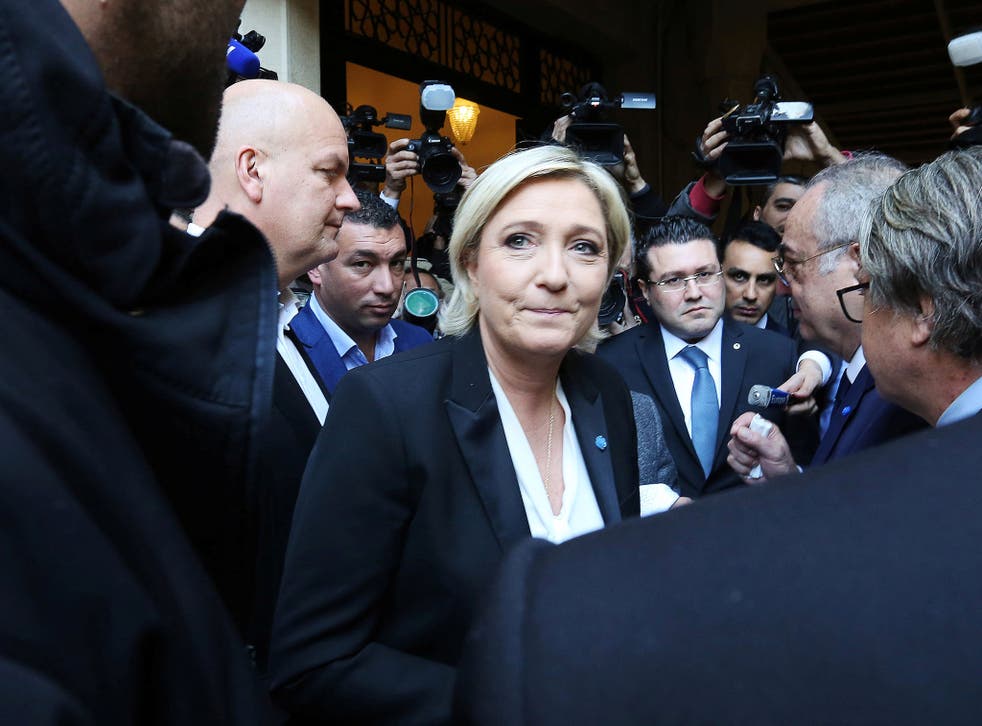 What would have to happen for Marine Le Pen, leader of the far right Front National (FN), to win the French presidential election in May? Following Brexit and Donald Trump's victory, such an outcome cannot be ruled out.
The French presidential election is conducted in two stages, a first round (23 April) when there may be six or seven candidates representing all shades of opinion. Then the two candidates with the most support go into a run-off held two weeks later, on 7 May.
Marine Le Pen's father, Jean-Marie Le Pen, was at the centre of the most dramatic contest under these rules. Jean-Marie was the founder of the FN, which, in his day, was a harsher version of his daughter's party. In 2002, he came second in the first round behind Jacques Chirac. Le Pen had succeeded in pushing the leader of the Socialist Party, Lionel Jospin, a former prime minister, into third place and out of the race.
However, in the final round, almost all French political parties called for their supporters to vote against Le Pen, including the Socialists. As a result, Chirac went on to win the biggest landslide in a French presidential election. This example is the foundation of the belief that, however well Marine Le Pen may perform in the first round, she can never finally prevail.
Nonetheless, Marine Le Pen's rivals are losing ground. In a poll published earlier this week, Le Pen advanced two points to 28 per cent, well ahead of two former front runners, François Fillon with 20 per cent and Emmanuel Macron with a lowly 18.5 per cent. The two left wing candidates, Benoît Hamon and Jean-Luc Mélenchon, had 13 per cent each.
Marine Le Pen launches presidential campaign with hardline speech
In fact there is something tantalising about this last statistic. For if the two socialist leaders could get together, their combined 26 per cent would be close to Le Pen's score.
Hamon is an attractive candidate, a former minister of education under President Hollande, and an admirer of the US Senator, Bernie Sanders, who ran so well against Hillary Clinton in the American primaries. Mélenchon has founded his own party, La France Insoumise, which may be translated as "France unsubmissive" or "unsubdued". Fortunately for Le Pen, the two have thus far been unable to agree terms for a merger.
Le Pen's strongest rivals are Fillon and Macron. Fillon started well, decisively winning the Republican Party's primary elections and forcing former president Nicolas Sarkozy into unwanted retirement on the way. But two months later disaster struck. He found himself accused of using public funds to pay his wife hundreds of thousands of euros for fictitious work as a so-called parliamentary assistant. A judicial enquiry has been opened. Since then, Fillon has struggled to regain his footing.
On 6 February, Fillon admitted, "It was a mistake and I apologise to the French [people]", but he also said that the salary of his wife was "perfectly justified". So he is left with begrudging support from his natural allies: "Fillon is not very attractive, he has been disappointing but there is nothing better available," they conclude. He poses no further threat to Le Pen's prospects.
Macron is a different case altogether. He is only 39 years old and has never before stood for elected office. Hs experience of government is limited to working for President Hollande, first as a deputy chief of staff and then as economy minister. Yet in less than a year he has built a political movement, En Marche!, which he describes as a progressive alliance of both the left and right, and that at one point made him the most popular politician in France.
But more recently, like Fillon, he has suffered setbacks. He went to Algeria, the former French colony, and declared that France's colonialism was a "crime against humanity". Never before has a leading French politician used such strong terms. He stirred profound emotions because of France's conduct of the Algerian war of independence in the 1950s. Macron also said that those who had opposed legalising gay marriage had been humiliated during the Hollande presidency. So having upset right wing voters with his Algerian sortie, he then dismayed left wing voters. He has paid a price in terms of support from which he unlikely to recover.
Marine Le Pen walks out of meeting with Lebanon's Grand Mufti after refusing to wear headscarf
So do these developments leave Le Pen with a clear run for the presidency? Not necessarily, for she too is capable of making serious mistakes.
On Monday evening, French police searched the headquarters of Le Pen's party as part of an official investigation into "fake" jobs involving the misuse of European Union funds. But then again her supporters don't necessarily think that cheating the European Union is wrong.
So if Le Pen wins the first round and goes into the second against either Fillon or Macron, will Hamon's and Mélenchon's supporters back Le Pen's opponent to keep her out of office? That is what the polls still suggest. But I wouldn't bank on it.
Join our new commenting forum
Join thought-provoking conversations, follow other Independent readers and see their replies