This is why Marine Le Pen can never pull off a Trump-style political coup in France
I predicted Donald Trump's win in the US, but in France the pacte républicain – voters of all political persuasions uniting against a common enemy – crushed Le Pen's father in the 2002 presidential election and there's no evidence to suggest the French electorate has changed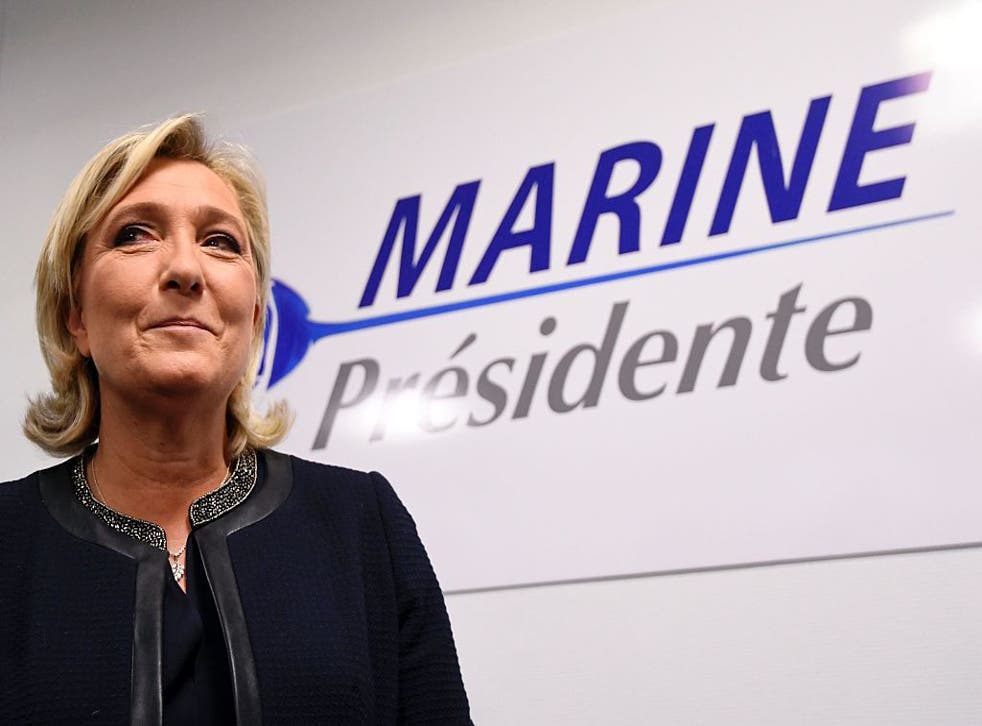 Melodramatic feuds are integral to "fake news" politics, and few are more unconvincing than the venom between Marine Le Pen, the wannabe French President, and her father, Jean-Marie Le Pen. Their staged schism is crucial to project Front National, the attempt by a notoriously racist and anti-Semitic far-right party to deliver France's next head of state.
The deceit is that Ms Le Pen has grown out of her father's bigotry and, since taking over the FN in 2011, has exorcised its demons. This process has included "expelling" papa from the party for re-iterating his description of the Holocaust as a mere "detail of history", defending the collaborationist World War II Vichy regime, and making a lot of other ghoulish statements. She is adamant she has nothing to do with such obscenities – cue the often-unrestrained glee with which commentators in countries such as Britain now whitewash her. They push for another "anti-establishment" triumph in France in May, to follow Brexit and Trump; an unexpected victory that would threaten a Frexit and, potentially, the absolute collapse of the European Union.
How hollow such reasoning currently looks, now that Ms Le Pen has admitted she will borrow €6m (£5.2m) from a company owned by her father to fund her presidential campaign. This is not solely because she cannot get a loan from French banks, but because a Russian financial institution that offered the FN millions in 2014 was subsequently declared insolvent.
Le Pen Senior is, of course, a very rich man. Decades of milking the "establishment" gravy train and a substantial inheritance from a friendly tycoon at the start of his career not only allowed him to bring up his three alpha daughters in absolute luxury, but also to bankroll the Le Pen dynasty's political adventures. The idea that Ms Le Pen would accept yet another massive handout while actually being in dispute with him is a myth. The pair, in fact, still get on extremely well.
Marine Le Pen claims no difference between her policies and Ukip
Last November, Mr Le Pen's abiding influence on the party he founded was also rubber-stamped by a Paris court who said he would remain Honorary President, despite his "expulsion". This kept the FN firmly rooted in France's fascist past.
Those who wish the party well also appear oblivious to the fact that Mr Le Pen remains an FN MEP, as well as a convicted racist and anti-Semite. Moreover, he is a legendary hero to thousands of FN supporters, many of whom share his street thug bigotry. Little wonder that the rabble rousing dinosaur took time out from his latest criminal enquiry (Paris prosecutors want him to go on trial for allegedly inciting more race hate) to say of Donald Trump's win: "Today the United States, tomorrow France!"
Like many disingenuous opinion formers, the Le Pens want to portray modern France as a cauldron of anger. They blame immigrants and their descendants – and especially those from the former North African colonies – for most of society's ills. Much of their demagoguery in fact harks back to a recent past when imperial subjects were being tortured and murdered.
The FN is indeed a direct product of the Algerian War of Independence, when Lieutenant Le Pen participated in the barbaric fighting, including the Battle of Algiers. Just a few years earlier, and still just about in living memory, the French were entraining Jews and other "undesirables" to their deaths in German concentration camps during the Holocaust. Such a legacy has a far more powerful effect on the national consciousness than those in other countries appreciate. It is perhaps the primary reason why an FN representative is not going to become president.
The largest political demonstrations of 2016 were against employment reforms introduced by the nation's socialist government, yet the "France First" FN insists that their insidious brand of identity politics is what really drives society. In such circumstances, Marine won't do a Donald. Instead, she will continue to rant and rave, bringing shame to a country whose historical involvement in murderous extremism lingers too close in the collective psyche to allow an FN leader.
All of this is by no means related to the sins of the father only. In 2015 Ms Le Pen failed in her bid to punish a comedian who called her a "fascist bitch" in a magazine column. The clear legal position was that such a description was perfectly reasonable when made in a "political context", the judges ruled.
Many would rightly welcome France having a woman president for the first time, but image is still very important to French voters, just as it is in all western democracies. Harsh as it sounds, a chain-smoking, twice-divorced daughter of Jean-Marie Le Pen is not how most French voters, least of all women, view their potential head of state.
Wide-eyed Le Pen backers should also know that the French electoral system is designed to foil extremist chancers. Ms Le Pen is always rejected when she tries to win a seat in the Paris parliament, where her party currently has just two MPs. The FN is principally a hot air protest movement that allows people to let off steam in the first round of elections, but then falls apart in the second.
So it was that the pacte républicain – voters of all political persuasions tactically uniting against a common enemy to protect the Republic – crushed Mr Le Pen in the 2002 presidential election. In the second round run-off, a decidedly lacklustre Jacques Chirac won more than 82 per cent of the vote, by far the biggest electoral landslide in French history. There is no evidence that a generally responsible French electorate has changed significantly during the last 15 years.
I appeared on the BBC's Dateline London programme back in July and, based on interviews with contacts I made while living in America's rust belt, I predicted a Trump win because he had nationwide appeal. Le Pen's powerbase is, in contrast, centred on small town and village councils. She has one of two-dozen FN-linked seats in the European Parliament, an institution she reviles. Like Hillary Clinton in the minds of the US voters, she appears to have been knocking around for decades, owes much of her success to nepotism, and puts her personal career fantasies before the good of her country.
In pictures: Bastille Day Nice attack

Show all 30
The stench of sleaze from her party's finances also covers a high-profile case in which Ms Le Pen is currently being investigated by Paris prosecutors for employing two EU-funded assistants for her non-parliamentary work. This is illegal under EU rules. She and other FN MEPs face a range of allegations including breach of trust, organised fraud and the use of forged documents. The inquiry could stop Ms Le Pen from being able to stand for president at all.
Note too how Lord Llewellyn, Britain's Ambassador to Paris, this week told UK MPs that neither he nor his staff have any contact at all with the Le Pens. "With respect to the Front National, we have a policy of not engaging, there is a longstanding policy," he said.
Beyond such antecedents, and the constitutional firewall, the latest cynical financial link with her own father is another compelling reason why Marine Le Pen is extremely unlikely to find herself ensconced in the Elysée Palace this May.
Join our new commenting forum
Join thought-provoking conversations, follow other Independent readers and see their replies