The Independent's journalism is supported by our readers. When you purchase through links on our site, we may earn commission.
What Mollie Tibbetts' death has in common with other recent killings should be obvious – and it's not an undocumented immigrant
Furthering Trump's narrative on immigration won't do anything to stop these things happening again, because it doesn't address the actual root cause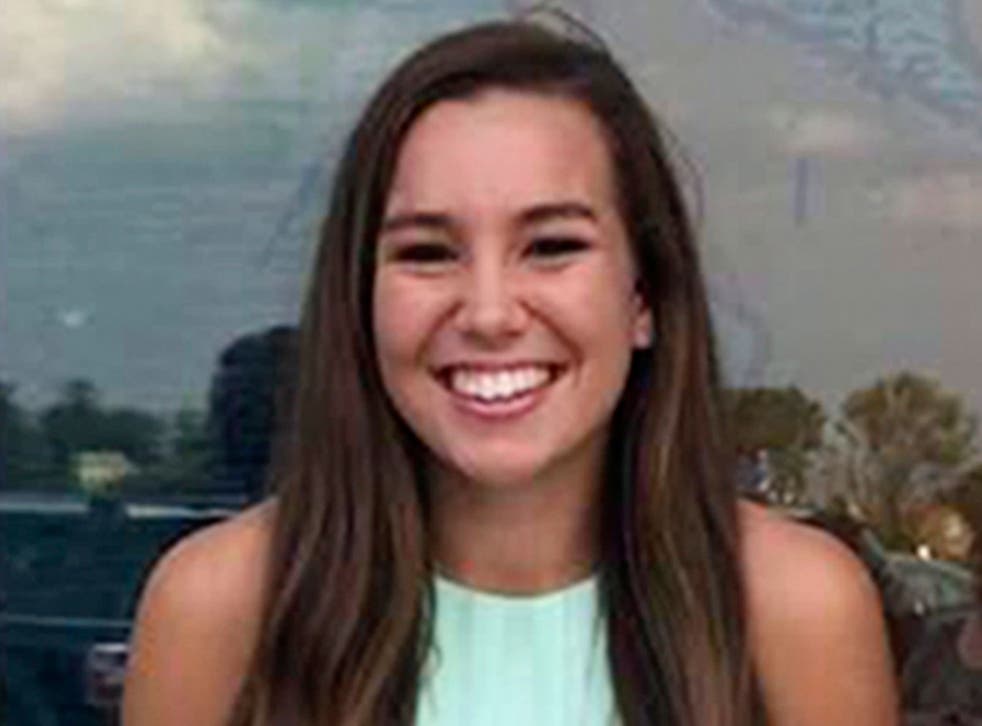 When I read about the murder of Iowa student Mollie Tibbetts, one of the first facts that jumped out at me was not that she had been killed by an "illegal alien" – it was that she was attacked when she went for a jog. The 20-year-old was missing for more than a month until a local campaign led to her body being found in a cornfield, near her hometown.
It reminded me of a case I had reported on from New York in 2016. A 30-year-old woman called Karina Vetrano had gone for her usual daily run and was found dead later that night by her father and a police officer. Her body was face down in marshland, her jogging bottoms pulled down her legs. Earlier that year, I had read about at least three separate cases of women who had been killed, raped or attacked with a knife in the New York area when they went for a run.
Decades before that, in 1989, Trisha Meili went for an evening jog around Central Park. She was beaten up, raped and left for dead, and four young black men and one Hispanic man were wrongly accused of the crime. The young men became known as the Central Park Five, and Donald Trump called to reinstate the death penalty.
What all of these attacks, and so many more of them, have in common should be obvious – and it's not the illegal alien from Mexico. A global epidemic of violence against women is mostly being ignored.
It's bitterly ironic that those lawmakers who spend their day jobs trying to dismantle women's access to healthcare, education and equal opportunity, usually in the name of "family values", are the same people who froth at the mouth when a woman is killed by an undocumented immigrant. Her death becomes political, and there is talk of "our women", reinforcing that idea of ownership. The woman in question, they say, could have been our wife, our daughter, our sister.
The case of Mollie Tibbetts has quickly become what the media describe as a "political hot potato". It is the first such high-profile murder of a woman by an undocumented immigrant since Jose Ines Garcia Zarate was accused of shooting Kate Steinle in San Francisco last year. Garcia Zarate's lawyer reportedly said: "From day one, this case was used as a means to foment hate, to foment division and to foment a program of mass deportation." A few months before the trial, where he was cleared of the murder conviction, Republicans had already pushed through "Kate's Law", increasing the maximum prison penalties for immigrants who were repeatedly caught entering the US illegally.
Trump has weighed in on the murder of Tibbetts, which was to be expected. In Trump's first speech announcing his presidential candidacy in 2016, he called Mexicans rapists and drug dealers. Two months after Trump got into office, the Department of Homeland Security released its first weekly report listing examples of alleged criminal charges and offences by immigrants in the US, despite critics saying that the vast majority of immigrants are law-abiding citizens. Earlier this year, Trump mouthed off that illegal immigrants are "animals, not people".
It makes no sense to target illegal immigrants to reduce violence against women, just as it makes no sense to target Muslims to reduce terrorism, given that the majority of gun attacks in the US are carried out by white American men.
But women's bodies are constantly being used as props in the debate, and not just with immigration. When it was recently reported that overseas agency workers were raping Haitian women, right-wingers renewed their calls to scrap foreign aid and to refuse charitable donations – in the name of protecting women. This rhetoric creates a self-perpetuating and vicious cycle where women are seen as victims, unable to advocate for ourselves, and our rights and freedoms are denigrated even further.
Processions 2018: March to celebrate 100 years of women's suffrage

Show all 10
It seems prudent to be wary of anyone who only speaks of women's rights when it suits them, whether it's Donald Trump throwing red meat to his base or Ann Coulter trying to sell her latest book. Next time, we will hopefully be more suspicious of the Hollywood producer who makes feminist films and donates to women's rights groups until he is exposed as a serial predator, or the former New York district attorney who is tasked with investigating said producer until he is also accused of abusing his girlfriends. We should be wary of the presidential candidate who speaks of equality and women's rights on the campaign trail, but who then endorses a Nebraska mayoral candidate who is anti-abortion as soon as he is out of the running.
We should also be wary of other people telling us who to fear. Despite the terrible, tragic death of Tibbetts, we are not at high risk from illegal aliens. We are, in fact, most at risk from our abusive partners or ex-boyfriends. We are at risk when we get into taxis or hired vehicles. We are also at risk when we walk home alone at night, when the police don't take our complaints of being stalked seriously, when we work as freelance journalists or when we travel abroad. We are at risk simply when we go for our usual run.
Please, let's stop screaming at the scapegoat "illegal alien" and take the consequences of misogyny seriously.
Register for free to continue reading
Registration is a free and easy way to support our truly independent journalism
By registering, you will also enjoy limited access to Premium articles, exclusive newsletters, commenting, and virtual events with our leading journalists
Already have an account? sign in
Register for free to continue reading
Registration is a free and easy way to support our truly independent journalism
By registering, you will also enjoy limited access to Premium articles, exclusive newsletters, commenting, and virtual events with our leading journalists
Already have an account? sign in
Join our new commenting forum
Join thought-provoking conversations, follow other Independent readers and see their replies