Spectre is the tale of a violent misogynist - so why does my six-year-old son love James Bond so much?
I have acquainted my innocent son with a gun-totting, alcohol-loving, misogynistic womaniser and it doesn't feel great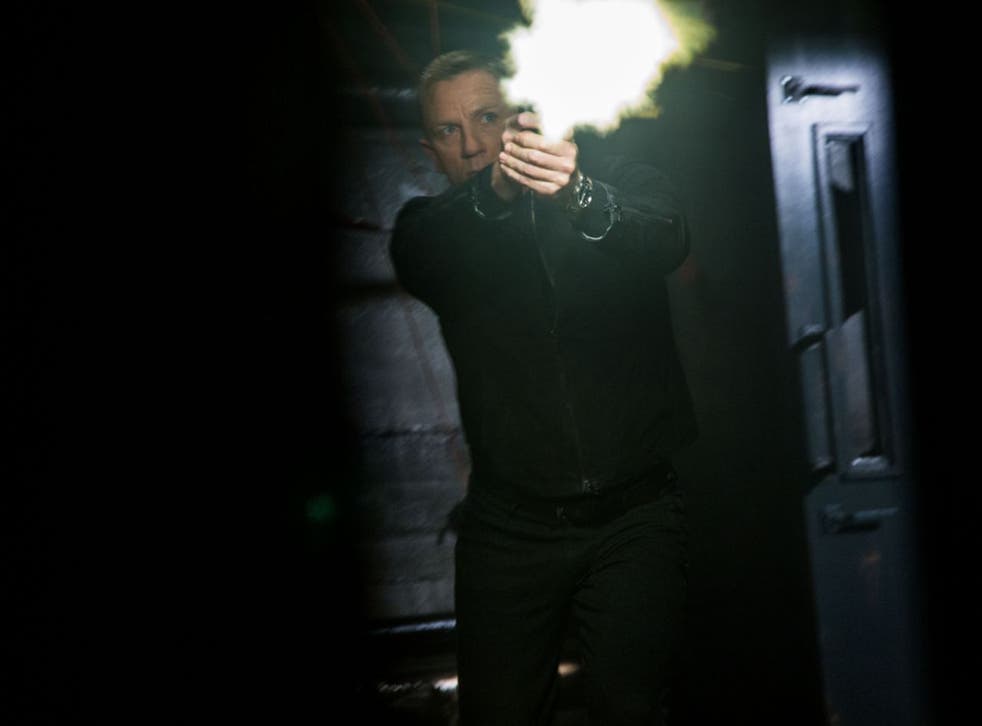 If I told you that my six-year-old son considers Sean, Roger, Pierce and Daniel as his very best friends - of course all in the guise of James Bond - what would your reaction be? When I look back at the past year, my little boy's only attire has been a shirt and tie, his drawers lined with bow-ties and suits hanging in his wardrobe; he even instructs the hairdresser to cut his hair like 007. And it makes me wonder whether, as his parent, I should have encouraged and enabled this passion. The recent release of Spectre has magnified this issue – he's only about to turn seven, after all, and yet he can't wait to get the next instalment of Bond's often violent, routinely sexist adventures.
At first, my son was introduced to Connery's Bond in Dr No, where the chase sequences are thrilling. He loved the yellow Rolls Royce Phantom III in Goldfinger, and what boy wouldn't be amazed by Oddjob's killer hat? The action is slower in the early films and the innuendo lighter, light enough to be overlooked in favour of the sharp suits and exotic locations. Where else can you see a character ski away from the baddies, shooting backwards down a mountain then escaping certain death by the use of his British Flag parachute, later turning his Lotus Esprit S1 into an underwater boat? My boy was hooked – and understandably.
As we ticked off the Bonds we'd seen, his appetite only increased. But the more recent films began to make me feel uneasy. Gone is the Q with his quirky absurdist inventions, as is the lightness. Since Daniel Craig has been playing 007, the brand has seen a shift into darker territory which can make for uncomfortable viewing with a child. And although arguably one of the best Bonds films, Casino Royale is sickeningly violent, even by adult standards.
My son watches it unblinking, but I fear for the images that he has processed. At six, he does not need to see a machete-wielding villain threatening to decapitate a woman, nor does he need to watch Bond sadistically let a man drop to his death in Quantum of Solace or the face of Javier Bardem cave in on itself in Skyfall.
Bond is my son's hero and now he is old enough to recognise Daniel Craig's face on billboards, or lining the tunnels of the underground, it is hard to shield him. I cannot censor the trailer on TV, nor can I lie to him about the new film, which he has been anticipating all year. I can't lock him away from modern culture.
But in hindsight, maybe I shouldn't have exposed him to the man who prefers his drinks shaken, not stirred. Because let's not forget who James Bond really is: Bond is a spy and a hitman. I have acquainted my innocent son with a gun-totting, alcohol-loving, misogynistic womaniser. What kind of role model is this man, who undoes all the teachings I have instilled into my child? Especially at such a pivotal age, where a child suddenly realises the difference between boys and girls and what those differences may or may not mean, should he be emulating a man who picks up and drops women faster than my son can attach his Velcro bow-tie? Even Daniel Craig himself has described Bond as a dislikeable sexist.
As parents it is increasingly hard to filter what our children view, but maybe it comes down to balancing the enjoyment – the hours of imaginary play my son has had pretending to be Bond - with the seconds of violence he has seen in the films. Don't get me wrong, even Star Wars is looking a bit worryingly aggressive these days. So I will, inevitably, let my son see Spectre (with the hope that my discussions with him about gender and violence at least break even with Bond's sociopathic tendencies.) But it will be with a bit of a heavy heart.
Join our new commenting forum
Join thought-provoking conversations, follow other Independent readers and see their replies