Nicki Minaj, Taylor Swift and the catfight that completely missed the point
Solidarity within the sisterhood shouldn't mean all women must agree with other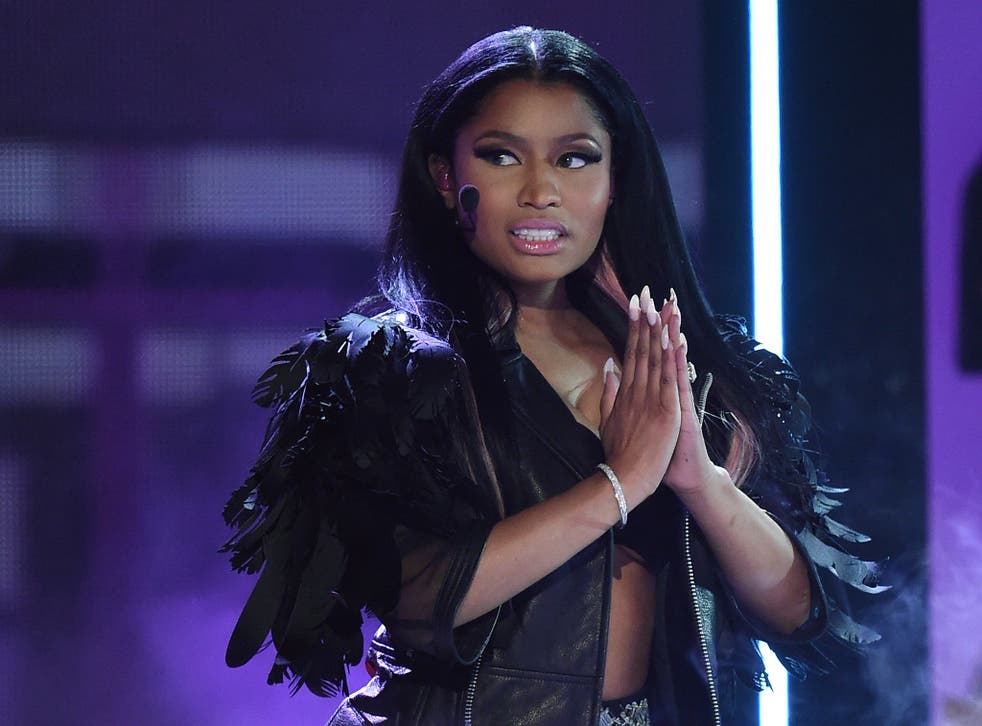 The Labour leadership contest rolls onwards and occasionally presents an absolute gift to Photoshop enthusiasts, such as Yvette Cooper's recent comment during the LBC radio debate, comparing the four contenders to the 1970s group Abba. As far as pop music analogies go, however, there is one that might have been more contemporary and apt. Is Cooper the Taylor Swift of British politics, and Liz Kendall the Nicki Minaj? Does that make Andy Burnham Ed Sheeran? And has Jeremy Corbyn even charted?
I'd better explain: last week, as Labour's two female candidates negotiated a way between their shared goal (to give the Labour Party its first elected female leader) and their competing personal ambitions (to be that leader), two other women in the public eye were also testing the limits of female solidarity. Hip-pop artist Minaj tweeted to complain about the lack of MTV Award nominations for her "Anaconda" video, pointing out the ways in which black women are still sidelined by the music industry, even as white feminism is beginning to be embraced. Pop singer Taylor Swift, who had herself been nominated, took this as a personal dig and questioned Minaj's support for other female artists: "@NickiMinaj I've done nothing but love & support you. It's unlike you to pit women against each other. Maybe one of the men took your slot."
By Thursday, however, Swift and Minaj had settled their differences amicably ("I thought I was being called out. I missed the point, I misunderstood, then misspoke. I'm sorry, Nicki"), Still, the suggestion that raising the issue of racism is somehow unsisterly had already done its work. It provided cover for several attacks on Minaj (from Swift fans, from Swift's buddy Sheeran, from newspaper columnists) which ranged in tone from dismissive to racially tone-deaf, to comments about her "fat arse" (that was Katie Hopkins, obviously). Thus a serious point about intersectionality was reduced to a catfight and Minaj was told in no uncertain terms to pipe down. Which rather proved her point, didn't it?
Similarly, the concept of the sisterhood has not been entirely helpful to the Labour leadership campaigns. It has variously been used to put pressure on Kendall to bow out of the race, to suggest that only working mothers are "woman enough" to lead and to argue that female party members are foolish if they support Corbyn or Burnham. If we believe that solidarity means all women must agree with each other, we are, like Swift, missing the point. Women don't always have to agree, let alone be bezzy mates in order to advance equality. They just have to use what power they have to safeguard other women's opportunities to be heard.
Unity is useful in any movement for change, but not if it comes at the cost of silencing a necessary debate. Widening divisions in the Labour Party make this a relevant consideration for Agnetha and Anni-Frid, but also for Benny and Bjorn. Perhaps Burnham-backer Lord Falconer would have been wise to study the intricacies of the Minaj/Swift Twitter spat before he told The Times that neither female candidate was capable of steering Labour "through the challenging few years ahead when we need a leader who can reach out to all wings of our party and provide unity". Because, if anyone truly understands the difficulty, value and cost of uniting many around a single goal – guess what? It's probably a woman.
The great Hollywood bake off
Hollywood actor Jake Gyllenhaal was doing press for his new movie Southpaw in London last week, and amid the usual hot air about how much he enjoyed working with his co-stars – blah, blah, blah – and how he got in shape for the role – yadda, yadda, yadda – he revealed something genuinely interesting: "I eat Greggs, Greggs baguettes – that's what I eat when I'm in London."
Greggs isn't the sort of establishment you'd expect a Hollywood star to frequent, but this also isn't the first time the bakery chain has enjoyed some fortuitous PR. In 2002, model Milla Jovovich said that she loved it so much she'd be willing to become the "face of Greggs" and, in 2012, the Greggs fandom forced the Chancellor to make a highly publicised Budget U-turn on VAT, in a chain of events referred to as "Pastygate".
So why does Greggs occupy such a special spot in our hearts? Could it be that we pride ourselves on the unpretentious simplicity it represents? The French can keep their croissants and let Americans queue for hours for a faddish "cronut" if they so choose; all we want is a humble pasty. And maybe a sausage and bean melt for later.
Just a right-swipe on the side
The hack of the adultery website AshleyMadison.com revealed the scale of unfaithfulness in Britain, with 1.6 million of us signed up and ready to cheat. That seems like a lot, and yet it's only the tip of the infidelity iceberg, because AshleyMadison.com isn't the only way in which the internet threatens monogamy.
Channel 4's romantic reality TV experiment Married at First Sight ended in heartbreak last week and, if spurned spouse Kate cites any third party in the divorce papers, the siren's name will be Tinder. The couple had pledged their commitment to each other in front of friends and family only two weeks before Kate's husband, Jason, was tempted back into his old right-swiping ways.
Dating websites have been a godsend for the single, but they can also stymie relationships from the very start. Why would you opt to love the one you're with, when someone even better is always just a click away? It's not just the dating sites, either. All social media provide an illusion of human intimacy, which might not be as satisfying as the real thing but is so much more convenient. It's not the other women who pose the greatest threat to lasting love, it's the other website.
Dressed for the party?
"Jeremy Corbyn dresses like a geography teacher" or variations thereof, has become a cliché of Labour leadership journalism, but why? Ever since Tony Blair's government introduced academy schools in 2000, and corporate culture began its steady infiltration of education, you'd be hard-pressed to find a teacher of any subject wearing corduroy trousers and a Lenin cap. In fact, in their suits and ties, most modern geography teachers all look a bit … well, a bit like New Labour MPs.
Twitter: @MsEllenEJones
Join our new commenting forum
Join thought-provoking conversations, follow other Independent readers and see their replies