Childless female politicians like Nicola Sturgeon shouldn't have to explain themselves to anyone
Last time I looked Nicola Sturgeon was flying all over the globe negotiating with world leaders, earning a mint, looking her slimmest self and living -  what the kids call -  her best life ever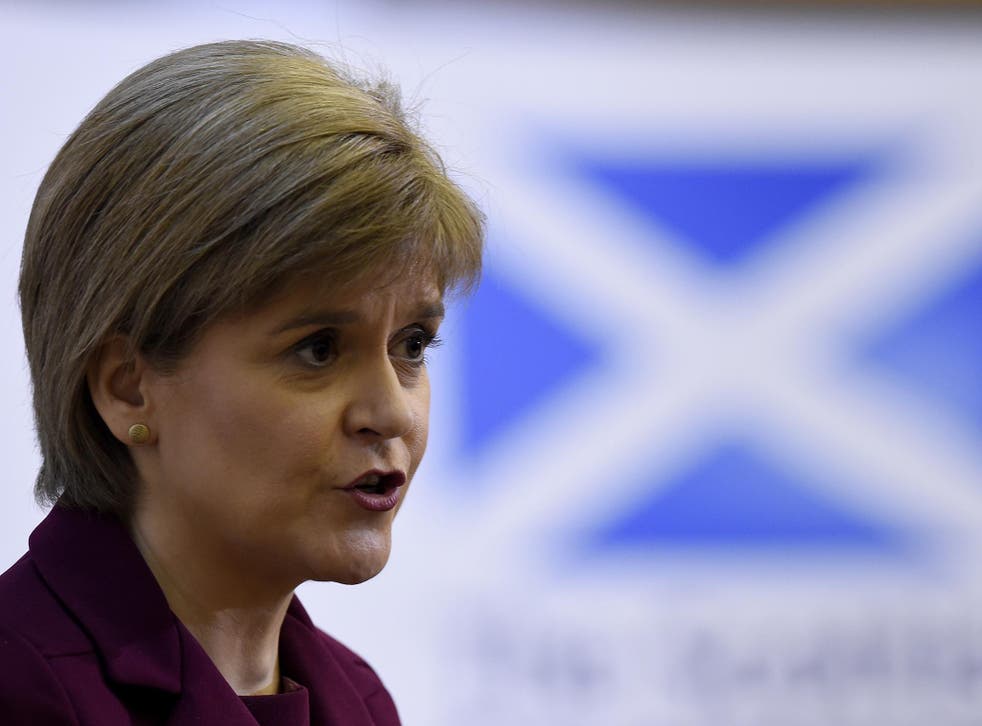 As a woman who doesn't have kids, my greatest pain this year has been thwacking my forehead slowly against my desk over female politicians' childless explanation stories. First Theresa May, then Nicola Sturgeon. Womb 101, I call it. This is where a successful, seemingly happy woman feels themselves required to present the public with a reasonable — but of course harrowing — explanation of why there are no kids in the picture. The anecdote is delivered non-cynically but in order to soften the idea that she either didn't want a baby, or God forbid would have rather extrapolated her unique gifts and became a world-changing woman set to be noted in political history.
Yesterday Sturgeon's biographer revealed that she had a miscarriage while she was deputy first minister. Sturgeon, it is said, hopes that allowing the details to be known will challenge assumptions made about women. But while I find the thought of Sturgeon battling through an Ibrox memorial ceremony in the midst of losing a baby really painful, this revelation does exactly the opposite.
Nicola Sturgeon: Scotland's voice will be heard
First the story underlines and gives credence to the fact Sturgeon is aware some people (ie, lots of people) think she just stayed on contraception and let each month of fertility whizz past through choice and that it is "a bit off" to choose a stellar, stimulating political career over a baby. Because, well, who would do that? Weirdos, yes that's who. Not, simply women born after 1970 who began attending universities, enjoying the protection of the 1975 Sexual Discrimination Act, and found themselves en masse enjoying careers as enthralling as men.
Sturgeon knows lots of people mistrust women who don't have babies and hopes to bat away these "assumptions" of her as a work-loving, child-hating, cold blooded, non-family-orientated semi-human, by offering an explanation in the form of a personal anecdote about miscarriage.
But while stories like May's and Sturgeon's will push away the "where is your baby" question for a little while, in a flurry of side-tilted heads and shuddering men-folk, all this does is reinforce the tedious tall tale that behind every successful woman who didn't give birth, is a dark sadness. A secret tragedy, a half-painted nursery, a drawer of unworn baby's shoes with the price tags still on and regular sessions of bitter lament over a cavernous empty life. Last time I looked Nicola Sturgeon was flying all over the globe negotiating with world leaders, earning a mint, looking her slimmest self and living – what the kids call – her best life ever.
I do not in any sense think Sturgeon released matters of her miscarriage in a cynical vote-manoeuvring way. Far from it. I think she agreed it was made known in the hope that the question mark might go away. But as childfree women know, all slinging a bone at people during Womb 101 does is open up more queries and unasked-for anecdotal advice.
I mean was the miscarriage so horrific that she didn't try again? She should have tried again! My friend had five and now she has twins! Oh, she did try again and it didn't happen? Well who is more at fault? Her or him? Has he been tested? And did they try IVF? Which clinic? Oh that's a bad clinic. The worst. My friend went to a really expensive one in Geneva and had her first at 47! I mean, sure, they can't afford their mortgage anymore but they have a baby! Does she want the clinic's number?
And what about an egg donor? And have they not thought about adopting? My friend adopted two from Albania, no sorry Malawi, no sorry Rhyl. They're very troubled, they've smashed her house up and now they all live in a caravan. Actually don't take that agency's number. And does she know that Dawn Brook conceived naturally aged 59 in 1997?
In fact what Sturgeon should do is go home and have sex – whether she wants it or not – three times a day, 30 days per month, then stand on her head afterwards. What's that? She's a bit busy representing Scotland's issues in a bid to form a coalition and save the European Single market? See I've always thought that about her. Cold.
Join our new commenting forum
Join thought-provoking conversations, follow other Independent readers and see their replies