Nigella's right - you can't find moral rectitude in a bowl of rocket
Plus: feeling bad for IMB's "Hack a Hairdryer" campaign and doing opera the Italian way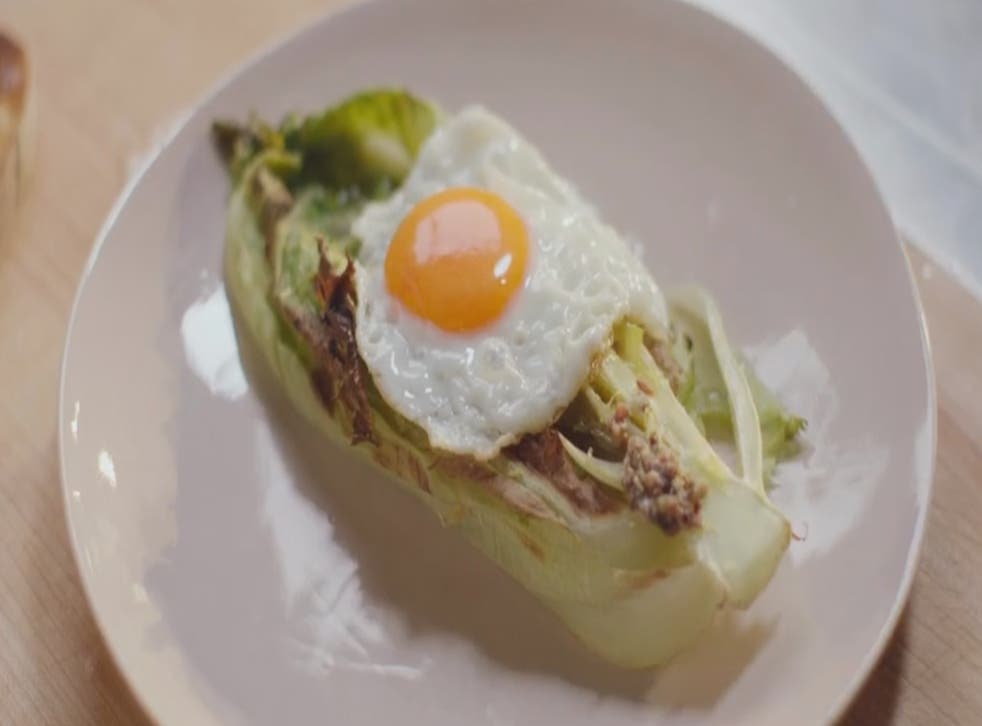 It was when she slid a fried egg on to some cooked lettuce that I thought Nigella Lawson had finally lost it. Although I tend to think she has finally lost it at least once an episode, whether she's sharing her recipe – strong word – for avocado on toast (ingredients: avocado, toast), giving us a guided tour of her liquorice toolbox, or calling yoghurt "yog".
She hasn't lost it really. Lawson's cookery shows are designed to make audiences slaver – with greed or indignation, it doesn't matter. For drawing tuts-per-minute, no other chef comes close. She's a guilty pleasure, cooking guilty pleasures: a Gogglebox dream. And while a number of recipes in Simply Nigella are straight out of my Can't Cook, Won't Cook kitchen, one can either carp about the fact that anyone could make a halloumi salad or acknowledge that "anyone" isn't – Nigella is, and she's making pots of money out of it, too.
So Nigella is no fool, and this week she spoke sense about the latest food fad. Move over Dukan, jog on Atkins, "clean eating" is the new nutrition mantra. It covers everything from modish blogs like Deliciously Ella to shunning processed foods, gluten, dairy or sugar. You might recall when this was called healthy eating, or dieting, and its figureheads were unfashionable types like Rosemary Conley and Gillian McKeith. But that is a lot less hashtag-able, so clean eating it is.
"People are using certain diets as a way to hide an eating disorder or a great sense of unhappiness with their own body," said Lawson. "There is a way in which food is used to either self-congratulate – you're a better person because you're eating like that – or to self-persecute, because you'll not allow yourself to eat what you want."
She is right to question the notion that eating well equals living well equals being a better person; that moral rectitude can be found in a bowl of rocket. You could eat dirty kebabs every day until you die and it won't make you mug a pensioner any more than an avocado-only diet will make you nice and fun to be around (it may even have the opposite effect).
The healthy thing, as everyone knows, is to occupy a middle ground between the Instagrammers with their raw quinoa pizzas and Nigella's lardy treats. Clean eating stalwarts like chia seeds and almond milk figure in Nigella's latest recipes, so one should probably take anything a television chef has to say about fads and the way people really eat with a large pinch of salt.
This week a survey showed that, while people own on average 20 celebrity cookbooks, they only ever try one in 50 of their recipes. There's food for real life, and there's fantasy food. Make mine a cheese on toast.
They blinded with me science
Women like hair appliances, confetti and bright colours. That is the gist of a recent IBM campaign to get more women into jobs in science and technology. In a charmingly colourful video the tech company challenged women to "Hack a Hairdryer", or repurpose it in an innovative way, to prove they have a logical brain beneath their bubble perms. At least I think that was the idea. My straighteners broke this morning so I'm all of a dither and finding it hard to work this keyboard.
The responses online from "Women in Science" (you never hear of men in science, of course) have warmed me to my split ends. "I leave hairdryer fixing to the men. I'm too busy making nanotech and treating cancer," said one. A rocket scientist declared she'd "rather build satellites." A science student simply posted a picture of a towel. "Kuhn would declare it paradigm shifting, surely."
My empathetic female brain does feel for IBM. It was attempting to address a serious, archaic imbalance and if the tone was bungled, then that's probably because trying to address women in anything is a divisive minefield. Assuming that all females will relate to hairdryers is daft – but so is the idea that you can't be an astrophysicist if you wear mascara.
If I worked at IBM I would make the brilliant women who made those witty, sharp retorts the stars of my next campaign. That's the way to inspire more to join them.
Not over till the transsexual prostitute sings
Opera is in crisis. This week Kasper Holten resigned from the Royal Opera after just six years as chief. Meanwhile, the English National Opera is on the brink of extinction, having lost most of its management and funding this year.
We should try doing things the Italian way. The opening night of the season at La Scala this week was a five-star smash. Efe Bal, a high-profile transsexual escort, turned up with her €2,200 ticket and a banner demanding the legalisation of prostitution in her clutch bag. As Joan of Arc ended, she tossed the banner into the orchestra pit where it landed in a trombone. Brava! Shortly afterwards, the 11-minute standing ovation was somewhat marred by the sound of the show's director Moshe Leiser hurling abuse at its conductor Riccardo Chailly. On a live broadcast from backstage Leiser can be heard shouting "asshole" followed by an Italian insult that translates as, scusi, "bastard made of shit." If the Opera House and ENO could find a way to programme some of that passion, people might stop griping about the price and buy a ticket.
Join our new commenting forum
Join thought-provoking conversations, follow other Independent readers and see their replies