Another life-long Republican who served under Trump is voting for Biden. We should pay attention to her reason why
Senior officials have been quick to badmouth Olivia Troye, who has a decade of experience in homeland secrity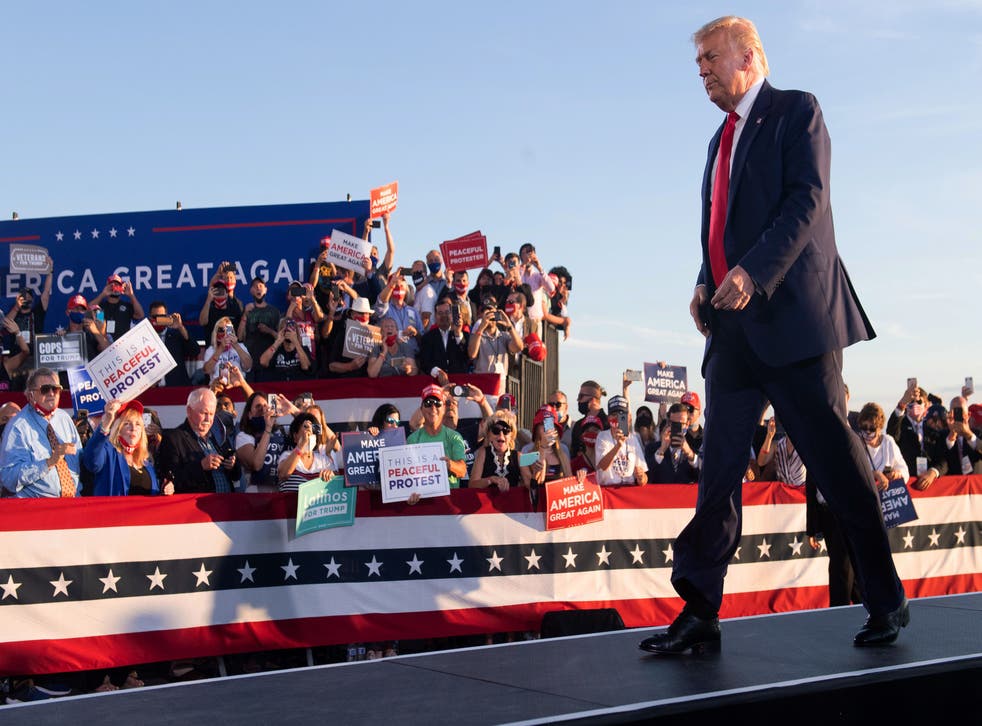 Once again, senior Trump administration officials have gone on the attack against one of the experts who served under them.
It's not new to see a top White House official use their megaphone to bad-mouth career federal employees. President Trump has often reacted to some perceived slight by using the presidential bully pulpit to denigrate public servants who might have otherwise remained anonymous, including Peter Strzok, Lisa Page, and Bruce Orr.
This time, the target was Olivia Troye, a career government official with roughly a decade of experience in top national security advisory roles at the Pentagon, National Counterterrorism Center, Department of Energy, and Department of Homeland Security. She was the top homeland security, counterterrorism, and coronavirus response aide for Vice President Mike Pence from May 2018 until this past July.
Troye incurred the administration's ire for her decision to announce that she, a lifelong Republican, will cast a ballot for Biden in 46 days because of President Trump's response to the Covid-19 pandemic (which has killed nearly 200,000 Americans so far.)
"Towards the middle of February, we knew it wasn't a matter of if Covid would become a big pandemic here, it was a matter of when," Troye said in a video released by Republican Voters Against Trump, a group of ex-GOP voters opposed to the President's re-election. "But the President didn't want to hear that, because his biggest concern was that we were in an election year, and how was this going to affect what he considered to be his record of success?"
Troye also said that Trump suggested that "maybe this Covid thing is a good thing" because he would not have to "shake hands with these disgusting people" during a White House Coronavirus Task Force meeting.
In response, the White House sent out a number of top officials — including Vice President Mike Pence, Vice Presidential national security adviser Lieutenant General Keith Kellogg, and White House Press Secretary Kayleigh McEnany — to (falsely) denigrate the woman who had reported to him until she left government service two months ago.
"Ms Troye is a former detailee and a career Department of Homeland Security staff member, who is disgruntled that her detail was cut short because she was no longer capable of keeping up with her day-to-day duties," Kellogg said in a statement, highlighting her status as a civil servant as a dog whistle to Trumpists who've been conditioned to see the career experts serving in government as part of a hostile "deep state".
Pence himself weighed in during a campaign roundtable, calling Troye "one more disgruntled employee that has decided to play politics during election year."
Another former Trump administration employee who has endorsed Biden, ex-DHS Chief of Staff Miles Taylor, took to Twitter to all but called Pence and Kellogg liars.
"At a lunch in the West Wing of the White House, [Pence] once told me Olivia Troye was doing an 'incredible job' as his Homeland Security Advisor and thanked DHS for referring her to his Office," he wrote, adding in a later tweet that Kellogg was "[l]iterally another person who *this year* personally told me how amazing Olivia was as Pence's homeland security advisor".
And McEnany, who last week blatantly lied about Trump's caught-on-tape admission that he had "always liked to downplay" the severity of the Covid-19 pandemic, offered up another whopper by claiming that Troye, who can be found sitting or standing near or next to Pence in numerous official White House photos, "typically sat in the overflow room of task force." Her office also released a cordial goodbye email Troye had written her colleagues upon her departure, which, in fact, undermined Kellogg and Pence's characterization of their former subordinate as "disgruntled."
Trump and his top lieutenants lying so freely is not new. Neither is their frequent claim that each and every one of their now-myriad erstwhile colleagues who've spoken out against the President is less than fully gruntled about their time in government, was incompetent, or both.
But as the time before election day grows shorter, what has been a simmering conflict between the top echelons of official Trumpworld and the countless experts and nonpartisan civil servants who serve under them has been brought to a boil by the searing heat of countless polls which indicate that Trump has a good chance of becoming one of the millions of Americans who've been put out of work by his response to the novel coronavirus pandemic.
Ironically, it is the contempt and disgust for the very concept of a nonpartisan civil service that top administration officials display on a regular basis that has rendered Trump and his closest allies toxic in the eyes of many of the swing state voters he needs to remain in the White House (and avoid a possible indictment).
The contempt is indeed widespread and has never been limited to any one agency. At the Department of Agriculture, former Acting White House Chief of Staff Mick Mulvaney controversially relocated the agency's Economic Research Service and National Institutes of Food and Agriculture — both staffed with career experts who deal in facts — to Kansas City, then bragged when many of the employees quit.
The Trump administration has also been trying to eliminate the government's independent human resources agency, the Office of Personnel Management — despite Congress prohibiting any such move — by having the White House budget office illegally assume many of its functions during the pandemic.
And at the Justice Department, Attorney General William Barr made headlines this week by comparing the thousands of line prosecutors who serve presidents of both parties to children at a Montessori preschool.
But nowhere is this self-sabotage more obvious than in the Trump administration's coronavirus response.
The tone for this ongoing disaster was set on February 26, when some of Trump's top media allies went after CDC National Center for Immunization and Respiratory Diseases director Dr Nancy Messonnier for warning reporters on a conference call that "disruption to everyday life" as a result of Covid-19 spreading within the United States "may be severe," by suggesting that she was doing so to make Trump look bad because she is the sister of former Deputy Attorney General (and conservative media boogeyman) Rod Rosenstein.
Two days later at a South Carolina campaign rally, Trump called COVID-19 the Democrats "new hoax."
Six months later, nearly 200,000 Americans are dead, millions remain out of work, and the Trump administration is undermining the Centers for Disease Control — heretofore the world's premier public health agency — at every turn.
Trump did it from behind a presidential seal mounted on the White House briefing room lectern this week when he implied multiple times that CDC Director Robert Redfield, a renowned virologist, did not correctly answer questions about the importance of masks and the timeline for a vaccine against SARS-CoV2, the virus that causes Covid-19, when he testified before Congress on Wednesday.
And Assistant Secretary of Health and Human Services for Public Affairs Michael Caputo did it from his mobile phone on a Facebook Live on Sunday, when he claimed without evidence that the career scientists at the CDC have formed a "resistance unit" against Trump that is "meeting in coffee shops" to plot "sedition." He is now on a 60-day leave from HHS for health reasons.
Trump himself has suggested that the CDC guidelines meant to stem the spread of the virus are meant more to hurt him politically by damaging the economy than their actual purpose, and according to The New York Times, guidance on Covid-19 testing posted on the agency's website has been written by non-CDC personnel, has not gone through any CDC review process, and was made public over CDC experts' objections.
Before Caputo tragically self-immolated on Facebook Live, he reportedly demanded that CDC officials allow him to line-edit the agency's so-called "crown jewels," the Mortality and Morbidity Weekly Report (a newsletter considered the bible of public health matters), to ensure what was reported therein did not embarrass the president by contradicting his often-rose-coloured outlook on the pandemic's progress.
And on Wednesday, he brought to his now-periodic occasionally-about-coronavirus briefing his new go-to doctor.
Instead of relying on globally respected experts like Redfield, National Institute of Allergy and Infectious Diseases Director Dr Anthony Fauci or White House Coronavirus Response Coordinator Dr Deborah Birx, Trump is now relying on Dr Scott Atlas, a frequent Fox News guest who caught his eye by attacking the public health measures advocated by the actual public health experts. But while Atlas is a medical doctor, he is neither a virologist nor an epidemiologist. Instead, he's a radiologist who specializes in MRIs of the brain and spinal column.
With folks like that at the President's ear, is it any wonder that Americans are wary of the coronavirus vaccine that Trump keeps hinting will magically be available by "a very special day" — meaning election day?
If people like Troye are warning us that Trump only cares about re-election, those Americans are probably right.
Join our new commenting forum
Join thought-provoking conversations, follow other Independent readers and see their replies