The Oscars Best Picture mix-up was a piece of performance art for our times
The Moonlight and La La Land debacle works beautifully as an allegory for the last 50 years of cinema. It's like a short film you might see at the Turner Prize exhibition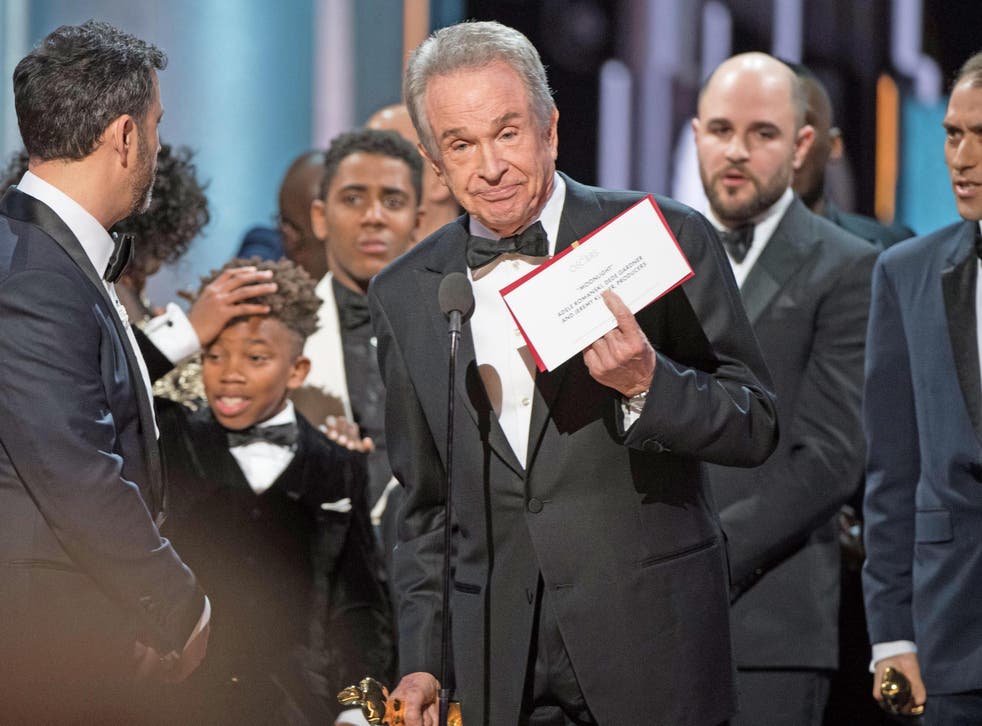 Sunday night's enormous, honking 89th Academy Awards Moonlight catastrophe proves my theory that awards mix-ups are always the best bit.
Suffice to say, I'm using the term "mix-up" to keep within the boundaries of polite discourse. Nobody backstage at the Oscars watched Warren Beatty wrongly announce La La Land as Best Picture before tutting gently and saying "Ooh, heavens, now this is a mix-up". No, the off-stage profanity and blame-filled screeching will have been epic. New curse words will have been invented to describe this disastrous administrational blunder.
But Beatty's face, looking shiftier than during his 1991 In Bed With Madonna cameo, was the high point of the evening, along with Ryan Gosling's folded "I'm completely fine with this" arm stance.
Awards ceremonies, large and small – but especially as large as the Oscars the Grammys and the Baftas – require a heady suspension of disbelief. Complex events can run without fault, we're cajoled to think. Many hundred unfettered mega-egos can gather in one venue and none leave bashed or bruised. Humans do not screw up when in charge of envelopes. Faye Dunaway would not be as daft as to open the Best Actress envelope, knowing that Best Actress has just been announced, and simply blurt out the name of that film instead.
Awards ceremonies offer us a glossy picture-perfect glimpse at the human condition. It's the cracks in this facade we enjoy the most.
Oscars 2017 in 90 seconds
And as a furrowed brow in a headset whipped the red Best Actress envelope from the hands of La La Land's Jordan Horowitz and Fred Berger, as doubt set in among the starry huddle, I thought inwardly that not since Brandon Block invaded the Brits stage in 2000 to insult Ronnie Wood had I enjoyed gong-giving so much.
Not since Judy Finnegan's top went south at the National Television Awards in 2000 and stayed around her belly button for at least 37 seconds until John Leslie rugby tackled her. Not since Russell Brand, at the 2006 NME awards, told Bob Geldof: "It's no wonder he knows so much about famine – he's been dining out on 'I Don't Like Mondays' for 30 years." In fact, not even since Sarah Murdoch, daughter-in-law of Rupert, announced the wrong model as Australia's Top Model have I enjoyed a ceremony cock-up as much as the Moonlight malfunction.
Of course, there will be some who find my joy distasteful, feeling that Moonlight director Barry Jenkins was robbed of the true gravity of his plaudit. Or that the cast, including Mahershala Ali, Naomie Harris, Janelle Monae, had their glory overshadowed by the initial moments where Ryan Gosling and Emma Stone took to the stage.
I see this entirely. In fact there will be deep irony, for many onlookers, that in one of the biggest moments in black cinematic history, we watched the almost all-black cast and production team, responsible for creating a complex film with non-commercial themes, narrowly dodge their award being flung at a nigh-completely caucasian cast who made something frothy about dancing.
Oscars 2017: Watch the La La Land-Moonlight Best Picture error in full
If we're being mischievous, the Moonlight/La La Land debacle works beautifully as an allegory for the last 50 years of cinema. Yes, the prize should have gone to the film that was hardest to finance, script authentically and sell into the commercial mass consciousness, circumnavigating a thousand miscellaneous gatekeepers. But it went instead to the thing with white people in it, doing something based on a cinematic genre we all decided we liked 50 years ago. Well, it almost did.
The two-minute clip of the faux-pas plays out like glorious, life-enhancing performance art. It's like a short film one might be chivvied into a wigwam at the Turner Prize exhibition to watch.
The moment of La La Land's victory. The inevitable mass-scramble on stage to commence overblown speeches thanking their mothers, lovers, teachers and the universe. Producer Mark Plant's "Keep dreaming, compassion is the enemy of humanity!" The arrival of the flustered moist-lipped people from PriceWaterhouseCoopers in headsets to commence the bum-kicking.
A frisson of doubt beginning at the edges of the La La Land huddle, mumbles about "a mistake", then an on-air unbleeped "Oh Shit". Horrowitz holding up one hand to stop La La Land's celebration and then a semi-stern, "This is not a joke".
The Moonlight cast slowly realising that they've taken the biggest prize at the 89th Academy Awards, that they need to start mobilising themselves on to stage, carefully finding the right facial blend of glee, pride and sympathy.
Then Barry Jenkins closing the show with a line that nails the gorgeous, rather satisfying confusion. "Even in my dreams this could not be true," he says, clutching his Oscar. "But to hell with it, I'm done with dreams – because this is true."
Jenkins' dream will help thousands of others to keep on, keeping on dreaming.
Join our new commenting forum
Join thought-provoking conversations, follow other Independent readers and see their replies