Moonlight's Oscars triumph should be a moment of recognition for black film – but it is being overshadowed by another white story
Critics may say this is a story that has been told before. Except that it hasn't. Not with the experiences of black, gay men as a focal point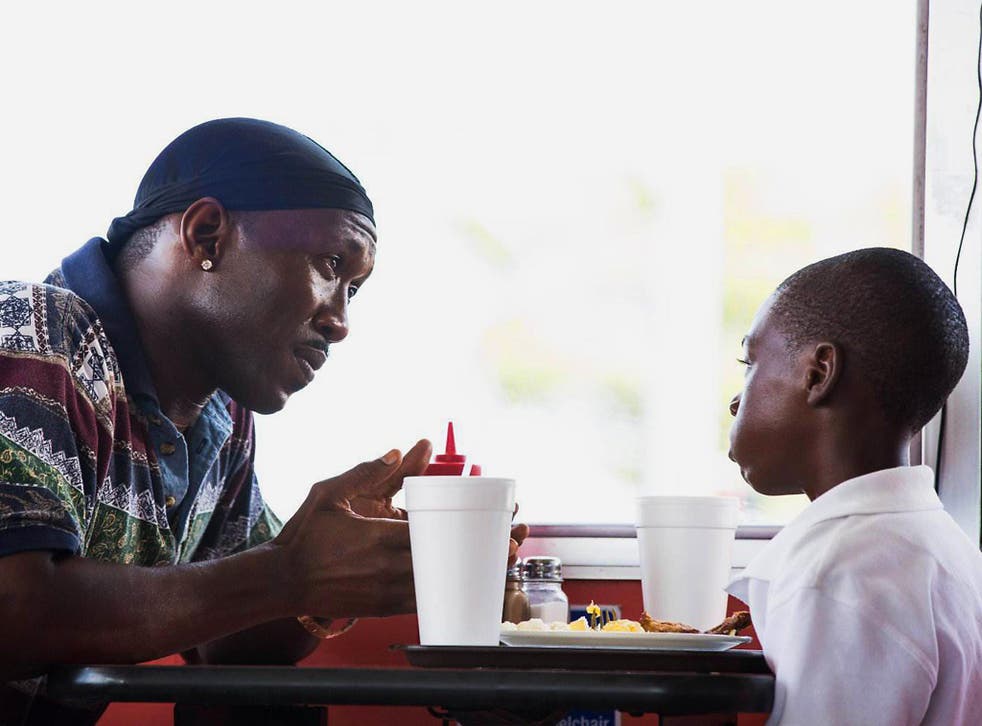 The unprecedented drama of the Best Picture announcement mix-up at the Oscars could not have tried the nerves of both La La Land and Moonlight's cast and production team in a more dramatic fashion. Touted by many as a shoo-in for the accolade, a great deal of us thought – in keeping with previous tradition at the Oscars – it more likely that La La Land would be celebrated, as opposed to the critically acclaimed, black-fronted Moonlight, a story set in a Miami housing-project. Fortunately, the best picture – Moonlight – did indeed win, slightly easing the tensions that had built up as a result of Hollywood's documented failure to recognise the numerous outstanding contributions that people of colour have made to mainstream film. But not before the limelight was firmly cast on this year's celebration of white Hollywood history.
Once again, thanks to this embarrassing mix-up, black success has been overshadowed by another story, a story about a classic white-cast movie.
The success of a number of black and minority ethnic actors at this year's Oscars has been used to fuel the argument that the ceremony simply handed out awards to anyone and everyone who wasn't white, as if decades upon decades of doing the opposite hasn't been enough to demonstrate that stories told by people of colour rarely get the recognition that they deserve. Just as the sole black person in an office is likely to be considered a representative of their entire race, the tradition of excluding black-majority stories from Hollywood means that any production that does make it up the ranks will be subject to more scrutiny that your average white-majority production.
Moonlight is one such example of that. But in addition to boasting a black-majority cast, it offers a story, and a means of telling a story, that is seldom recognised as a legitimate part of the black experience.
Oscars 2017 in 90 seconds
To many – particularly those who do not readily consider blackness as compatible with sincere explorations of youth, sexuality and family relationships – the semi-autobiographical adaptation of Tarrel Alvin McCraney's In the Moonlight Black Boys Look Blue, may be received as inauthentic, a deliberate attempt to stroke the sensibilities of white intellectuals. "The story has been told countless times", the columnist Camilla Long mused in her much-critiqued Sunday Times review of the film. Except that it hasn't. Not with the experiences of black, gay men as a focal point – and not in this way. Few films in recent years have had the lasting effect that Moonlight has had on me and many others I've spoken to.
Under the thoughtful direction of Barry Jenkins, who, like McCraney, grew up in a housing project in Miami's Liberty City neighbourhood of Miami to a mother struggling with crack addiction, the script, score, cinematography and performances give the film a sense of purpose rarely seen Hollywood.
The film's protagonist, Chiron, is affected by everything around him: his mother's worsening crack addiction, the mounting isolation he is faced with as the result of heteronormative constraints on his ability to express himself fully (both romantically and otherwise). And thanks to the phenomenal performances of Trevante Rhodes, Ashton Sanders and Alex Hibbert, the actors who play him at various stages of his life, Chiron felt more real to me than a great deal of characters from traditional coming-of-age narratives.
James Laxton's stunning high-contrast cinematography captured the beauty of black skin and, in collaboration with Jenkins, allowed it to exist in nuanced, and on ocassion surreal, contexts – against the soft glow of pink fluerescent lights, for example, and submerged in the richest blues. In an industry that has for decades failed to take the necessary steps to light the skin of black actors correctly, or even to equate black skin with beauty, efforts like these (which draw their inspiration from black photographers like Earlie Hudnall Jr and Henry Roy) go beyond aesthetic appeal; they are historic, and they are political.
The standout performances of the film – from Naomi Harris, who played the protagonist's mother, Paula, Mahershala Ali, who played Juan; and teenage and adult versions of the main character, Chiron, played by Ashton Sanders and Trevante Rhodes – were made all the more touching and relatable through the film's soundtrack. We, the consumers of mainstream film, do not often get to see chidren of colour dancing and playing against Mozart, and the use of an original score as delicate and forboding as composer Nicholas Britell's alongisde tracks like Aretha Franklin's "One Step Ahead", Goodie Mob's "Cell Therapy" and Boris Gardener's "Every Nigger is a Star", helped to give the each scene more significance.
Oscars 2017: Emma Stone's amazing reaction to best picture mistake
As Mahershala Ali said during his acceptance speech of Best Supporting Actor at the Oscars, "It was about Juan, it was about Chiron, it was about Paula". And while some will feel compelled to make it about La La Land, it will not change the fact that the Hollywood favourite didn't take home the award we all thought it would be handed.
Significant as Moonlight's win may be, however, it does not constitute the end of the fight for representation. The entertainment industry, and those who govern it, must continue to be held accountable for their choices, especially now that the talent of actors like Viola Davis (whose performance in Fences was said to be worthy of the Best Actress category, which eventually went to La La Land star Emma Stone) and the value of gems like Moonlight are starting to receive recognition.
Join our new commenting forum
Join thought-provoking conversations, follow other Independent readers and see their replies