Mikhail Saakashvili's Smash Hits: 10 choice Caucasian cuts from the recent past of Georgia
Our writer, a Georgian citizen, scours YouTube for post-Soviet video gold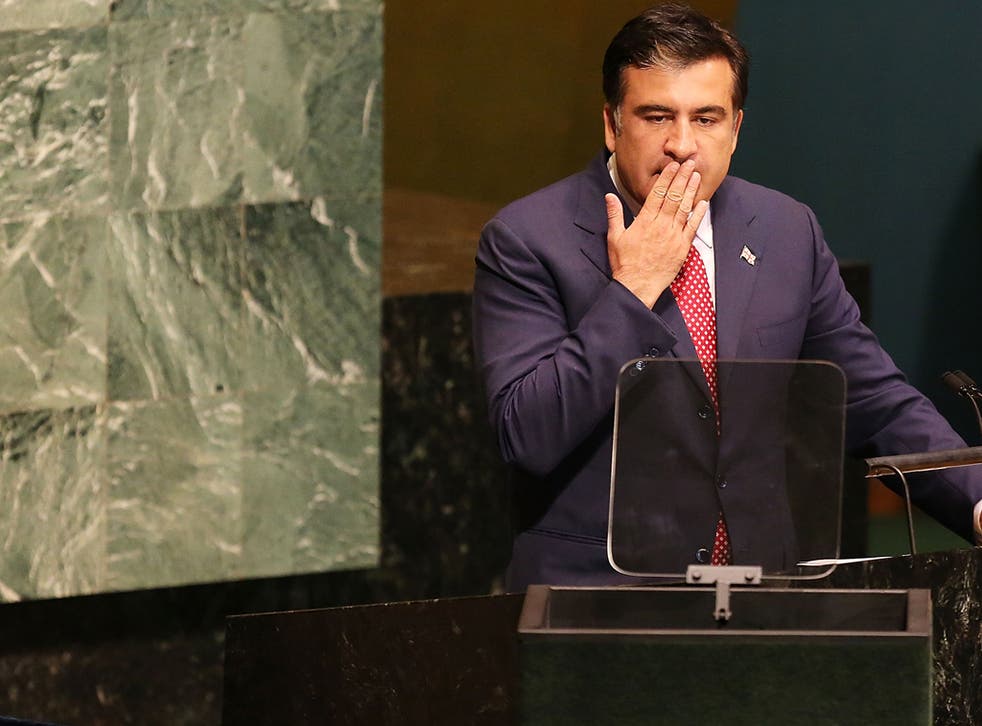 They say that politics is Rock N Roll for ugly people. Often, they are right. However, there are some places where the aesthetic deficiencies of politics are no deterrent to the stylings of musicians, and Georgia is one such place.
During the nine-year tenure of President Mikheil Saakashvili, the pop charts have been an open battleground between those loyal to him and his policies, and his intractable foes. They also present a nice little political-history-in-song of modern Georgia. Inspired by the excellent Lukashenko playlist over at Radio Liberty, I present a hit parade of songs about or inspired by Saakashvili, or Misha, as everyone calls him.
1. Misha Magaria. This song, called simply Misha is Cool, was written and produced by Goga Khachidze, a boy band star turned politician. It features flag waving kiddies prancing through the newly restored showpiece mountain town of Sighnaghi and was released just as the petals were falling off the Rose Revolution in 2007. Resounding with reassuring lyrics like "We will open the door to Europe and NATO" it was, embarrassingly, something of a hit, and Khachidze went on to become environment minister, which shows that flattery will get you anywhere. This is the karaoke version so you can sing along if you can master the Georgian alphabet.
2. By late 2007 public discontent with Saakashvili had grown, and a rag tag bunch of opposition parties set out to challenge him with large-scale street protests. This lavish production, timed to coincide with the start of the rallies, is by Utsnobi, Georgia's best-known rapper. Utsnobi just happened to be the brother of Levan Gachechiladze, better known by his nickname Buckwheat, a protest leader who would go onto to lose to Saakashvili in the presidential elections of January 2008. The song is named Deda Ena, or mother tongue, which was the first ever Georgian schoolbook, and can be seen being thrown into the fire by Nero/Saakashvili at the start of the video.
3. The conflict in Georgia's breakaway region of Abkhazia is a constant source of grief for many Georgians, not least the 250,000 that were ethnically cleansed from there in 1993 by Russian-backed separatists. However, the Saakashvili government's record in dealing with the issue was terrible. Instead of engaging with the separatists, he rattled his sabre at them and commissioned songs like this, Hello Abkhazia. It features a collection of beloved Soviet actors, pop stars and children travelling by road, rail and sea back to the lost province. Sadly, given the fact the thousands of Russian troops are garrisoned in a territory Moscow now regards as independent, it is probably a journey few of them will ever be able to make in real life.
4. Georgia's other breakaway region, South Ossetia, erupted into war in 2008. In the months before, the Saakashvili government had invested heavily in a group of pro-Georgian Ossetian politicians who sought to oust the thuggish boss of the territory, former bouncer Eduard Kokoity. Though the project as a whole might have been successful were it not for the war, this crude effort is what it will be best remembered for. The song is called Kokoity Fandarast, which is meant to mean 'Goodbye, Kokoity' in Ossetian. Unfortunately, goodbye in Ossetian is actually fandarastu, they changed it so it sounded like Kokoity Pederast…
5. Most thought the Russian invasion and occupation would spell the end for Saakashvili, but in spite of Putin promising to "hang him by the balls" he remained in his post (he remains there to this day). Georgian-Russian relations remain in the deep freeze, but in 2009 at least they provided some comic relief. This is the video for Georgia's Eurovision entry that year. Entitled We don't Wanna Put In, the chorus is a laboured pun on the surname of the Russian leader, "We don't wanna put in/the negative mood is killing the groove/I just wanna shoot in/some disco tonight." It's all good Eurovision fare, and the video even features a Bucks Fizz-style costume change. Alas, Stephanie and 3G never got to perform it in Moscow that year, as Eurovision officials banned it on account of its political message.
6. Bednieri Eri. The post war ennui of 2009, which saw yet more street protests staged by hapless opposition leaders, is brilliantly encapsulated by this little number by Anri Jokhadze. Borrowing its chorus from a poem by the great Ilia Chavchavadze, the song rhetorically asks 'can there be any nation on earth as happy as us?' The video is a tour de force, starting with the suicide of Georgia's first president and lampooning almost every major political figure since then, it also parodies songs 2, 3 and 5 on this list and find the time to tip its hat to the classic 1984 film Repentance.
7. Police Clip 3—Child Cops. With things back to normal by 2010, the Saakashvili government took to literally singing its own praises. This bizarre promotional spot for the country's (admittedly excellent) police services features children performing various different crime fighting roles, all in their own mini-uniforms. It also features a slightly sinister moment at 1.45 where it appears Bugs Bunny has been murdered. This was not the only music video the Interior Ministry commissioned, and this one was so well liked in neighbouring Armenia that they decided to re-make it almost shot for shot.
8. By 2012, Saakashvili's popularity, and that of his party the United National Movement, had seriously waned. The opposition, led by billionaire oligarch Bidzina Ivanishvili, had finally got itself together. However, had it not been for the release of videos showing sickening abuse of prisoners in the country's notorious jails then Misha's party might have scraped through the October 1st parliamentary elections with a majority. As it was they lost badly. This video shows the sense of outrage felt by most people in Georgia. It is a collaboration between the most popular rock and electro acts in Tbilisi and is simply entitled The System Must be Destroyed, it was released three days after the scandal broke. The lyrics are angry. Referring to the videos in which inmates appear to have been raped with brooms, they shout "I can't close my eyes, I can't stand aside, when the system systematically shits on our head. Come to your senses! What else has to happen?! All of this has to end now. If you try to avoid it, don't be surprised to get a broom up your arse." Also, memorably, "I piss on your epaulettes."
9. People often ask me if is true that Ivanishvili, now Georgia's Prime Minister, really does have an albino rapper son. Well, it totally is true. Here is Bera performing Georgian Dream, the theme song of his father's coalition, which also happens to be called Georgian Dream. Rumour has it that Ivanishvili senior spent millions on Bera's recording career, building a state of the art studio and hiring the world's best hip-hop producers—some wags even suggest that the only reason he ran for office was to boost his son's career. Watching the video, one has to ask if it was money well spent.
10. Now that the elections are over and Saakashvili is gracefully seeing out his term while his party is in opposition it is probably time for tempers to cool in Georgia. With that in mind, here is the Male Choir of the People's Armed Police of China singing the classic Georgian folksong Suliko.
Additional reporting by John Horan
Join our new commenting forum
Join thought-provoking conversations, follow other Independent readers and see their replies