Narendra Modi challenges the Gandhis' Idea of India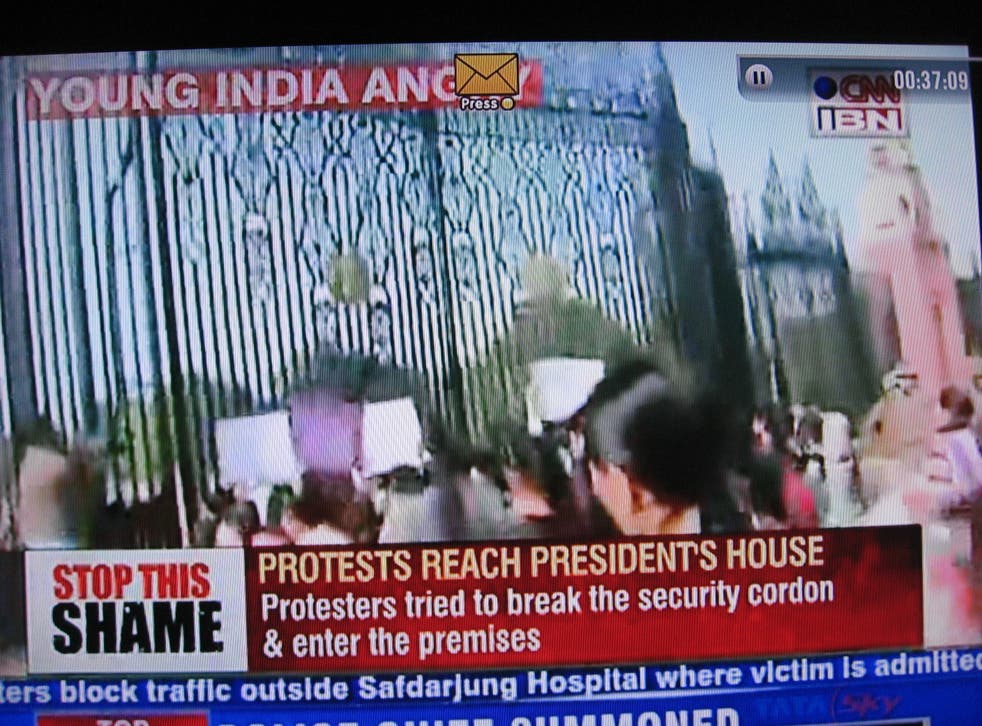 It is beginning to look as if the next general election could turn into a battle over the "idea of India" between the Hindu-nationalist, efficient, and growth-oriented approach of Narendra Modi, who was re-elected yesterday as the Bharatiya Janata Party (BJP) chief minister of Gujarat, and the more all-embracing secular and populist but less efficient and often corrupt model offered by the Congress Party and its dynastic leader-in-waiting, Rahul Gandhi.
"Rahul....represents the idea of India," Salman Khurshid, India's external affairs minister, said yesterday, commenting on Modi's re-election with a phrase first used by Rabindranath Tagore. The inference was that Modi (above) does not represent that idea because of his aggressive nationalist image and because he seems to be more concerned with courting business investment than caring for the poor and minorities, whereas Rahul Gandhi and his mother Sonia, the Congress president, instinctively lean towards the softer inclusive option of aid handouts rather than challenging economic reforms.
Modi has a long way to go to become the BJP's prime ministerial candidate, and he has yet to show that he has any significant following outside Gujarat, where he has ruled since 2002; but the image of efficient administration that he offers could prove attractive at a time when there is growing impatience with the inadequacies of India's government and administration.
That impatience has been shown this week with five days of countrywide demonstrations demanding action against rapists, following the gang rape of a 23-year old woman by five men in a bus while it was being driven round Delhi last Sunday night. The woman and a friend were dumped at a roadside near the airport and she is still critically ill in hospital.
Today those demonstrations reached the gates of the presidential palace alongside the imposing buildings of the home, defence, finance and foreign ministers and the prime ministers office – all of which have to varying degrees symbolised the lack of leadership offered by the government of prime minister Manmohan Singh and Sonia Gandhi.
There is a huge gap between the way that India's government and its officials run the country's affairs and what is needed - and people, especially large sections of the country's 300m middle class, are tiring of it. This week's anti-rape protests echo the mass anti-corruption demonstrations that have built up in the past two years, but which have still not led to significant government action in either legislative or administrative reforms.
Police chiefs this week have (along with others) suggested that rapists should be executed and that women should not go out after dark and should carry chilli powder to throw at attackers. That is typical of India's responses to many problems – grab attention with headline-catching ideas that divert attention from basic reforms – in this case the attitudes of habitually cruel but also grossly under-trained and under-supported police.
Political parties have condemned the rape and called for action to protect women, but a study released yesterday by the Association for Democratic Reforms (ADR) showed that since 2007, 20 men accused of rape have represented those parties in state elections since 2007 along with 260 more men charged with other crimes against women, including molestation.
The Gandhi family has tried to build a more constructive image in recent months by backing some economic reforms, including controversial foreign investment in supermarkets. The government has improved its presentation, with 80-year old Manmohan Singh visibly looking less glum and with positive policies emanating from the finance minister, Palaniappan Chidambaram and others. Reforms passed by parliament have this week included long-pending banking and company legislation.
In Gujarat, Modi won his third assembly election victory with 115 seats, less than the 117 in 2007 and 127 in 2002, but nevertheless a convincing win. Congress marginally improved its tally with 61 seats compared with 59 and 52 before. It also won a state assembly election in Himachal Pradesh (with a leader named in a recent coal industry corruption scandal), where Modi campaigned for the BJP with little apparent effect.
BJP national leaders now have to decide how to restrict or accept Modi's ambitions. He made his national ambitions clear yesterday in a victory speech, which he delivered in Hindi instead of the Gujarati he used in the campaign. He was, he said, serving "Mother India" as well as Gujarat, and he apologised for unstated past "mistakes".
Other BJP leaders have prime ministerial ambitions, and they all know that accepting Modi as a national leader would make it difficult to attract partners in their National Democratic Alliance (NDA) for the general election campaign- Nitish Kumar, leader of the Janata Dal (United) and chief minister of Bihar, has warned he would pull out.
That might mean that the BJP would have to run its campaign with very few allies and then hope that it would attract partners if it won enough seats to have a chance of forming a government. With Modi's unproven track record outside Gujarat however, that would be a big gamble, though one solution might be to twin Modi with another more acceptable leader. It is now up to Modi to build himself a more national image based on meeting peoples' growing aspirations with effective government and economic growth, and without recourse to the emotive issues of religious intolerance and fear of (Pakistan-originated) terrorism that he used in the earlier state elections.
What is surely certain is that India is in a mood for at least some of the more constructive Modi ideas. It is less clear that it wants more of the Gandhis' with Rahul. In the end, probably neither Modi nor a Gandhi will win, but the two men epitomise at least partially the debate of what is the idea of India and what India needs.
For more articles by John Elliott go to his blog - http://ridingtheelephant.wordpress.com/
Join our new commenting forum
Join thought-provoking conversations, follow other Independent readers and see their replies