Paris attacks: Intelligence is our best defence against terrorism
Even if Isis were defeated, that wouldn't remove the threat of jihadist terrorism which doesn't need an army or a state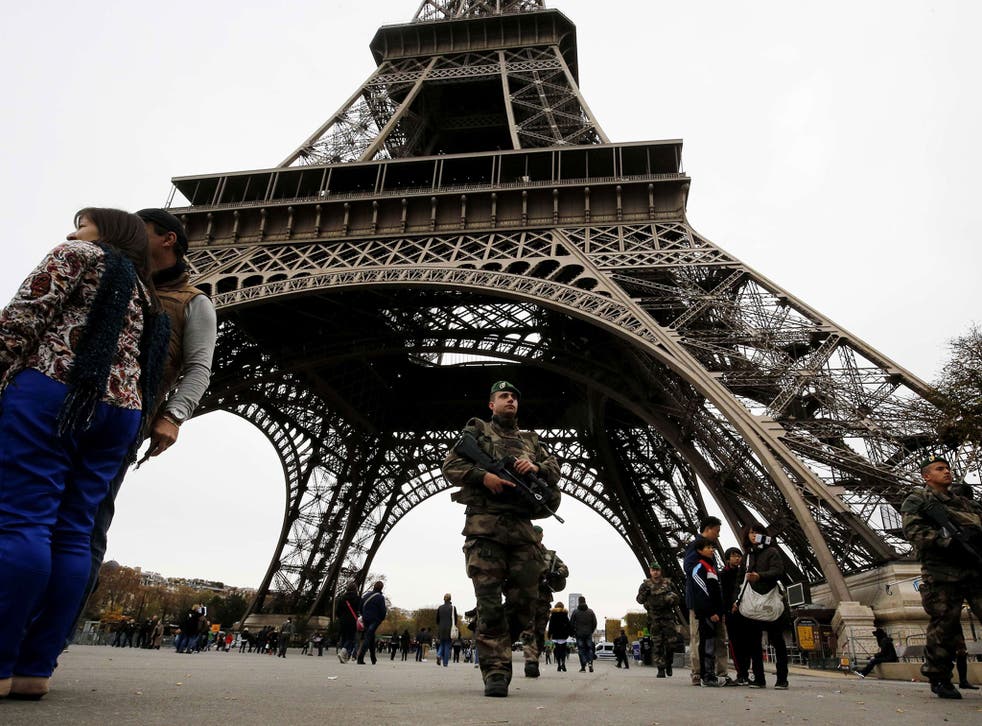 First, let us say that we stand with France in solidarity and sympathy. The aim of the terrorists is to inspire fear, division and an overreaction that will strengthen them. They must not be allowed to succeed.
They want to feed Islamophobia and to provoke repressive measures that could be used to enlist disaffected Muslims in supporting violence. The political situation in France is particularly dangerous, given the strength of the anti-immigration Front National (FN). There are regional elections next month, and a poll last week for the 2017 presidential election put the FN's Marine le Pen in the lead, on 28 per cent, ahead of Nicolas Sarkozy and François Hollande.
That is why we feel uncomfortable with President Hollande's language. He described Friday's killings as "an act of war". We understand how he feels and share the sense of shock, but we worry, as we have throughout the "war on terror", about according the status of soldiers to people plotting terrorist murders. These are not soldiers or martyrs, but the adherents of a cult that glorifies death.
Similarly, we feel that as a newspaper we have a responsibility to avoid the terrorists' propaganda. We have in the past tried to minimise our coverage of the beheadings by terrorists of the so‑called Islamic State, and we hope that our reporting of the murders in Paris is as factual and as straightforward as it can be.
How world leaders reacted to French tragedy
The response of Western governments should be dignified and determined, but patient. Our best protections are intelligence, in both senses of the word, and education. Some people think the killings make the argument for a more active military engagement in Syria and Iraq, but Mr Hollande and David Cameron were wise not to do so. Hilary Benn, the shadow Foreign Secretary, is right to say, in our interview today, that the Paris murders do not change his view that Britain should hold back from air strikes in Syria unless there is a clearer strategic case for them.
The retaking of Sinjar in Iraq by Kurdish forces on Friday is, of course, encouraging. But the only way that Isis will be defeated is by a political settlement in Syria, of the sort being sought in Vienna, and a parallel one in Iraq. That is a difficult objective, but even if Isis were defeated, that wouldn't remove the threat of terrorism, which is driven by the idea of jihadism and doesn't need an army or a state.
The problem of violent jihadism has been with us for more than 14 years now, and for most of that time it has had no territorial base. Bali 2002, Madrid 2004, London 2005 and Mumbai 2008 were all carried out while al-Qaeda and similar ideologies were stateless. More recent attacks, on Charlie Hebdo magazine, Paris, in January this year, and Sousse, Tunisia, in June, had only a symbolic connection to Isis in Syria and Iraq.
The world mourns Paris attacks - in pictures

Show all 25
Even the bombing in Ankara, Turkey, which killed 100 in October, and the Sharm el Sheikh bomb on a Russian plane that killed 224 this month, were not necessarily organised from Syria. Even if Isis ceased to exist tomorrow, the jihadist ideology will take decades to decommission.
The most important defence is good intelligence. It was welcome, therefore, that Jeremy Corbyn sought a briefing by security officials. All political leaders need to understand the nature of the threat, and some of that knowledge should be secret. Indeed, it is probably more important that Mr Corbyn should be briefed than other politicians, because he is sceptical about the Government's terrorism policy. There may be some hard choices to be made about civil liberties and the use of internet information. If Mr Corbyn supports controversial measures, his backing might carry more weight than most.
Join our new commenting forum
Join thought-provoking conversations, follow other Independent readers and see their replies