As my plastic-free quest continues, I believe only a levy on disposable coffee cups will break a nasty national habit
In the second part of her diary about the challenges of giving up single-use plastic for Lent, Anne-Marie Trevelyan is stymied by pre-wrapped cutlery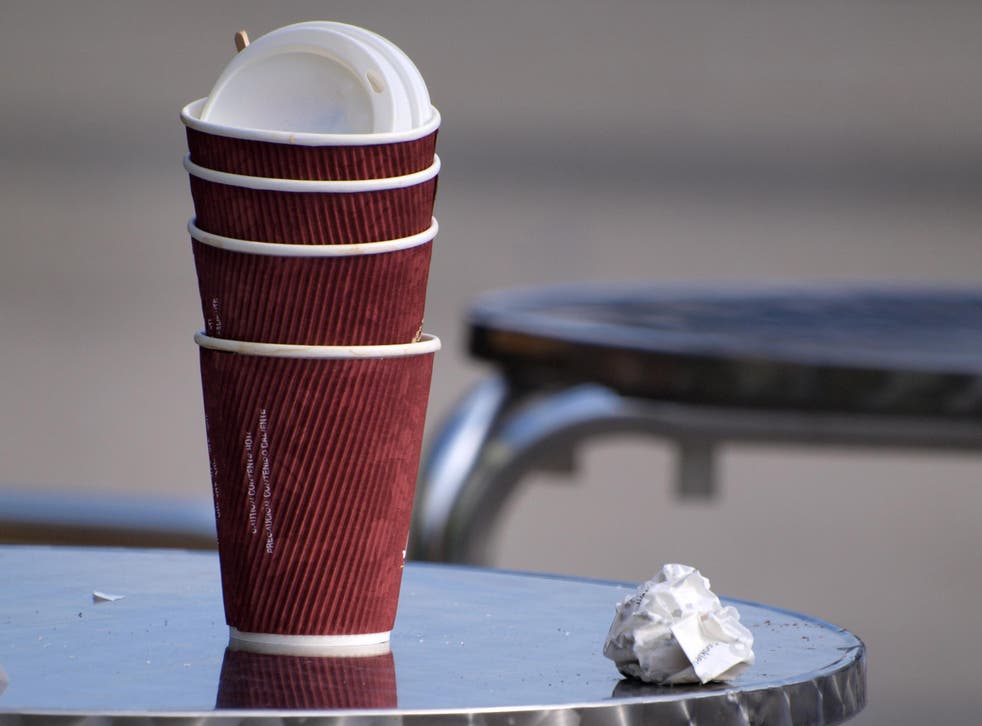 Easter draws a little closer, and if I had committed to giving up chocolate or alcohol then the prospect of relief from my abstinence would be coming into view. But my personal challenge has been to try to stop buying or using single-use plastic.
I am on a fascinating, and frustratingly difficult, Lenten adventure, and the last week has thrown up both familiar examples and new discoveries of single-use plastics deployed to excess.
As I continue to test out supermarkets with my late evening, post-constituency day visits, this week took me to Waitrose. As the snow kept me from getting home last weekend, I had not been able to go to my butchers, so headed to the instore meat counter.
I began with my now-accustomed opening line of: "Please help me, I've given up plastic for Lent" – which is greeted either with a smile of compassion, or kind words like "that's amazing" or "gosh, I'll bet that's a challenge".
On asking whether they would have any wrapping which was not plastic, the butcher pondered, remembering that only a few years ago they always used waxed paper. He then scuttled off to the cheese counter, noting that he had to find the cheese lady first so that he didn't have to throw away his plastic gloves (contamination and all that!).
He returned with waxed paper, and seemed to take great pleasure in preparing me a small Christmas parcel with my supper carefully in it. He chuckled that it really could do with some string! Mind you, waxed paper has its own recycling issues, so it might not be a long-term solution.
Instances of single-use plastic which I had never really thought about before include the plastic bag in which some catalogues are wrapped. And yet, many come through the letterbox unpackaged. So how about all firms follow suit right now and we can save a whole lot of plastic straight away?
On the plus side, I have discovered some recyclable plastic bin bags to purchase online – although it turns out they are three times the price of my usual ones. Is that because biodegradable plastic is really that much more expensive? For many people, this added cost is a barrier to changing habits.
And can anyone tell me how I am going to find loo rolls to purchase with no plastic wrapping – perhaps boxed up instead in cardboard? I mentioned this last week and it's proving one of the most frustrating aspects of my attempt to go plastic-free.
UK news in pictures

Show all 50
Like many politicians, I live a fairly on-the-move lifestyle. This week I hit the plastic cutlery issue for the first time, when I popped into McDonalds for some pancakes for breakfast on my journey north.
The staff were so kind and helpful with my tea in my own mug, and milk from their own big cartons, rather than those little sachets of milk. (Whatever happened to jugs of milk?)
But the cutlery was a challenge. If it had not been wrapped in a little plastic bag then I would have been OK, as I was able to wash the knife and fork which is now in my car ready for next time.
Do we really need to be so uber-obsessive with hygiene and wrap even things like cutlery in extra plastic?
As I go about with my reusable mug, it is very notable that serving staff in various coffee shops and food stores are more than happy to help. Still, there is clearly more to be done to encourage people away from disposables.
What do people think of Starbucks charging 5p for coffee cups?
It seems to me that the quickest way to reduce the two billion thrown away plastic-lined cups and their plastic lids each year is to motivate shoppers, as we did with the 5p plastic bag charge.
I believe only a real levy of something like 50p a cup will break the bad habits we have all developed of drinking coffee on-the-go, without consideration of the waste we are creating.
So, despite last week's decision not to implement a charge just yet, I shall keep asking Michael Gove to consider this proposal. A tax with a sunset clause built in by consumers' own changing behaviour? It seems like a good, responsible, Conservative idea to me.
Anne-Marie Trevelyan is MP for Berwick-upon-Tweed and PPS to the Ministerial Team, Ministry of Defence
Join our new commenting forum
Join thought-provoking conversations, follow other Independent readers and see their replies