Please, Jeremy Hunt, stop your unthinkable attack on junior doctors
An open letter from a junior doctor to the health secretary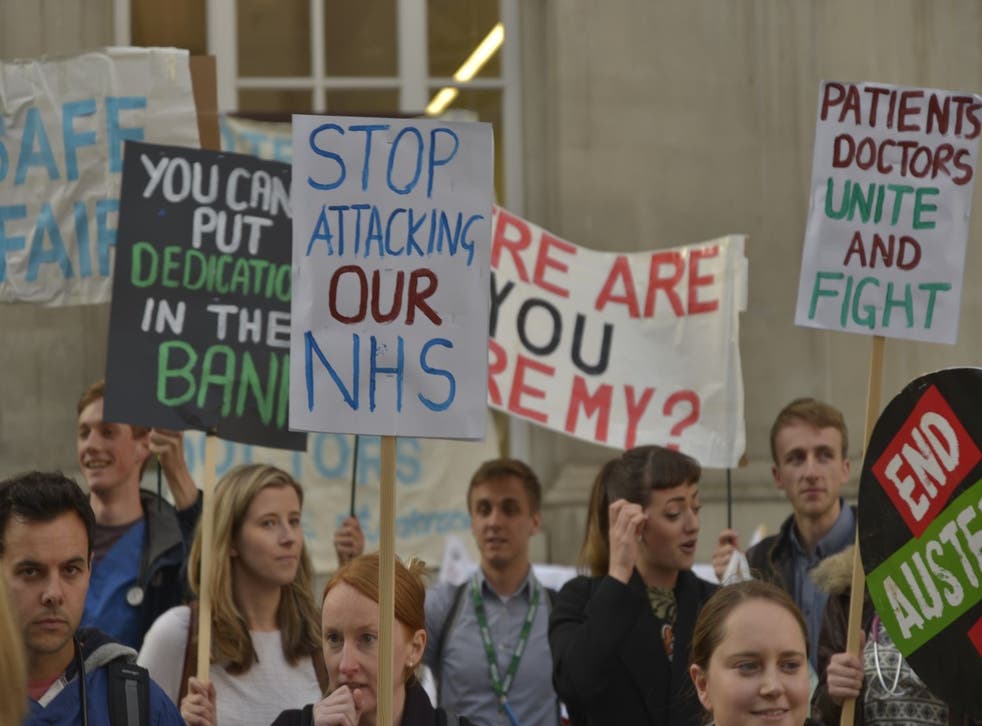 Dear Jeremy Hunt,
I'm a junior doctor. I'm training in psychiatry and have been working for the NHS for more than five years. Over this time I have learnt a lot about people. One thing is that deep down, we are all pretty similar. We're all a bit scared and sometimes, we all need help. One thing's for sure: admitting you need help is tough. And I wonder – are you ready to do that?
The time has come for you to face up to the issues that so far you've been avoiding. Your attack on junior doctors' pay by imposing an unsafe and unfair new contract is yet another distraction from making real decisions about the future funding of the NHS.
When thousands of junior doctors took to the streets of Westminster on Monday with placards, we didn't just do it for ourselves and our salaries, we did it for our patients. Most people have the odd fleeting encounter with the NHS. It's convenient for you, Jeremy, that the majority of people who really rely on it can't protest as they're too sick. But the NHS has shaped our values and built us into the people we are. We are the ones who see the way this world-leading and efficient institution improves the lives of millions of people. We won't let you starve it to death, and we certainly won't be used as scapegoats.
While you quell your anxieties by posting meaningless tweets, we're at work. I'll be there this weekend assessing people in a London A&E. They might be depressed, they might be suffering from psychosis, they might, as is getting more and more common, be at their wits end and considering suicide because they have no housing, no money, no food. Don't you realise that when a government cuts social services, it's the NHS that picks up the pieces? Without the right places or people to receive support from, our patients are more likely to find themselves back in hospital. Can you please explain the economics of this?
I love my job and I can't imagine doing anything else. I don't mind working weekends and pulling my weight to cover nights. However, I cannot just shrug off your assertion that 'normal working hours' are now 7am-10pm Monday- Saturday or that the antisocial hours "banding" should be ditched, meaning I will get a 30 per cent pay cut.
Junior doctors aren't kids fresh out of university. We range in age from 24-40, and often have many years of NHS work under our belts. We've passed multiple expensive professional exams, and many of us have financial responsibilities that we will now struggle to fulfill.
NHSE England has been quick to point out that our base salaries will be higher than they were before, and that some doctors will benefit from the new contract. This may be the case for the very select few who don't work nights or weekends, but if it was the case for the majority, why not reassure us with some specifics? Interestingly, despite being repeatedly asked for specific figures by the BMA, you have failed to provide them Jeremy. Estimates made so far suggest small improvements in the base salary, which don't even compensate for the massive loss of income we will suffer from changes to the definition of "out of hours" work.
Contrary to public perception, junior doctors are not particularly well paid given their level of education and responsibility. The starting salary for a first year doctor working 9-5 weekdays is only £22,636. Even after five years of service, mine is £34,402. We're not asking for bankers' salaries, but we're bright, motivated and highly skilled people who hold responsibility for peoples' lives. We just deserve a wage that reflects that. In my opinion, the Department of Health is using a vague nod to "base pay rises" as a smokescreen to distract from the huge cuts they intend make to other parts of our salaries.
Our pay is already 15 per cent lower in real terms than it was in 2007. Pension cuts and the removal of free hospital accommodation were further blows to our salaries. Now you want to cut pay progression for academics doing crucial clinical research and for women who take time out to have a family. Given that 60 per cent of doctors under the age of 30 are female, this will lead to gender pay inequality on a massive scale. Having a family is not a selfish frivolity, it's a natural part of life and female doctors should be supported as they juggle challenging work and family commitments. The Government should take the lead on shifting social attitudes towards motherhood and the workplace, instead of trying to shove them back to the Sixties.
Many departments within our health service – such as Emergency Medicine, Psychiatry, and General Practice – are already struggling to recruit. And the new contract will only further exacerbate these shortages. Under what you've proposed, my pay as a Psychiatric Registrar next year will assume that being on call from home means being in bed and answering the odd phone call. It will not reflect the reality of the work, which involves covering multiple hospital sites, driving through the night and assessing people brought in by the police.
On top of my day job, I have also spent 12 of the last 24 months studying for tough professional exams. They're compulsory and cost thousands of pounds to take. This constant studying is draining, and the disruption has had a knock-on effect on my loved ones.
Even the most motivated, bright and compassionate people can be run into the ground with savage paycuts and the removal of safeguards against 90-hour weeks.Our patients deserve better than demoralised, exhausted and depressed doctors. As a profession, we already have an average suicide rate that is twice as high as the general population's, and these contract changes risk making that figure higher. If you push them through doctors will be forced to go off sick, make mistakes, and stop doing all the extra hours they were previously doing for free. They will escape before they're cornered, and move to countries where their skills are valued and stress levels lower.
Supported by the BMA, we will fight for fair pay and acceptable working conditions. And we will fight for every patient, and we will fight for our health service. The NHS needs to be paid for, and there are many ways this could be done that don't involve killing it from the inside by pushing staff to the brink. You know that, but perhaps it doesn't fit with your ideology.
A consultant once said to me that training as a doctor is a "process of brutalisation". We have been exposed to some of the saddest, grittiest and most visceral sides of life the age of 18, and I worry that the Government's political agenda seeks to deny this messier side of human existence. We deserve a fair contract so that we can be there for the people who you would have our society leave behind. We need to talk Jeremy, and you need to think.
Join our new commenting forum
Join thought-provoking conversations, follow other Independent readers and see their replies