How to stop Donald Trump: 5 things you can do to fight the President-elect and frustrate his policy plans
Hitting the streets and protesting is definitely a good way to voice your opposition – but what will help in the long term?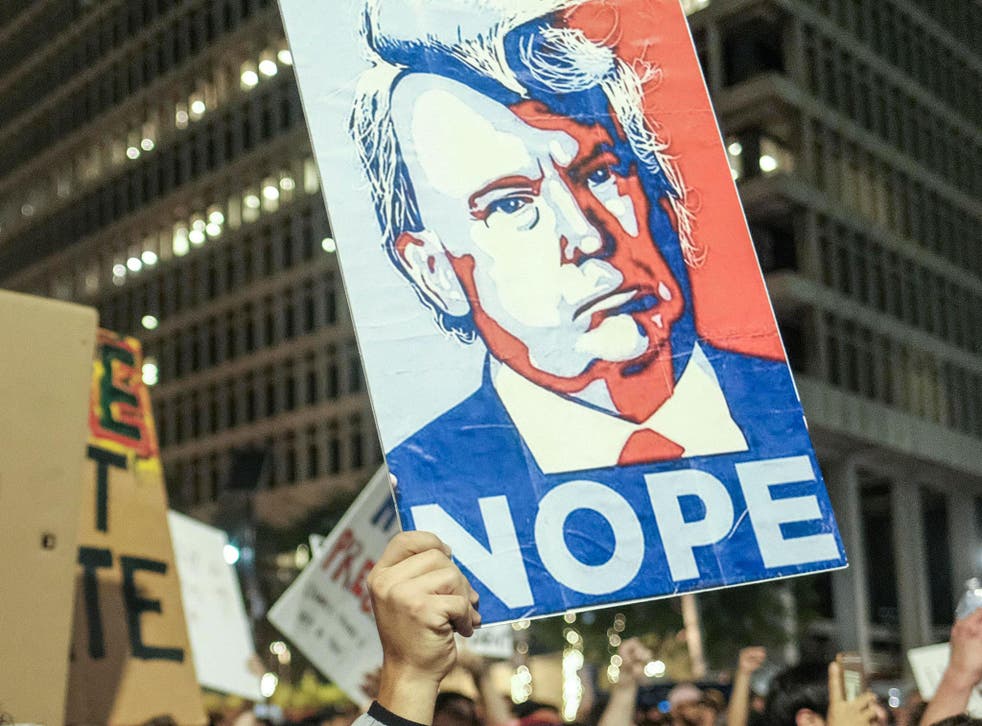 Donald Trump's shocking defeat of Hillary Clinton has sparked a massive wave of protests across as many as 25 cities.
His win came much to the dismay of Clinton supporters, who came out in droves to vote for the former Secretary of State. And yet, despite their ability to give the popular vote to Ms Clinton, it was still not enough to earn her the electoral college numbers.
The defeat leaves many supporters grasping at ways they can disrupt the former reality television star's rise to power.
US Election: Thousands protest Trump's victory
Social media buzzed with the unlikely possibility that members of the electoral college could break their pledge to cast their state's vote to the President-elect – known as a "faithless elector" – and thus turn the presidency over to Ms Clinton.
While an elector has voted against the President-elect, it has never reversed the final outcome of a presidential race.
So, what can people do to best make their voices heard in the wake of the Donald Trump's election?
Protest outside Trump businesses
Donald Trump has not made clear whether or not he will divest himself from his company, Trump Organisation, but there is no law that says he cannot involve himself in it.
His headquarters atop the Midtown Manhattan tower sits in the centre of one of New York City's posh commercial districts. Hordes of protesters crowding the street could disrupt traffic into the tower that bears his name. Not to mention disturb the neighbours – which include Tiffany & Co, Louis Vuitton, and Burberry – as shoppers flock to the retailers this holiday season.
World reaction to President Trump: In pictures

Show all 29
Mr Trump holds various properties in a number of US cities, with a handful of buildings throughout New York City, as well as hotels in Chicago and Las Vegas. Similarly, loud protesters congesting the sidewalks outside these buildings could certainly scare off any guests or any business that would hold a lease inside.
Donate to nonprofit organisations
After Mr Trump won the election, the American Civil Liberties Union took a stand against him. Noting his "unlawful and unconstitutional" policy proposals, they promised to take his administration to court in every state.
Those concerned for the future of the US can donate money to organisations like the ACLU who are prepared to fight for people who face the most impact from Mr Trump should he implement his policies.
President Trump protests

Show all 20
Such organisations include the NAACP, Planned Parenthood, the Southern Poverty Law Centre, Council on American-Islamic Relations, American Friends Service Committee's US-Mexico border programme, and nonprofit journalism organisations like The Centre for Investigative Reporting and ProPublica.
Amplify the allegations and pending lawsuits against the President-elect
Mr Trump will likely testify on his behalf this month in an ongoing federal lawsuit about fraud claims at Trump University – unprecedented for an incoming president. There is very little coverage about this at the moment, given the frenzy that resulted from his unexpected win.
Additionally, more than a dozen women have accused Mr Trump of sexually assault. The claims came about after the early-October release of audio that captured the President-elect bragging about forcibly kissing women and grabbing them by the genitals.
Every woman to make sexual assault claims against Donald Trump

Show all 16
It is important that these stories don't disappear in the clamor.
Continue to share these stories and try to keep more people aware of what the person set to become the country's leader has been up to all these years.
Civic engagement
Some 46.9 per cent of Americans failed to make it to the polls, according to the United States Election Project. This number made its way through social media after the election, accompanied by shameful chides that more people should have voted.
However, those numbers did not stipulate that many of the people who did not make it to the polls fell victim to the Supreme Court's 2013 decision to gut the Voting Rights act. The decision – which led to laws that allegedly targeted black voters – resulted in 868 fewer polling stations than in 2012.
Most effective change will come from the bottom, at the local level, and up the ladder to state politics. It's a longer road, but voter restriction has been an ongoing problem in state and local governments for decades. Should a more diverse array of people engage in the political process, then perhaps it could lead to more fair voting laws in states like North Carolina and Florida – which were crucial in the election of Mr Trump.
Prepare for 2018
Republicans have control of the House and Senate – which could result in the rejection of many of President Obama's legacy achievements, such as the Affordable Care Act. However, if Democrats get to work on outreach now, they could reclaim the US Congress in two years.