The real intrigue lies with the no-shows at Murdoch's wedding
The absence of Tony Blair was unsurprising, but what about David Cameron and Boris Johnson?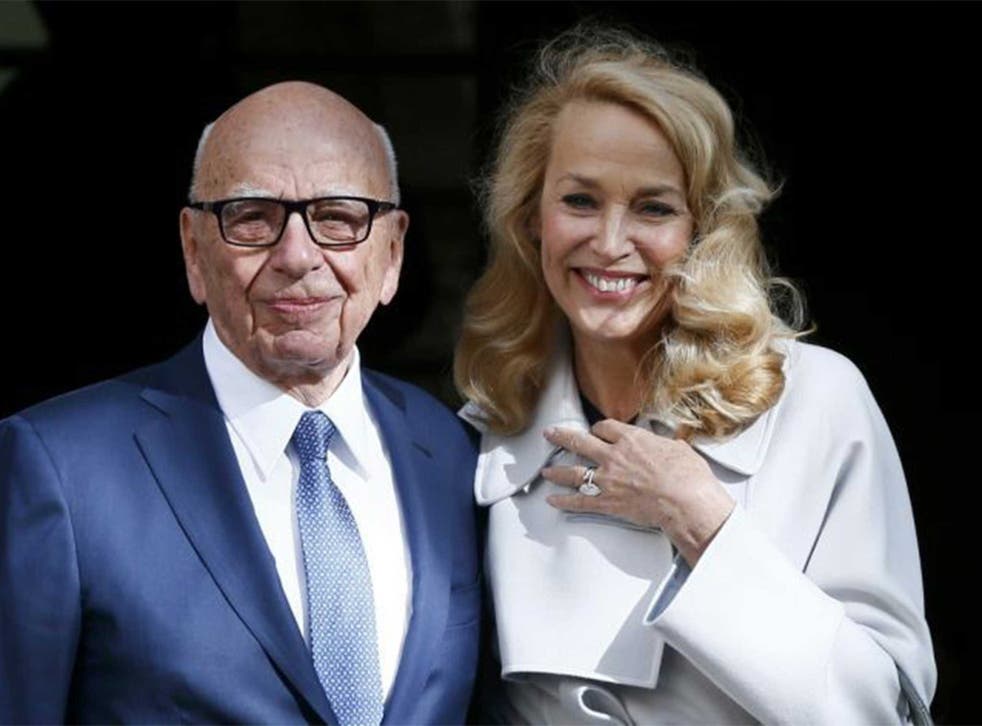 Ben Brown has long had a reputation as the carrion crow of broadcast news, whose presence anywhere on the planet is the most reliable guarantee that something truly monstrous is unfolding.
Whether he was drafted in specially, or whether it was pure coincidence, how fitting that it fell to Brown to read the BBC1 news on Saturday night. For that bulletin contained the tidings that Rupert Murdoch had exchanged vows (a devalued currency in his purse, perhaps, but let's try not to carp) with Jerry Hall.
Technically, the ceremony in the journalists' church of St Bride's, Fleet Street, lacked the requirements for a major disaster. However strongly the groom resembled a cadaver, no one died. No one fled their home – far from it, Jerry and Rupert will apparently have continued use of the Richmond mansion owned by her ex, Mick Jagger. There will probably be no charity appeal.
Yet who could gaze on the pictures of bride, groom and gilded guests without suffering traumatic stress?
Murdoch and Hall wedding blessing

Show all 14
It isn't purely the optics, gruesome as they are. It is true that Murdoch, who turns 85 in a few days, doesn't look his age. Increasingly a doppelganger of Davros, creator of the Daleks, he might get away with 103 in a soft, flattering light. Meanwhile, his fourth bride, who has been immaculately preserved by forces other than formaldehyde, could pass for a decade younger than her 59. Shlock horror film franchises have been inspired by less – so much less – than these photos.
But the really macabre fascination lies beyond the pictures. Certainly, this marriage will captivate chroniclers of early millennial Britain. To social and political historians, the vignettes are priceless source material.
These academics have a choice of areas. They might examine what this marriage reveals about the cowardice of our newspapers in speaking truth to power. How can it be that none of the Daily Mail's lethal phalanx of vixen columnists, who live only to ridicule comic age-gap relationships of this type, have not had a scornful word to say? Perhaps the presence as a guest of one Sarah Vine offers vague insight.
Alternatively, these historians might concentrate on the flexible morality of our governing class. Michael Gove (Mr Sarah Vine) was also at St Bride's. Less than five years after Rupert endured the humblest day of his life, when he did his half-senile act for the select committee examining phone-hacking, a senior Cabinet minister (admittedly a friend and previous employee of the wicked old goat) feels emboldened to offer his public blessing.
David Cameron did not join Sarah and Michael, the detoxified Rebecca Brooks, Barry Humphries, Andrew Lloyd Webber and this most fecund of marrying couples' bewildering array of children and grandchildren. Nor did Boris Johnson, who is at least as diligent a Murdoch sycophant as Gove. Unlike Govey, who confirmed his lack of leadership ambition by showing up, Boris intends to succeed Mr Cameron as PM, and Murdoch still carries a taint that no amount of front-page wedding coverage can entirely remove. But what kept Cameron and Boris away were the public-relations implications, not moral distaste for celebrating the knot-tying of this media Don Corleone and his drawling Southern belle.
Any decent wedding party is more notable for its absentees than attendees, of course, and the historians will note that among the uninvited was Mr Tony Blair. He and Murdoch are terminal non-speakers, as you know, due to the latter's suspicions about the former's relationship with his third wife, Wendi Deng.
Once upon a time, the two were symbiotically joined. Rupert nipped into Downing Street by the back door to dictate government policy on the EU. When Mr Blair fancied a little narcissistic merriment at George W Bush's side, it was Rupert who enabled it via the nauseatingly slavish pro-war line taken by The Sun and The Times. Later, you will recall, Tony attended the christening of Murdoch and Deng's daughters by the banks of the Jordan, in flowing white robes.
If the Iraq war was more than anything about oil (Rupert wanted it, he stated before the invasion, because it would bring down the price of the commodity and be good for business), Blair's absence on Saturday and the enmity this represents lent a flavour of the Barnes vs Ewing feud from Dallas to this demi-Texan love match.
One of the few consoling joys of human existence is observing the ridiculous marching through life in total ignorance of how ridiculous they appear. So our thanks to Rupert for his final tweets before an extended honeymoon absence from Twitter, which had the tone of a 22-year-old star of TOWIE gushing to Closer magazine about the depth of her love for a Premier League footballer. He is, he assured us, the happiest man in the world.
In that blissful cocoon (and one of those rejuvenating pods from the movie Cocoon would make the ideal wedding gift), how could he be anything else? He now resides in a surreal place where soap opera, politics, rampant vulgarity and raw power collide. The only other occupant of that bizarre nexus who comes to mind is another quadruple bridegroom, Donald Trump.
In a world where Trump remains a live contender for the Oval Office, who can affect to be astonished by this latest twist in the crazy, crazy life of Rupert Murdoch? Please God, then, that for once Ben Brown isn't the harbinger of doom, and that the fake smile on his face as he introduced that touching news item does not presage disaster. Here's wishing Rupert and Jerry a fulfilling marriage in every possible way. One has little doubt that Rupert, pass for 117 in harsh daylight though he might, would reassure us his hands are in no way shrunken by age, and his handshake remains as firm as ever it was.
Join our new commenting forum
Join thought-provoking conversations, follow other Independent readers and see their replies