The Real Liam Gallagher stands up - with a contemporary art show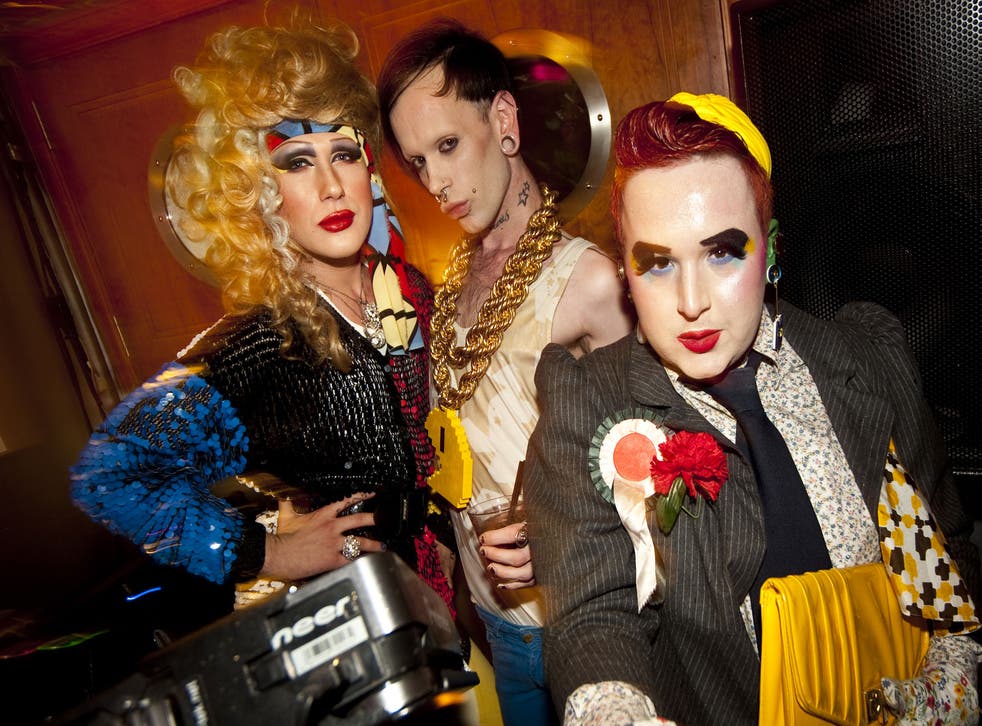 His Wikipedia entry describes him as an "entertainer, artist and writer" but none of that really covers the work of Scottee. "Mostly what I do," the 30-year-old north Londoner says, "is find something that annoys me and respond to it." In the past, that has led Scottee to host talent contests for fat people and to produce art characterised by what he describes as "shining a light on the s***": "I am fat, queer, left-handed and dyslexic," he says, "and I live in a world that treats outsiders as grotesque."
About a year ago, Scottee started to notice the way that society was treating his 79-year-old illiterate Irish grandfather. "He was becoming invisible. People would brush past him in the street and ignore him if he tried to talk to them. When we'd go to see doctors together they'd either shout at him or talk to me," he says.
So, Scottee took matters into his own hands, by teaching his grandfather to read and write and showing him how to make contemporary art. The resulting show, No Need to Shout, opened in London last week and the artist, who is called Liam Gallagher – and works under the name The Real Liam Gallagher – was there to see the reaction. "He said to me, 'I don't know why, but I feel different. Important'," Scottee says, "and I felt the whole project was a success for that one quote."
Next up, Scottee plans to start an elders' art group to combat the ageism he sees in the art world. "The likes of Saatchi have destroyed contemporary art by running into art schools and buying up works by 23-year-olds. The Turner Prize does not accept work from anyone over 50. Who knew that my grandfather was going to be the political David Shrigley?"
The real hot feminist
There's been much media-folk talk of late on the subject of "hot feminism", not least because Hodder & Stoughton has just published a book called Hot Feminist, that sets out a manifesto for "Feminism With Style, Without Judgement". Let's just say that not all the reviews have been kind to the book's author, the journalist Polly Vernon, and leave it at that.
Last week, the "blogzine" Selfish Mother published a piece by Harriet Shearsmith called "An Open Letter to My Daughter on Feminism". Among its many other insights were the following: "Being a feminist means only one thing – that you are proud to call yourself a woman or, if you are a man, you believe that being a woman isn't tantamount to being a second-class citizen …." And: "You are not an anti-feminist if you are a 'housewife'. You are not letting the side down if your life goal is to love and adore your partner and have a bundle of kids and stay at home with them".
What, then, is Shearsmith's view of Hot Feminist? "I haven't heard of or read the book," she tells me. "To be honest," I tell her, "your version of feminism seems pretty hot to me." "Maybe," she says, "that's because I'm speaking from the heart to my child who I do desperately want to be proud of herself as a woman."
Mum's the word
Two weeks ago a Norwegian film-maker called Alex Lyngaas posted a video to YouTube called "Looking for Adam" in the hope of finding a partner for his 69-year-old mother, Eva (hence the video's title). The video showed Eva – who had done the dispiriting rounds of dating agencies and such – doing things she loved to do (skiing, playing tennis, drinking) and, as is the modern way, it soon went viral (nearly seven million views to date).
Since then, Alex and Eva have had quite a response. "Long story short," says Alex, "she's overwhelmed with all the attention. We never expected anything like this – letters from all over the world. If she's having a bad day, she can just open up her email inbox and see how many people love her." But have they found Adam? Alex promises an update soon. Naturally, he'll be posting it to YouTube.
Original pirate material
Recently, English Heritage embarked on a search to find a CEO: a child executive officer. The post is "a once-in-a-lifetime role which will allow one lucky child, aged 12 or under, to take charge of English Heritage's summer-events programme".
The online application form asks young people what "fun, historic thing they have always wanted to do". But the eventual winner will have to go some way to beating this answer from the 500-plus entries so far: "Become a captain of a pirate ship that is pulled by a dragon".
Think someone you know can do better? They have until 7 June to apply.
Gets my vote
The Labour Party take note: this is how you run a modern political campaign. Among the many ways for Democrats in the United States to show their support for one of their contenders, are the following items available at hillaryclinton.com: a pair of pint glasses that read "Made from 100% shattered glass ceilings"; a T-shirt that looks like a "pantsuit" with necklace and brooch; and a throw pillow with the phrase "A woman's place is in the White House".
Join our new commenting forum
Join thought-provoking conversations, follow other Independent readers and see their replies