Refugees are an untapped resource for fighting Isis - if we want to counter terrorism, we have to let them in
Defeating Isis is as much about military domination as about ideas and narratives – so why are we not highlighting, championing and harbouring people who have fled the so-called 'Islamic State'? If the caliphate is so great, Isis, then why is everyone leaving?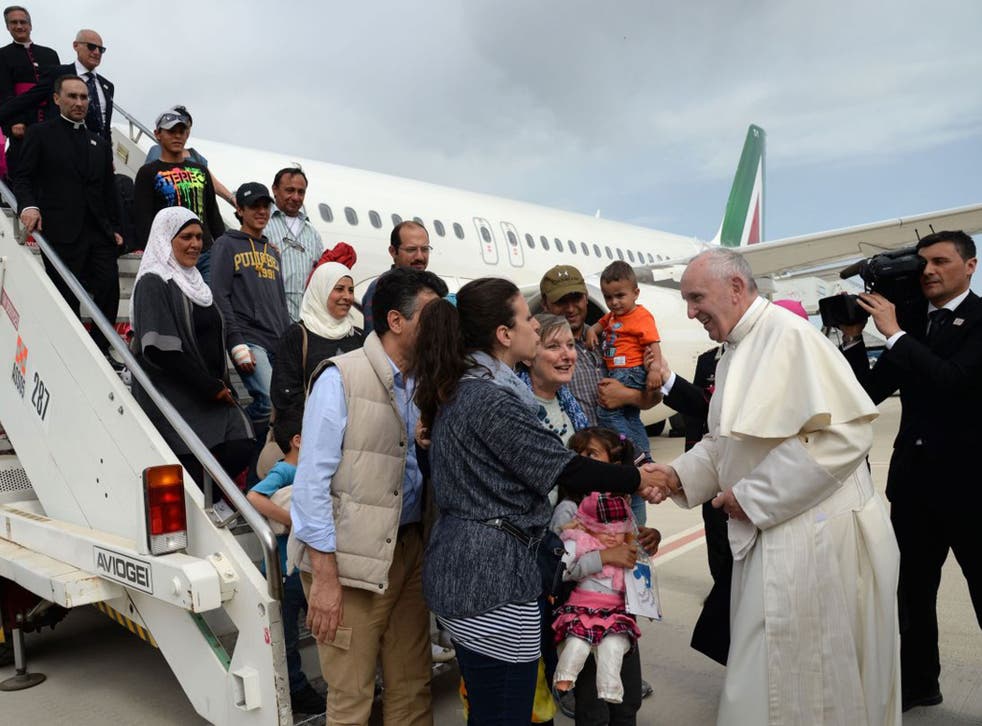 This week, it was revealed the UK Government has deported three times as many teenagers to war-torn countries than previously admitted. Other headlines told a fresh tragedy — more than 400 refugees drowned in the Mediterranean after their boats capsized on the way from East Africa to Europe. Meanwhile, the right grows apoplectic in their abhorrence of the refugee crisis.
It is not news that refugees are dying and suffering in their thousands as they risk their lives to travel to or stay in the safety of the West. However, we sit divided on how to respond. On one side, we have a compassionate and emotional response to refugees and on the other, a predominantly logical (if cold) response to taking more migrants.
But logic can support humanity towards refugees when we consider them a key component of countering extremist narratives and recruitment.
Security implications play a regular trump card: Do you want another Paris? Who are we letting in? If we keep them, they'll be cannon fodder for radicalisation and recruitment.
Are these legitimate concerns? Yes. But we also must consider that these refugees and families represent one of the most powerful, strategic forces in our counter-terrorism arsenal.
Officials try to justify the deportations and inaction we have seen in some quarters with cold logic, but these arguments miss key components of the impact of refugees on security. Emotion, ethics and notions of global citizenship aside, a calculated, logical response should consider the strategic importance of refugees and families in our efforts to counter violent extremism.
One of the most devastating aspects of Isis and similar groups has been a powerful and aggressive propaganda strategy and narrative. The core narrative which has proven most alluring to western recruits is the idea that Isis is a functioning, popular, utopian caliphate or state.
Analysing the output of Isis media negates beheadings and violence as the primary narrative. In fact, Isis's primary communications strategy is the depiction of a state populated with happy citizens.
Defeating Isis is as much about military domination as about ideas and narratives – so why are we not highlighting, championing and harbouring people who have fled the so-called 'Islamic State'? If the caliphate is so great, Isis, then why is everyone leaving?
The stories of refugees are a golden opportunity for countering extremists' narratives. Yet we continue to ignore it. Instead, we feed a narrative that the West does not care, as more dead bodies wash up onto beaches, and youth are torn from their families and sent back to war zones. This is a huge mistake, both ethically and strategically. It supports what Isis are saying.
Refugees settle in Germany

Show all 12
The more we can unpick the pernicious propaganda of Isis and dismantle the idea of a utopian caliphate, the sooner we will decrease the flow of foreign fighters and slow the slew of attacks.
11m Syrians have fled that state. If supported and protected, families, defectors and refugees can offer powerful, personal testimonies against the violence of Isis. In the most networked, digital and connected generation in human history, credible voices, messengers and real stories are vital in shaping ideas.
Refugees and families are an untapped source of immense emotional power and a generation that, if harboured, respected and well-treated, will be an organic resilient mass to extremist ideologies.
Families can play a decisive role across Europe in preventing further tragedy. The Quilliam Foundation has partnered up with grassroots organisations, families and individuals to create Families Against Terrorism and Extremism (FATE), an online communications campaign, hub and network to support families in countering violent extremism and share the stories of mothers, fathers, brothers and sisters who have faced terrorism and extremism and sit on the frontline in the battle against it.
Refugees welcome Pope Francis
The Brussels bombers slipped through a hardcore security web consisting of thousands of troops, hundreds of signals interceptors, drones, helicopters, and surveillance measures in both electronic and human form, as well as the support of security power houses such as the United States, Britain, France and Germany. The bombs still went off.
Like it or not, we cannot rely solely on governments to defeat terrorism and extremism. We must invest in the grassroots, tap into the views and experiences of refugee communities and listen to them.
The West has suffered from an appalling perception deficit for the last decade. Continuing to turn our backs and hardening our stance to the plight of the in need and miserable and the dying will have long term repercussions for terrorism in Europe.
Jonathan Russell is head of policy at Quilliam. You can learn more about the work of FATE here
Join our new commenting forum
Join thought-provoking conversations, follow other Independent readers and see their replies