Round and round they go: The contestants' behaviour on Bear Grylls's survival series The Island reminded me of the election campaign
The parties are hunting for this electoral sweet spot, as elusive as a juicy yucca root in a mangrove forest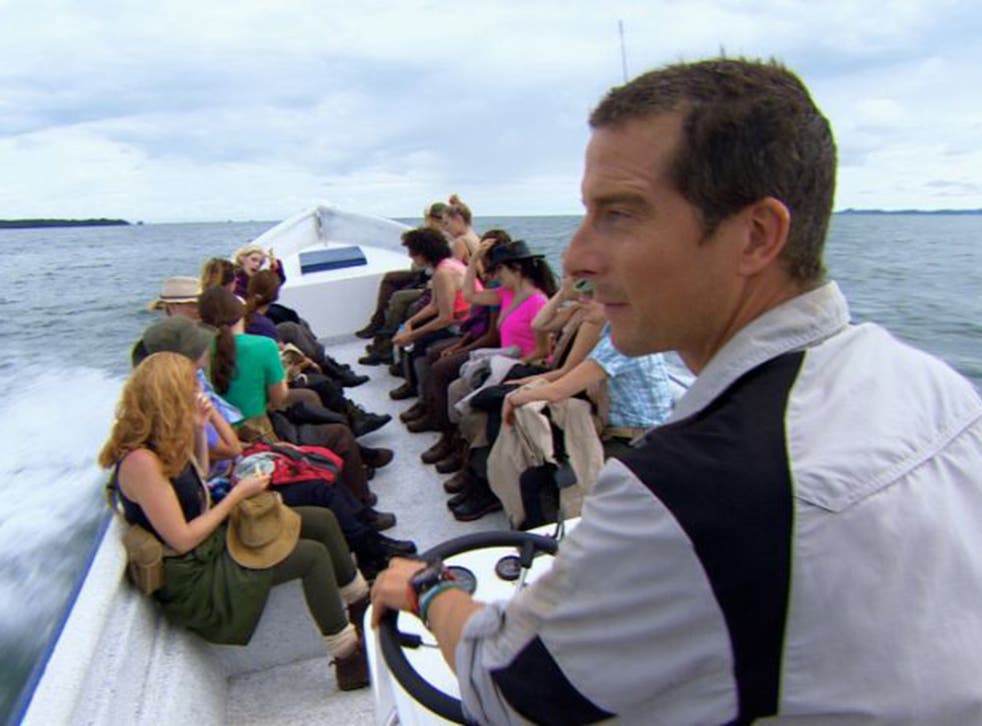 By accident I found myself watching Bear Grylls's adventure survival series The Island on Channel 4 the other night. This second series has two teams – one male, one female – abandoned on a Pacific outcrop, forced to fend for themselves for six weeks, making their own shelters and finding fresh water and food.
The episode I watched was the women's first, featuring 14 individuals with varying levels of resourcefulness. The programme, which is in its second series, is supposed to get to the heart of human nature – not just basic survival instincts but also leadership, character and group psychology.
Grylls's parting message to the women, before he sped off on his motorboat, was "positivity, positivity, positivity". But within hours, some of the women were stuck in a negative spiral – one shrieking that a snake would kill them, another insisting that they would never make a fire before darkness, and, at one point, several of them were literally going round in circles in the dense undergrowth.
Putting aside gender – because the men had, I am sure, a similar debut on The Island – the contestants' behaviour immediately reminded me of the general election campaign (though if I'm being honest, most things do at the moment). And I don't just mean a six-week odyssey of pain. Accounting for the margin of error in opinion polls, both Labour and the Conservatives, like these abandoned contestants, are stuck in the deep vegetation of the low 30s, with few glimpses of the sunlight needed for an outright majority. The parties are hunting for this electoral sweet spot, as elusive as a juicy yucca root in a mangrove forest. The question of who can lead their party out of this will depend on character, leadership and unity.
Take, first of all, the Conservative campaign, which has been on a serious wobble ever since David Cameron said he wouldn't serve a third term, in the process sparking a putative leadership election. Cameron is effectively a lame duck who gets a lieutenant to fire nasty personal attacks on his opponent, rather than inflict the wound himself. There is a dark mood in the camp. Tory candidates are worried that the strategy, masterminded by Lynton Crosby, is too negative: there are open discussions about vision, the future and the next leader.
In an Island setting, Cameron's party is going round in circles, unsure of whether it should be nasty (as with Michael Fallon's attack on Ed Miliband) and pro-rich (defending non-doms) or cuddly and inclusive (as per Friday's relaunch of the Big Society with three days' paid annual volunteering leave for workers). Without a clear direction, they are turning on each other in the intense heat of this campaign. They are starting to believe themselves when they say they will never find the beach.
Miliband may be taking his party leftwards across the electoral island – a move regarded as unwise by some – but at least there is clarity about where he wants to go. His MPs and activists are (for now) united behind him as the Labour leader hacks out new ground. This relative unity and positivity must be cutting through to voters, because while the two main parties are broadly neck and neck in the polls, it is Miliband who has the momentum this weekend.
The mangrove forest is clearing.
Wizard's spell begins to fade
Complaints about Crosby among Tories are becoming more vocal. They used to revere him, the Australian they called the Wizard of Oz. If it is true that Fallon's personal assault on Miliband was Crosby's idea, in a "dead cat" manoeuvre (according to Boris Johnson, this involves throwing a metaphorical dead cat on the table to get people to stop talking about your opponent's brilliant policy), this only confirms what one Tory told me recently, which is that the relentlessly negative focus on Labour is damaging Conservative prospects.
This Tory complained about Crosby's "Australian way" of doing things doesn't fit the "British way" of politics, which allows for a little humanity. I always thought that Crosby's genius, particularly associated with Johnson's mayoral campaigns, was overrated. It wasn't the Wizard of Oz who put Johnson into the Mayor's office – it was Johnson's own unique popularity. In any case, we all remember what happens at the end of The Wizard of Oz: the curtain falls, and the wizard is just a man, or in Crosby's case, will he turn out to be the Wizard of Soz?
The strain of the train
I took a train from London to Newcastle last week to interview Ed Miliband, who was returning from Scotland. There was a complicated logistical manoeuvre where I had to get off one train heading north to jump on his train going south. If the Labour leader thinks there should be a Jane Bond, I am not sure I would be the best candidate, as the train-hopping was exhausting.
But this always happens in election campaigns. In 2010, my colleague John Rentoul and I (seven months pregnant) had to interview Gordon Brown on a train to Kettering. We were given 20 minutes, but after 15 minutes our train had arrived at the station – for once a national rail service was early. Insisting on getting our extra five minutes, we trailed the then Prime Minister and his wife Sarah to a café on Kettering platform, notebooks and dictaphones flying. Not the most relaxing way to conduct an interview.
That's enough, Nigel
Incidentally, on that train out of King's Cross last week, I was sitting in a carriage with a group of men who seemed to be on their way to a stag weekend in the city. They were rowdy but not discourteous as they started on the cans of lager at 10am.
I tried hard not to listen to the conversation throughout the nearly three-hour journey, but couldn't help overhearing one of them talking about Nigel Farage. "I used to like him but I now think he's a bit of a knob, isn't he?" he said to his friend. Given one poll put Ukip at level-pegging with the Lib Dems last week, have we reached Peak Nigel?
Register for free to continue reading
Registration is a free and easy way to support our truly independent journalism
By registering, you will also enjoy limited access to Premium articles, exclusive newsletters, commenting, and virtual events with our leading journalists
Already have an account? sign in
Register for free to continue reading
Registration is a free and easy way to support our truly independent journalism
By registering, you will also enjoy limited access to Premium articles, exclusive newsletters, commenting, and virtual events with our leading journalists
Already have an account? sign in
Join our new commenting forum
Join thought-provoking conversations, follow other Independent readers and see their replies