While a Londoner languishes in prison in Iran, Sadiq Khan thinks it's a good idea to invite an Iranian director to the city
It remains a mystery why a director who is not British and whose film is not about Britain is a more pressing concern to the Mayor than one of his own citizens, Nazanin Zaghari-Ratfliffe, wrongly jailed in Tehran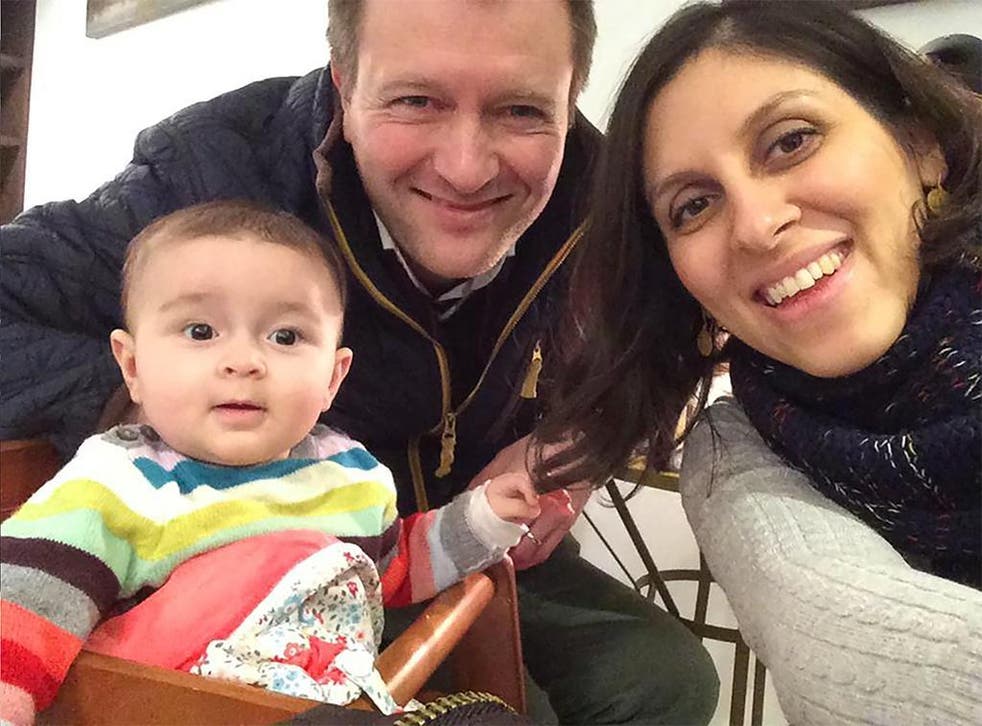 "On Sunday 26 February, the night of the Oscars, we're transforming Trafalgar Square into London's biggest cinema," says Sadiq Khan in a publicity video for the screening of Iran's Oscar-nominated film, The Salesman.
"I want to welcome people from all across the capital and beyond," the Khan adds – "khan" in Persian is aptly the daddy, godfather, don, the head of the village – "to share in this celebration of London as an international hub of creativity and as a global beacon of openness and diversity."
But hold on – why is London doing this when Tehran is holding one of its citizens in jail over unclear charges and refusing her urgent medical care?
Nazanin Zaghari-Ratfliffe, the 38-year-old charity worker from north London detained arbitrarily last April, has suffered solitary confinement, gone on hunger strike, been threatened with losing custody of her two-year-old daughter who she refused to keep in prison, and was recently handed a five-year prison sentence. Movement in her arms and neck is restricted and a prison doctor has recommended she see a neurologist – but she is inhumanely being denied access to one.
Benjamin Netanyahu urges Theresa May to back fresh sanctions for Iran
If there is one thing she is guilty of it is not being a panda – were she, by now she would be a household name and calls for her release would be as robust as they were for the UK sailors captured by the Ahmadinejad government in 2006. (The Blair government, for all its faults, rightly regarded Iran as a terrorist state and demanded their unconditional release.) And that is what is required now – Nazanin must be released.
If Theresa May and Boris Johnson are content to do nothing but have their subordinates limply "raise" the issue in the buffet queue at the next oil conference, it is Sadiq Khan's moral duty to step up. With this in mind, I've started a petition urging the Mayor to use his screening of The Salesman – which is expected to draw a crowd of 10,000 and is backed by the likes of Mike Leigh and Lily Cole – to demand Nazanin's release. Sadly, though, City Hall has told Metro that this is not its job, it's the Foreign Office's.
It remains a mystery why a director who is not British and whose film is not about Britain is a more pressing concern to the Mayor than one of his own citizens wrongly jailed in Tehran.
Oscars 2016 winners

Show all 24
In fact, why is it London's responsibility to screen this film at all? Had Asghar Farhadi been banned from the US it would make sense, but Farhadi is boycotting the Oscars because he cannot countenance the "ifs and buts" that might accompany special provisions to ensure his presence in Tinseltown – he is choosing not to go.
How is that London's business? If it's a matter of championing Muslims, is there a shortage of talented UK Muslims? And why choose the relatively privileged Iranians over Somalis or Sudanese?
Nazanin is sadly a victim of the left's hypocrisy. If the Mayor was to screen an Israeli film in the name of diversity, charged and angry protests would take place.
Iran's human rights abuse is, like its filmmaking, world class – yet there is no BDS movement to hound Khan's decision to, let's face it, roll out the red carpet for the new Saudis, despotic Islamists whose crimes we choose to ignore.
If the Mayor will not speak out for Nazanin he must surely, on behalf of Londoners, invite her husband Richard Ratcliffe to speak at the screening. Foreign Office's job? Do a John Bercow. If he fails to do so, I will be campaigning for Iranians, starting with Farhadi, to disavow this event, to boycott it.
Click here to sign the petition
Join our new commenting forum
Join thought-provoking conversations, follow other Independent readers and see their replies