Recoiling at Sainsbury's edible insects is classic Western supremacy
For example, cows are sacred in India, the world's second most populous country, but that doesn't stop us from ordering them rare with a side of peppercorn sauce and fries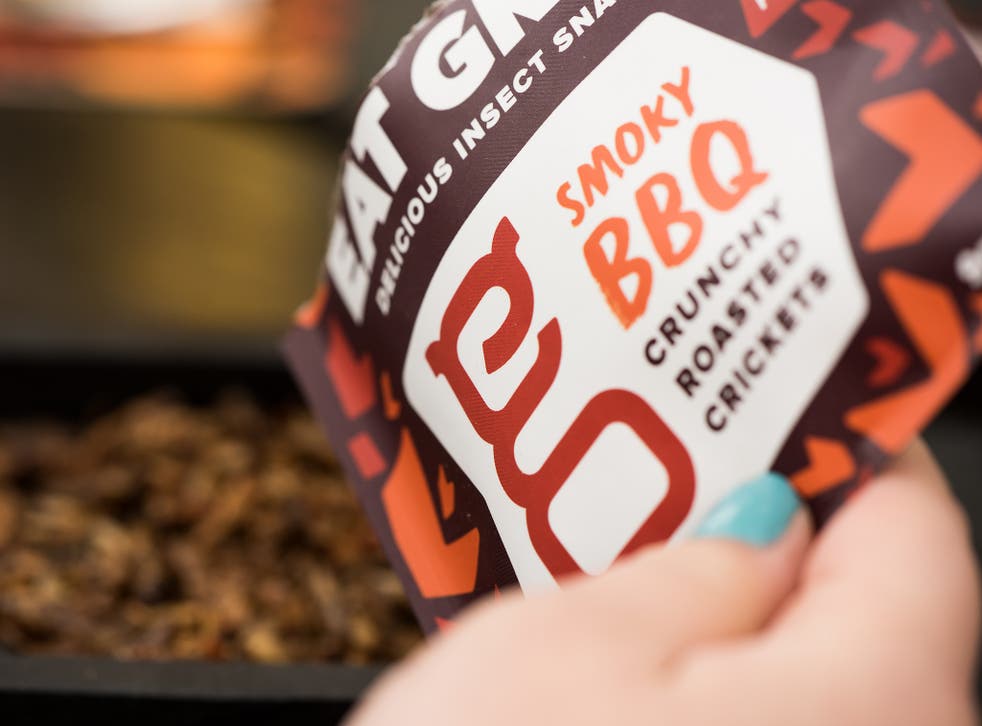 Christmas is surely on its way when I'm A Celebrity Get Me Out of Here! is back on our screens. This year, Holly Willoughby will join Declan Donnelly in the Australian jungle as a squadron of has-beens and have-never-beens put themselves through borderline starvation and humiliation for public approval.
But it's not just "celebrities" who are thirsty for five minutes of fame and will be snacking on creepy crawlies this year. Sainsbury's has announced that it will soon become the first UK supermarket to sell edible bugs in its stores. Starting this week, customers will be able to fill their shopping baskets with Eat Grub's Smoky BBQ Crunchy Roasted Crickets in 250 stores nationwide. Anyone brave enough to try the snack is promised to get a "crunchy texture with a rich, smoky flavour".
While some people have welcomed the move, many have been less than keen. One user posted: "looks like back to other supermarkets – keep clear of Sainsbury's – no bugs for us". Another asked Sainsbury's: "What the hell are you thinking? NO THANKS this is the most disgusting thing I have seen".
Of course insects are not going to be everyone's cup of tea. Yet they are part of the staple diet in 130 countries across the world, including Thailand, Mexico, Japan and Brazil. The disgust towards Sainsbury's' new addition displays the notion of "acceptable" food that too many Westerners are conditioned to hold.
Meat and dairy eaters, like me, have no leg to stand on when it comes to judging what other cultures eat. But this doesn't stop us from subscribing to imaginary hierarchies to justify our own consumption. For instance, most of us would recoil at the thought of drinking anonymous human breast milk, let alone that of someone we knew. Yet we're happy to drink the milk of another species, from a creature that's been kept in a constant state of lactation so we can pump its bodily fluids. We even give dairy products to our children with a "laughing cow" on the packet, because we're sure she's thrilled at standing on her feet all day and having her nipples pumped raw. These cows are sacred in India, the world's second most populous country, but that doesn't stop us from ordering them rare with a side of peppercorn sauce and fries.
Then there's dog meat, which is widely consumed in parts of Asia such as Korea and China. Of course, reports of stealing pets and torture, made famous by China's annual "Yulin dog meat festival", are deeply unsettling and abhorrent. But where animals are sourced and killed responsibly, what gives western carnivores the right to prescribe our idea of "acceptable" meat consumption to other cultures?
Earlier this year, a resolution calling for an end to the international trade of cat and dog meat trade passed in America's House of Representatives. Lisa Vanderpump, a restaurateur and star of the reality show The Real Housewives of Beverly Hills, championed this cause. But why does she oppose eating cats and dogs to the point of trying to ban other people from doing so, while serving pork in her restaurants? After all, pigs have been proven to be far more intelligent than both dogs and cats. An adult pig even outperforms a three year-old child on cognition tests.
Support free-thinking journalism and attend Independent events
Activities such as hunting or shooting, which I'm sure many members of US congress who voted for this resolution engage in, receive enjoyment from killing animals. Such practices would be unthinkable in places such as India where all hunting was banned by Ghandi in 1972. But are Indian people stomping their feet trying to ban it in America, the UK or anywhere else? Not that I can see.
Rachel Eyre, head of future brands at Sainsbury's, said, "Insect snacks should no longer be seen as a gimmick or something for a dare", heralding the arrival of this "new sustainable protein source". With seemingly insurmountable climate-related challenges facing us in the coming years, reevaluating our farming industry and reliance on meat will be inevitable. When ending beef farming would have a greater environment-saving impact that taking all cars off the road, can we really afford to turn our nose up at alternatives just because they don't conform to our narrow, western-centric ideals?
The ethics of eating meat are, of course, hotly contested. But if we're going to do it, we need to be honest with ourselves and challenge the myths we've been taught while living under western capitalism, such as that fish don't feel pain or that dairy is a necessary part of the diet. Only when we've freed ourselves from our own cultural ignorance will we be able to embrace the food of other cultures and break down our hypocritical western superiority complex. If eating a bug is the first step towards this, then count me in.
Join our new commenting forum
Join thought-provoking conversations, follow other Independent readers and see their replies