Scottish Tory revival is under way for Scottish Tory leader Ruth Davidson
In many ways Ms Davidson is a counter-intuitive Conservative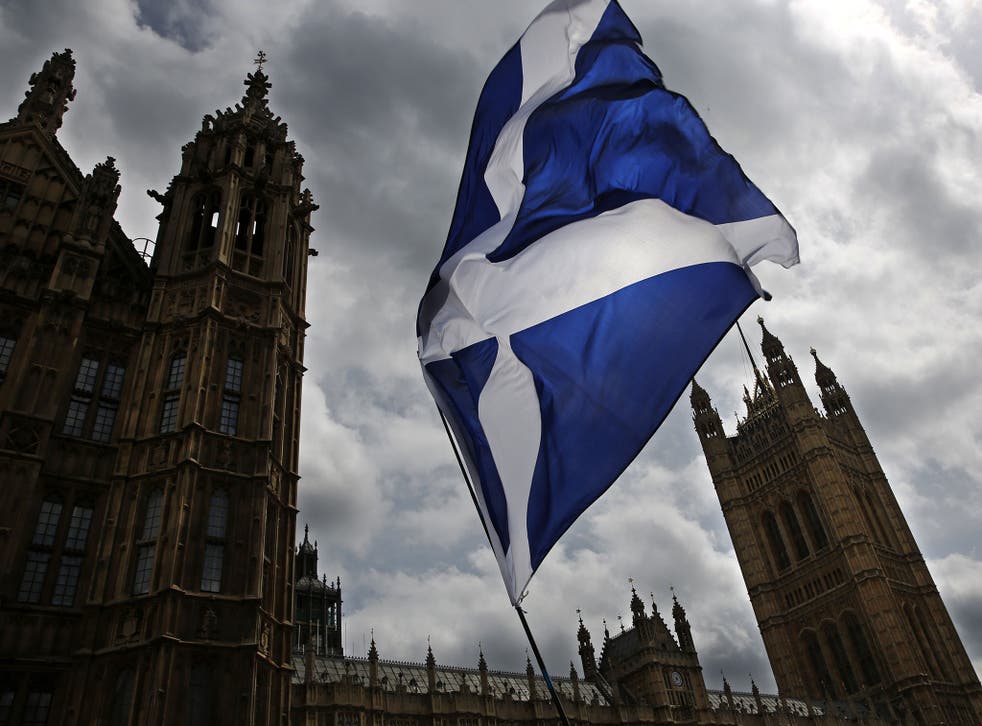 Conservatives are generally happiest when talking about tax, depicting themselves as the party most likely to keep rates low, their opponents just as determined increase it until – as Denis Healey once put it – the pips squeak.
So yesterday's long-awaited report from the Scottish Tory tax commission was essentially a restatement of long-standing Conservative principles: opposition to tax rises and help for small businesses, although other recommendations were more creative, such as the creation of a new "middle band" of income tax.
But beyond the appeal to fiscally prudent Scots, the purpose of "A Dynamic Scotland" is clear: to give the party a distinctive message in the short term (ahead of the election) and the long, staking out territory before the Scottish Parliament gains greater powers over tax and welfare in 2017.
The taxation commission was proposed by Scottish Tory leader Ruth Davidson last year, and indeed she now dominates her party and its strategy. By depicting Labour and the Liberal Democrats as soft on the Union (both parties have recently made overtures to Yes voters), she hopes small "c" conservative Scots will flock to her centre-right Unionist alternative.
There are signs this approach is working – albeit modestly. On Sunday, a poll showed the Scottish Tories narrowing the gap with Scottish Labour, perhaps winning as many as 20 seats (up five from their current tally of 15), while shadow Scottish Secretary David Mundell regularly talks up the prospect of Ms Davidson displacing Kezia Dugdale as leader of the opposition.
When Annabel Goldie stood down as leader of the Scottish Conservatives just over four years ago, Ms Davidson looked an unlikely successor: only an MSP for a few months, she had little grounding in the party and during her leadership campaign set herself against any further devolution, referring to the Calman Commission proposals as a "line in the sand".
That line, however, was quickly washed away by the incoming Nationalist tide, although in that fine Tory tradition of constant reinvention, Ms Davidson quickly embraced the "more powers" bandwagon before and after the independence referendum, realising (as the Welsh Tories had 16 years ago) that devolution – and more of it – was the only Unionist game in town.
Thus the recommendations yesterday were centrist in tone – the word "progressive" features (a nod to mainstream political discourse in Scotland) – and in places cautious; council tax will be reformed rather than abolished, and air passenger duty replaced with a "departure tax" rather than scrapped as per the SNP's plans.
Ms Davidson said she backed the commission's recommendation that the tax burden be no higher in Scotland than the rest of the UK, and lower when affordable, "100 per cent", adding that she'd do everything to ensure the SNP did not use the new tax powers "to take more money from the paypackets of hardworking Scots".
Of course this is nothing new, but key is likeability and credibility. Ms Davidson (a former BBC journalist) is a talented media performer, and her profile – both in Scotland and the rest of the UK – has been high since the 2014 referendum. Now, in the past popularity hasn't been enough (Ms – now Lady – Goldie was also an appealing character), but given Scottish Labour's dire performance, Ms Davidson's credibility is also growing.
Scottish Tory activists say recent canvassing chimes with the opinion polls. "Voters are impressed by Ruth," said one veteran campaigner, "and they describe Kezia as 'useless', or more often they have never even heard of her."
It also helps that Ms Davidson is in many ways a counter-intuitive Conservative. Newspaper profiles have made much of her sexuality, Territorial Army background and love of kick-boxing, while she takes care to atone for past Tory sins by frequently proclaiming her love of all things Scottish. A recent party broadcast even asserted that she would "stand up for Scotland", though naturally against the SNP.
But if there is a Scottish Tory revival it'll be a modest one. Ms Davidson's target is to win more MSPs than ever before, which would mean 19 – only four more than it has at present. Overtaking Scottish Labour remains unlikely, and even if that did happen, Conservatives would find themselves up against the all-conquering Nationalists. Nevertheless, over the next 12 months Ms Davidson will be as central to Scottish Conservative strategy as Nicola Sturgeon is to the SNP's.
Join our new commenting forum
Join thought-provoking conversations, follow other Independent readers and see their replies