It's brave of Stephen Hawking to get involved with a great intellect like Jeremy Hunt
How many times denser than the average black hole would a chap need to be to accuse a man – who has devoted himself to unravelling truths hidden deep within massively complicated data – of maliciously telling lies capable of being disproved in moments?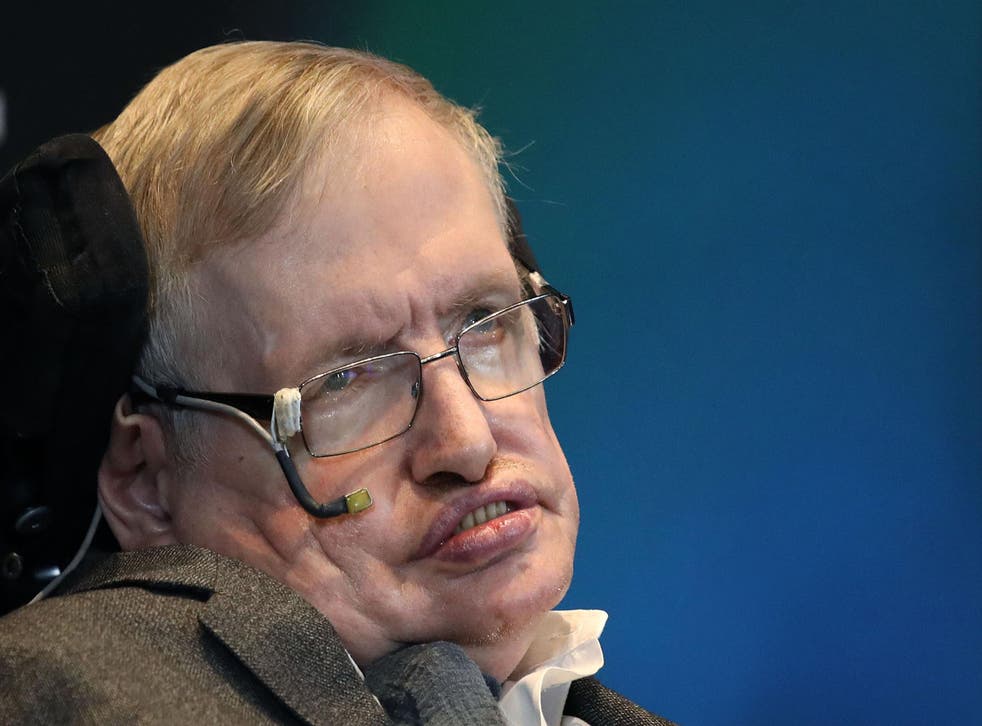 Roll up, roll up, ladies and gentleman, for the greatest catchweight contest in mental boxing history. Introducing in the red corner, fighting out of Cambridge, England, he's the undefeated, undisputed champion brainiac of the world…Stephen "The Theorist of Everything" Haaaaaaaaawwwwww - King.
"And in the blue corner, fighting out of the hole under his desk where he hides whenever things get tough, he's the master of health care disaster, the secretary of state you love to hate…Jeremy "Jim Naughtie Said It Right First Time" Hunt.
By all means get ready to rumble, but not for long. This one is as blatant a foregone conclusion as the more physical mash-up to be held in Las Vegas on Saturday night, in which Floyd Mayweather will bamboozle Conor McGregor to within an inch of his dignity.
Yet for a reason I coquettishly choose to reserve until the closing paragraph, the Nobel physics laureate will not emerge without damage to his reputation, however facile the win.
Stephen Hawking has a chilling warning about Trump and climate change
Hunt, on the other hand, enhanced his simply by turning up. He's the Rocky Balboa of Whitehall, this fifth rate political journeyman, stoically walking on to the sucker punches and grinning through the pain. He's braver than Rocky, in fact, because he hasn't a prayer of a fairytale ending against the Apollo Creed of quantum gravity. As long as you are willing to accept the contents of Hunt's scrotal sack as a synonym for "suicidal idiocy", you simply have to admire his balls.
A Health Secretary with a brain bigger than his gonads would have reacted differently when Hawking raised his concerns that political decisions have plunged the NHS into crisis; that the government cherry-picked the evidence about increased hospital deaths at weekends when pushing for a "seven day NHS"; and that on the current trajectory, it is sliding towards a less socialised, more privatised health system.
It isn't just that Stephen Hawking is a national treasure, as Eddie Redmayne mentioned when taking the Oscar for the biopic, or even a global one (though you needn't be a genius to understand the foolishness of picking a fight with one of those).
It is also that in this context, a politician could have no more lethal enemy. Hawking is the living, assisted-breathing embodiment of why the NHS is venerated with religious zeal. It has cared for him since he fell ill in 1962 and has saved him on various occasions.
That makes him more than a fearsomely powerful emotional voice. It makes him an expert. He must have spent countless more hours in NHS buildings than Jeremy Hunt has aggregated on flying visits to patronise or antagonise medical staff. The health service was in its infancy when Hawking was diagnosed with ALS (nickname: Lou Gehrig's Disease). As a patient for almost its entire life, he has had a ringside wheelchair as it has changed down the decades.
So when Hawking says that it is in crisis, when he examines the statistics and warns where it is heading, a brief history of the time he has spent in its care suggests it would be common sense to listen. It would, at the very least, be courteous to pretend to listen.
But Hunt is as perpetual a stranger to good manners as to sense, and the lummox surrendered to the default peevishness and trademark petty spite that made his skirmishing with the junior doctors such a tremendous success.
UK news in pictures

Show all 50
After paying unctuous lip service to him as "my hero", this onetime co-author of a Tory pamphlet proselytising privatised health care tweeted that Hawking's "most pernicious falsehood" concerned the alleged slide towards privatisation.
How many times denser than the average black hole would a chap need to be to accuse a man who has devoted himself to unravelling truths hidden deep within massively complicated data of maliciously telling lies capable of being disproved in moments?
What level of idiocy would it require to make arch reference, at the start of today's Sunday Telegraph article, to Hawking being a Labour supporter? As he hovered over the keyboard, did Hunt picture his readers having an Archimedes moment, screaming: "Eureka, so that's what's been behind Hawking overcoming the limitations of his body to become the planet's most beloved and revered scientist. Party political bias!"
Hawking's illness has been public knowledge for half a century, but we await any official word on what is wrong with Jeremy Hunt. In its absence, the differential diagnosis has to be the one given in Game of Thrones, when Tyrian speculated as to what might cure another character of what ailed him. "There's no cure," Bronn very nearly replied, "for being a Jeremy Hunt".
All of which belatedly brings us to the reputational damage Hawking will suffer. Hats off for the splendid work penetrating previously unfathomable mysteries about worm holes, the potential for time travel, and the origins of the universe – but that stuff's a doddle next to the tripartite mystery recognised as the ultimate cosmic conundrum. Far from making progress there, Hawking's pyrrhic victory has made the answer to "How did he get the job, why has he not been sacked, and what possible point to Jeremy Hunt can there be?" seem more remote than ever.
Join our new commenting forum
Join thought-provoking conversations, follow other Independent readers and see their replies