Top Gear's Cenotaph apology proves just how much the show is missing Clarkson and his balls
Filming in Whitehall is hardly Top Gear's most provocative stunt – anything short of a diplomatic incident is lightweight in comparison to the Clarkson days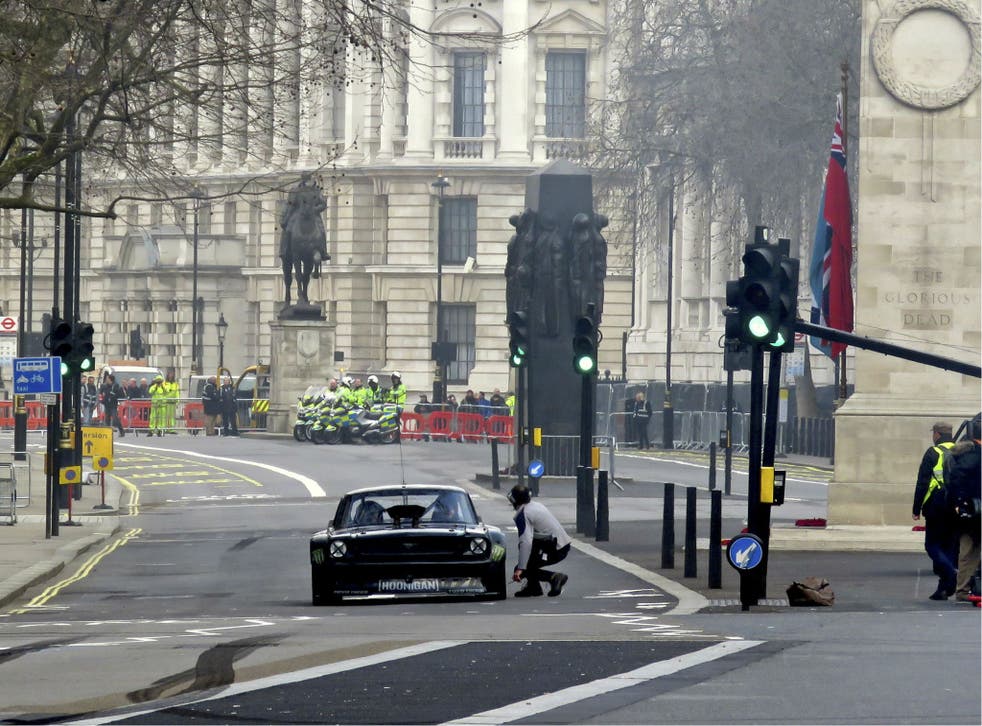 It is open season for attacking the new series of Top Gear and the first shot has been fired.
A former British military commander criticised one of the show's hosts Matt LeBlanc and a professional driver who performed "doghnuts" near the Cenotaph in Whitehall during an interview with BBC Radio 5 live.
Col Richard Kemp said that the war memorial should be shown "respect".
Filming in Whitehall is hardly Top Gear's most provocative stunt- anything short of a diplomatic incident is lightweight in comparison to the Clarkson days, but in the face of the departure of Clarkson, the producers want to maintain the aura of outrage.
Spectre and Edge of Tomorrow, two recent high octane flicks shot in Whitehall, both saw their heroes racing past the cenotaph in much the same way. By attempting something similar Top Gear is trying to show off its licence to thrill.
However, unlike 007, Top Gear is a mischievous brand and railing against it is a national sport. The BBC has consistently underestimated this.
The press office is simply not set up in a way that allows them to handle the Top Gear beast. By not pre-empting the story and briefing journalists ahead of the shooting they allowed the protest to write itself.
Instead, Co-host Chris Evans apologised and said he and the crew were "mortified". The BBC has declared in a statement that: "The Cenotaph was at no point intended to feature in the programme and therefore will not appear in the final film."
It is clear that the confidence of the car programme - as expressed by its former bad boy frontmen - has gone. Evans' apology is a climb-down for a show characterised by brash motor heads - but he had no choice. With The Sun firmly positioned against the stunt Evans needed to stay on side with this huge demographic of tabloid readers.
Within a day or two #Cenogaffe will have faded away like the tyre marks on Whitehall. The real significance of the story is that it shows the scrutiny that Top Gear is under.
To fill the seat left by Clarkson and maintain the Top Gear cash cow the broadcaster will have to allow the ante to be raised. It was once a badge of honour to have a red faced Tory from the Shires fulminating on the airways about your outrageous stunt. Condemnation from The Sunday Telegraph was the spark plug for creativity.
However, the lacklustre effort to foresee this latest furore the BBC's heart does not seem to be in it. In a risk adverse time where the BBC's future has never been more precarious it is not clear that the broadcaster is the most effective vehicle for Top Gear's brand of boundary-pushing entertainment.
All eyes will now be on the first episode of the new series - with or without the Whitehall stunt.
Join our new commenting forum
Join thought-provoking conversations, follow other Independent readers and see their replies