Disastrous choices and tanking approval numbers: Inside DC, it's become obvious Trump is sabotaging his own re-election campaign
It's now Biden's race to lose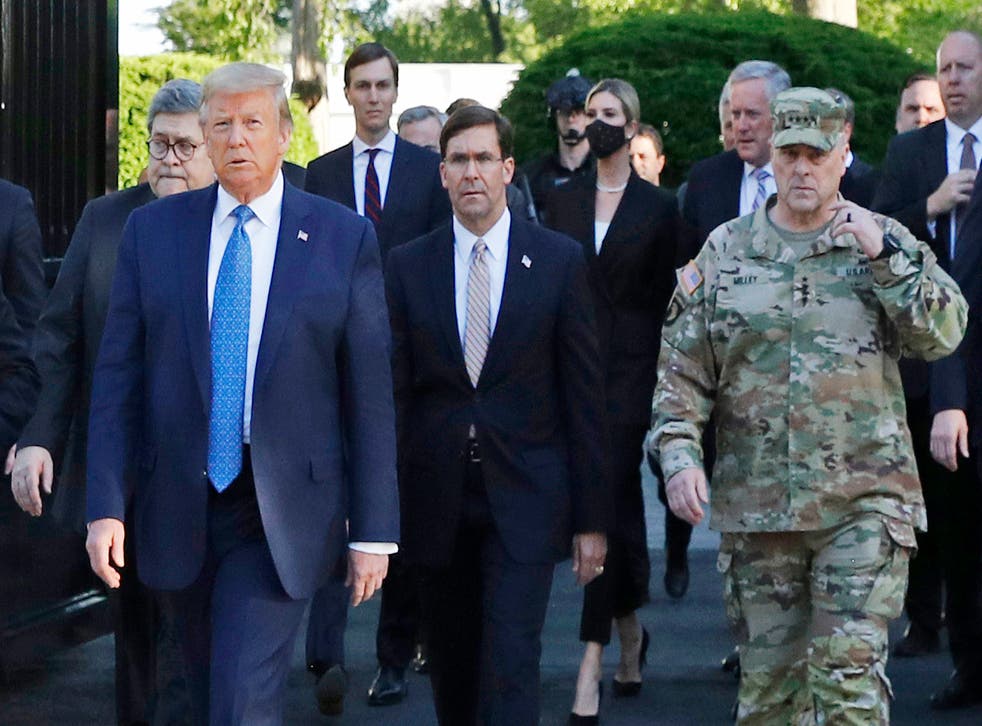 Donald's in his bunker. Joe's in his basement. And America's lost both its patience and its cool.
Americans are either in the streets protesting, defying state orders by packing restaurants and bars to capacity, or still hunkered down at home steering clear of the sometimes-deadly coronavirus and sometimes-violent protests over race and police brutality.
But even with the president taking a late-night trip to a secure room beneath the White House grounds and the former vice president and presumptive Democratic presidential nominee mostly campaigning from his house, the 2020 race looks nothing like anyone expected.
President Donald Trump and Joe Biden are now engaged in a campaign that is even more a referendum on the incumbent than just a few weeks ago. That's largely because Trump often backs himself into a corner and lunges out of it like a desperate animal, claws and teeth thrashing about.
He did just that last Monday evening, when his attorney general, William Barr, ordered federal officers and National Guard troops to forcibly remove protestors from the area around St John's Episcopal Church across from Lafayette Park near the White House. They used pepper balls and tear gas to do so just minutes before Trump walked with his Pentagon brass and others to the church for a Bible-hoisting photo op.
The moment was disastrous for the president. His defence secretary and chairman of the Joint Chiefs of Staff both have admitted their participation was a mistake. The president's poll numbers are worse than ever.
Sixty-four percent of those surveyed in one recent poll do not approve of the president's response to the protests in Washington and elsewhere. The Gallup organisation's latest presidential poll put his approval rating at just 39 percent.
For an incumbent president seeking a second term amid an economic collapse, we're talking Jimmy Carter levels.
What's more, the bunker-dwelling POTUS and the basement-bound former VP are trying to court a few hundred thousand votes in a few states that will determine the election at a time when much of the country seems fed up with, well, everything.
Seventy percent of those surveyed recently by Politico and Morning Consult said the country is headed in the wrong direction. Even though Republicans will blame Democrats, math mandates there are a lot of Republican voters included in that 70 percent.
"People are tired. With Trump, it's a day in-and-day-out dream sequence," one GOP pollster told me recently. "They seem, at least right now, to desperately want a return to normalcy."
There's nothing normal about Trump's presidency. His top aides acknowledge that in private, saying that's why he won the presidency in the first place.
But there also is nothing normal about a challenger trying to take down an incumbent chief executive from his basement, even if he is a former vice president with neatly arranged bookshelves and designer lamps.
It appears Biden is doing just that, however. For the moment, at least. Which likely explains Trump's repeated attempts to paint the former VP as a convalescent who has lost a step mentally.
"Sleepy Joe Biden refuses to leave his basement 'sanctuary' and tell his Radical Left BOSSES that they are heading in the wrong direction," the president tweeted Thursday morning. Never mind that Biden and his wife Jill were heading to Philadelphia for a roundtable event.
Biden, however, has been getting out more. And no matter the venue when he's laying into Trump, the former Delaware senator keeps climbing in the polls and getting high marks from political observers.
"Trump had a chance to reframe the campaign around successful leadership during the domestic equivalent of wartime," William Galston said of the president's response to the coronavirus outbreak. "But his performance, on which the American people have rendered a negative verdict, has made this impossible."
The president got another chance with the protests, including those in his own backyard here in the nation's capital. Quelling the nationwide violence at the start of the protesting gave him the incumbent's advantage to seem presidential, to seem effective, serious and measured – while also showing empathy. Biden could do little more than give a speech or tweet.
Marc Hetherington, a political science professor at the University of North Carolina, said Trump "had the opportunity to demonstrate to the country that his law-and-order, divide-and-conquer approach to the crisis is effective."
"It is not looking so effective now," he said, noting that since Trump is the incumbent this time around he has no Democratic president to "point at and argue that his softness is a failure – success or failure was in Trump's hands."
"Law-and-order" campaign themes have worked for Republican presidential candidates before, including Richard Nixon and Trump himself four years ago. But that's not what, according to polling data, the country craves right now.
That hasn't stopped the president and his team from time and again pivoting back to his conservative base, even as 64 percent of Americans disapprove of the president's response to the Floyd death protests and 69 percent say the killing shows larger problems within America's police departments.
As long as Trump continues to follow his instincts and worry almost exclusively about his base, it won't matter if Biden is campaigning from his basement or not. It's now the former vice president's race to lose. And the president has no one to blame but himself.
Join our new commenting forum
Join thought-provoking conversations, follow other Independent readers and see their replies