TTIP is already letting big business shape our laws
The deal and others like it are being used as bargaining chips to help bypass health concerns over pesticides, food and highly toxic fossil fuels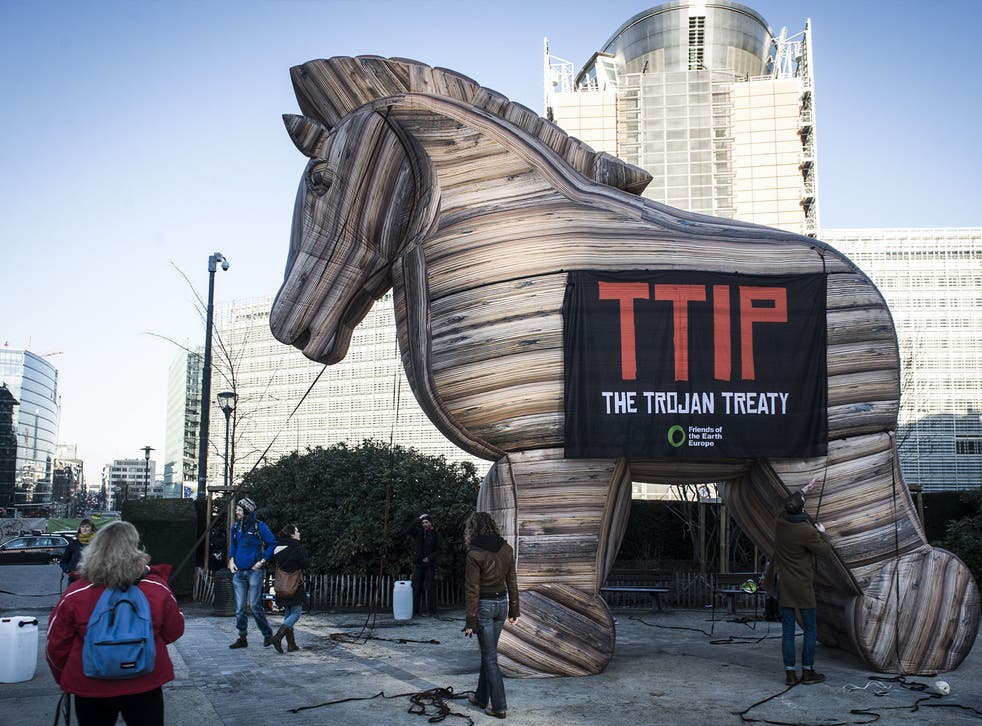 I've often been accused of scaremongering over the last 18 months of trying to stop the world's biggest trade deal. "Trust the European Commission", I've been repeatedly told by members of the Government. "They've promised that our food standards won't be undermined."
Last week the truth slipped out. A senior European civil servant told a conference in the US that TTIP – or the Transatlantic Trade & Investment Partnership – was already changing our food standards.
The deal's negotiations have allegedly helped accelerate approval of new genetically modified products entering Europe. As a result, five new GMO products have recently been approved.
In addition, a new chemical wash for beef carcasses being sold into Europe has been approved. Washing beef in lactic acid raised concerns that unhygienic meat processing practices were being covered up by a final "bleach". European politicians were strong-armed into overcoming their concerns when they were warned that they were damaging the TTIP talks.
All of this leaves me alarmed but not surprised. In a briefing released today by Global Justice Now, other cases of health and safety concerns being "overcome" are highlighted. Like the 31 pesticides with ingredients linked to cancer and infertility, which the EU wanted to prohibit. That's until the US warned politicians, again, that they were slowing down TTIP.
Similar "bargaining chip" tactics have been used to water down environmental policy. Canadian oil from tar sands is far more environmentally damaging to the climate than regular oil. But the EU's attempts to prevent the carbon-intensive fuel flowing into Europe was halted when the US and Canada threw TTIP, and TTIP's sister agreement CETA, into question.
These cases are important because they give us a glimpse into how laws will be made in a "TTIP world". The heart of TTIP isn't the grossly undemocratic "corporate court" system, which allows foreign business to sue governments in secret courts for taking action which threatens their profits. It's the seemingly innocuous "regulatory cooperation" aspect. This involves an ongoing trade-off, where legal standards are modified so that EU and US regulation are as similar to each other as possible.
TTIP controversy: what an FOI request revealed

Show all 14
The EU and US having similar standards may not be such a bad thing. Who cares about the precise colour of car indicator lights? They might even lead to higher protection in both continents.
Except they won't. That's because this whole area of "regulatory cooperation" will, if our negotiators have their way, be overseen by a new council with an open door to big business. Big business lobby groups have been working for years on a model which allows them to "co-write" (their term) regulation with policy makers. And in TTIP they've found it.
Under TTIP, policy-makers doors must be open to big business, who will gain a "right" to lobby. An "early warning" system will mean all regulation has to be screened for its impact on transatlantic business, and legislation that has a "significant impact" on trade will be reported to business for input. This gives business a guaranteed role in policy-formulation, long before it reaches elected representatives (if it ever reaches them).
The concern about TTIP isn't that "US standards are bad" and "European standards are good", but that policy-making across the world is already too geared to promoting the interests of big business. The VW scandal is just the most recent example of how serious the consequences of such a model are to our future. But TTIP will deepen that exact system, raising the "rights" of corporations to lobby and profit to almost constitutional principles.
We've already got new GMOs, beef bathed in lactic acid, tar sands oil and 31 dangerous pesticides. That's more than the "scaremongers" predicted. And TTIP hasn't even been finalised yet. God help us if it is ever actually ratified.
Join our new commenting forum
Join thought-provoking conversations, follow other Independent readers and see their replies