Turkey has become a rogue state - and even Erdogan must face up to the fact
The Turkish president has excelled even his own record in his recent treatment of two journalists facing trial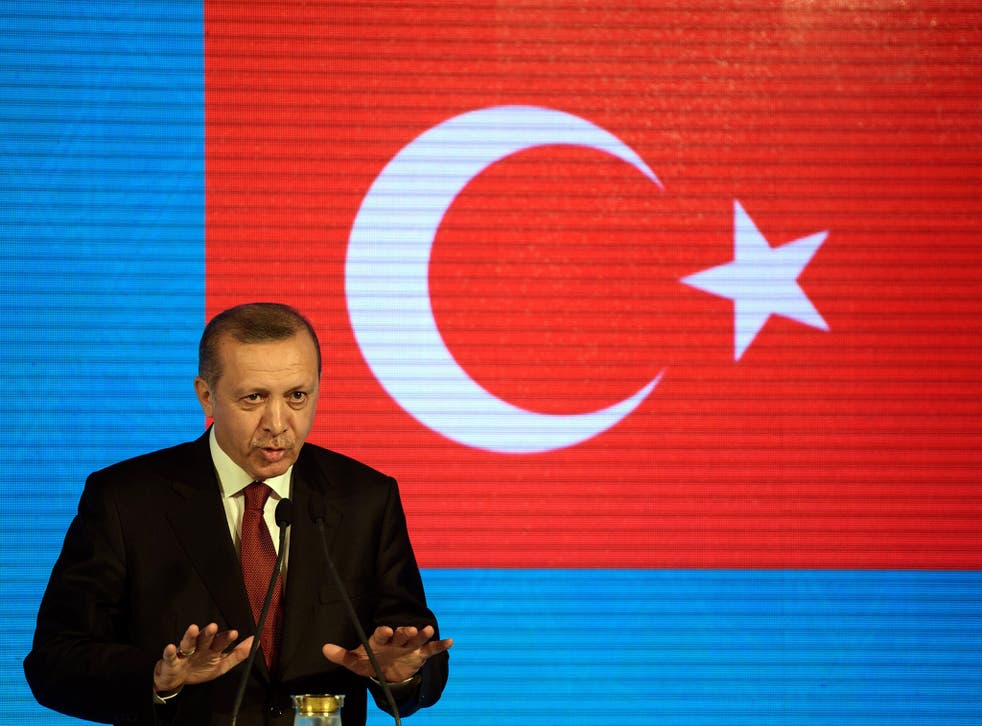 Under the AKP government, in power since 2002, Turkey risks not only being regarded as a rogue state but its president, Recep Tayyip Erdogan, also risks being branded as a rogue president. Erdogan - who is already known to meddle with the rule of law, the size of families, young people's sex lives, smoking, drinking alcohol, art and architecture - has this time excelled himself.
The Turkish Constitutional Court ruled that to hold two journalists in pre-trial detention for 92 days because of their coverage of a covert shipment of weapons to Syrian insurgents was a violation of their rights, and also of their freedom of expression and of the freedom of the press.
When the Turkish secular daily Cumhuriyet last May published video footage of trucks belonging to the Turkish intelligence organisation MIT and their contents, Erdogan vowed that those responsible for the story would "pay a heavy price" and filed a lawsuit against them.The two journalists were released (they will still stand trial for charges that include espionage and seeking to overthrow the government), but Erdogan stated he would neither abide by, nor respect, the Constitutional Court's ruling.
The president of the Constitutional Court, Zühtü Arslan, has reminded President Erdogan that its decisions are binding, but Erdogan couldn't care two hoots. He considers the Court's ruling a personal affront.
In the meantime, the list of those accused of insulting the president grows - including a former football champion, newspaper editors, columnists, a university student, a 13-year-old and two opposition leaders. To date, 1,845 people have been prosecuted for this offence. A truck driver even filed a criminal complaint against his wife for repeatedly insulting the president with "unspeakable obscenities" whenever Erdogan spoke on TV. His wife, not surprisingly, has filed for divorce.
In a recent interview, the former Turkish ambassador to the UK, Ünal Ceviköz, opined that, in the eyes of the international coalition and in the eyes of the United States, Turkey will no longer be seen as an asset but a liability. "It has lost its honest broker position to resolve problems in the region," he said.
The fact that Turkey, together with Saudi Arabia and Qatar, has provided logistical and financial support, as well as weapons and other services to Isis, Jabhat al-Nusra, and other insurgents, supports this view. Last Tuesday, Prime Minister Davutoglu made the remarkable admission that Syrian opposition forces have only been able to hold their ground against Assad's regime because of support from Turkey and other countries.
Erdogan has stated Turkey will not permit "a terrorist corridor" in northern Syria, referring to the territorial gains made by the Kurdish PYD and its militia. There are also reports that Turkey has facilitated the transport of some 2,000 insurgents to bolster up the defence of Azaz, north of Aleppo. However, Russian Deputy Foreign Minister Sergei Ryabkov has warned that armed intervention by Turkey would deal an "irreparable blow" to the present ceasefire.
Turkey's running sore, which needs to be healed, is the war in the southeast with the PKK, which has led to 355,000 people being forced to leave their homes. In addition, at least 198 civilians and more than 260 members of the security forces have been killed in the fighting. Fuelled by Erdogan's ambition for an executive presidency, this is a conflict nobody can win - although a Turkish counter-terrorism expert claimed three years ago, "We can tolerate 500 deaths a year. It's considered normal."
Now that war has spread to Istanbul and Ankara, the quota is used up.
Erdogan has dismissed Kurdish demands for autonomy, although an AKP deputy from Diyarbakir, the capital of Turkey's southeast, is prepared to discuss the issue. With the establishment of the KRG (Kurdish Regional Government) in northern Iraq and Rojava (Western Kurdistan) in northern Syria, there is an inevitability that even Recep Tayyip Erdogan must face.
Robert Ellis is a commentator on Turkish affairs in the Danish and international press
Join our new commenting forum
Join thought-provoking conversations, follow other Independent readers and see their replies