Ukip is about to follow the Leicester City model of glorious victory followed by bitter defeat
The people of Stoke have reason to feel they have been 'left behind'. Ukip should have walked it. Instead, Nuttall's blundering campaign has left the party floundering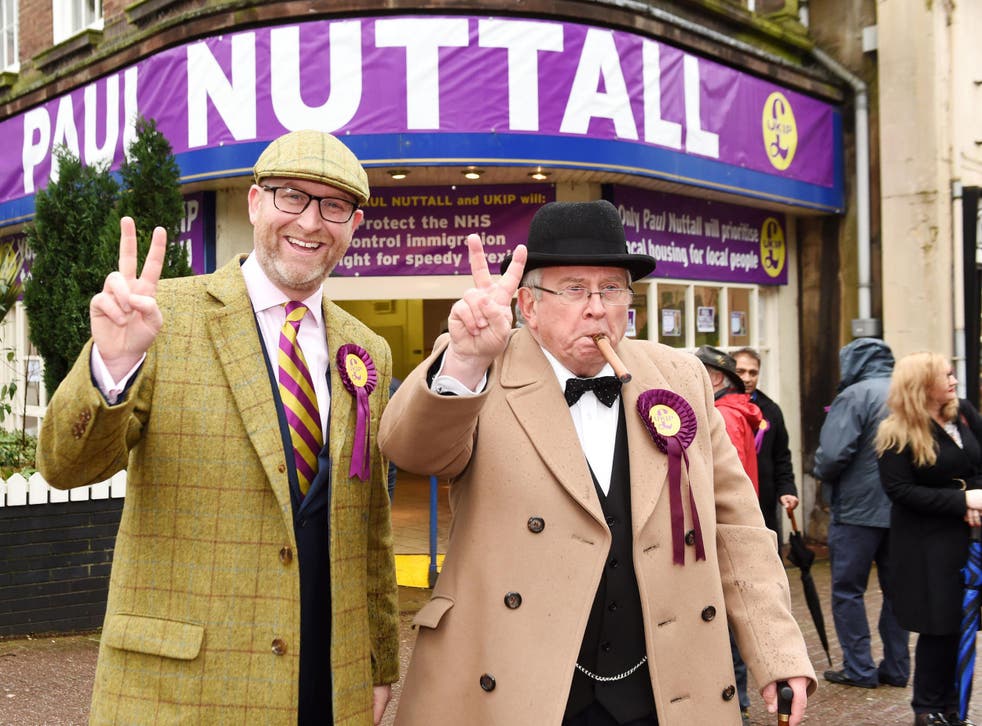 I have to declare an interest: I am a fan of Leicester City Football Club. Last year's fairytale story of success against all the odds was inspiring. It lifted routine relegation strugglers to the top of English football. It was a superb team effort, led by a charismatic manager. They upset the establishment, and secured a stunning victory. And the whole world took notice.
Now, however, things look less happy: Leicester are narrowly outside the relegation zone, were knocked out of the FA Cup by lower league Millwall, a tricky match with Sevilla lies ahead in the European campaign… I won't labour our woes.
Ukip, too, last year scored its own stunning victory. Under its own charismatic leader, Nigel Farage, it scored its own establishment-beating win that echoed around the world. Amazingly, the word "Brexit" became some sort of totem for the Trumpist American right, and it did them some good.
The official Leave campaign in the EU referendum shunned Ukip, who ploughed their own furrow, but no matter. While Boris Johnson and Michael Gove were left somewhat tarnished by the course of events, Ukip and Nigel Farage were undisputedly triumphant; Donald Trump wanted Nigel Farage to be Britain's ambassador to the United States.
The next stage in the Ukip story beckoned: moving from protest to a more serious party challenging for power. There was some hot talk about Ukip replacing Labour in some of their northern and east-coast homelands, as well as taking seats from the Conservatives. The football hashtag #Fearless could be applied both to LCFC and to Ukip.
Claudio Ranieri remains in good spirits despite Leicester's struggles
As with the Fearless Foxes, we all know what happened next to the 'kippers.
Ukip went through a dizzying series of leadership crises after Farage decided he wanted to spend more time with his ego and his LBC radio show. Diane James was elected as Farage's successor, but, after a mere 18 days, legged it, citing mysterious forces on the Ukip executive not being willing to let her do her job. The embarrassing photograph of her apparently resisting a Farage embrace is still a powerful symbol of the discomfort at the top of Ukip.
Meanwhile, Douglas Carswell, the party's sole MP, carried on his Cold War with Farage, and Ukip, like most political groupings of its ilk, fell into factionalism – liberals and social conservatives irreconcilable. There was some sort of scrap in the European Parliament which left a Ukip MEP in hospital. It didn't look like things could get more chaotic.
Then came Paul Nuttall, who at least had some northern working-class credentials. Not long after came the vacancy for a member of parliament for Stoke-on-Trent Central.
If someone had asked Ukip's psephologists (if such exotic creatures exist) for an ideal seat to fight in a by-election, Stoke would come high up the list, if not at the top. The "Brexit Capital of Britain", it scored the largest proportional Leave vote of any city in the referendum. It also registered the lowest turnout of any constituency in the general election of 2015 – as good an indicator as any of political disaffection. It's Labour MP, Tristram Hunt, quit to go and run the V&A, which sort of summed up how many in the constituency must feel about how the "establishment" views them.
The potteries, the skills, the jobs and the prosperity they brought have declined grievously – the people of Stoke have reason to feel they have been "left behind". Ukip should have walked it. Instead, Nuttall's blundering campaign has left the party floundering.
Theresa May turned up in Stoke on Monday, a sign surely that the Tories see a chance to shove Ukip aside and finish second behind Labour, with turnout (or lack of it) deciding the result between these three challengers.
Nuttall's special achievement has been to blow the best chance Ukip will ever have of becoming a truly mainstream party. Momentum is everything for little parties, like little football clubs, and Ukip's wheels have fallen off.
In a series of unforced errors, Nuttall's CV was shown to be, well, questionable in parts, as are his policies. The row about Hillsborough shows what a vicious bunch Ukip can be, and in a very unfortunate echo of a long-distant election campaign, a slogan has been coined locally: "If you want a jihadi for a neighbour, vote Labour." Well, I think the people of Stoke don't want to have a man such as Paul Nuttall to be an MP. They would be laughing stock, and Stoke deserves much better than that.
Key Faces of UKIP

Show all 11
Ukip have, unforgivably, let down their people. They've made Jeremy Corbyn look like a winner, and May look in touch with ordinary people. Ukip losing in Stoke is a lot worse than Leicester losing to Millwall.
Like Leicester City, Farage, Nuttall and the rest of the fruitcakes will always have their great 2016 victory to look back on. Nobody can take that Premiership win from Leicester fans, nor the referendum win from Ukip's army.
But the future for Ukip is looking a lot less secure than Leicester's. Even if relegated, Leicester can come back, because their raison d'etre remains: playing football, occasionally brilliantly. Ukip's raison d'etre, Brexit, may well soon be complete. Now their relegation seems permanent. What's the point of Ukip now?
Join our new commenting forum
Join thought-provoking conversations, follow other Independent readers and see their replies