Why do young people turn to Isis or right-wing extremism? It's not just because they're naive
We owe it to our disaffected youth to think up solutions for their isolation and anger. Here are some ways in which that could be done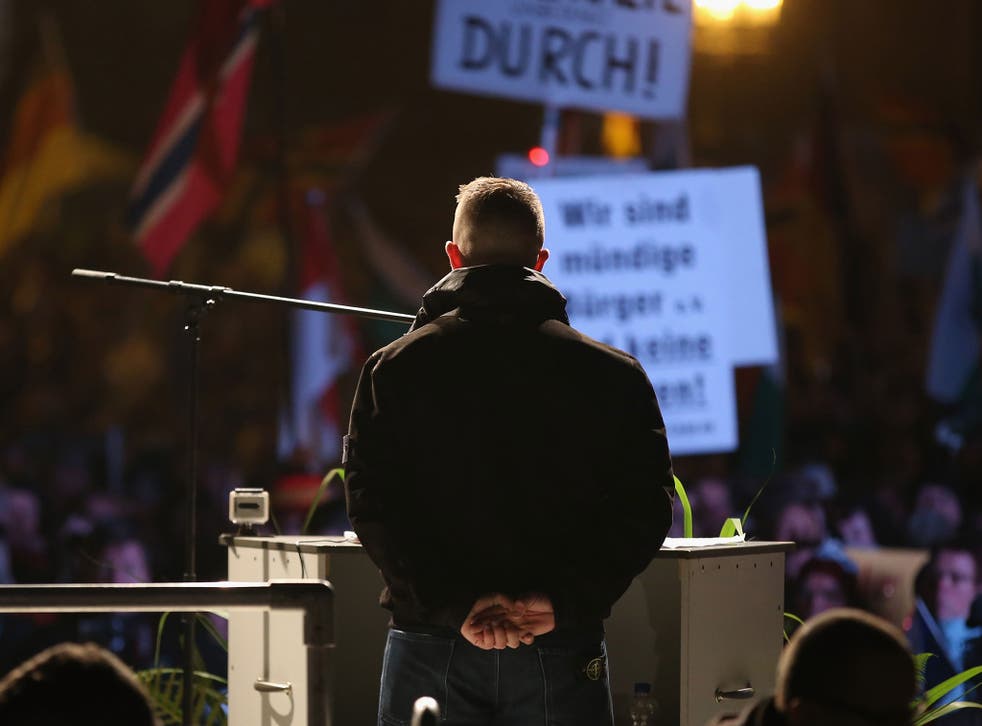 Right-wing politics are sweeping through Europe – even if, in the case of France's National Front (FN), Le Pen wasn't ultimately successful. We've seen the rise of anti-Islam protests and organisations like Pegida gaining followers and support. Ex-EDL leader has promised to create a "Pegida in Britain", clearly enthused by an uprising in nationalistic feeling.
It's especially young people who we see involving themselves in far-right groups, just as we have seen young people turn to Islamic extremism. So what makes extremism so uniquely attractive to the young? It's worth paying attention to the reasons they turn, rather than merely attributing their politics to naivety.
Firstly, these extremist far-right groups offer a lens – however warped - through which they can understand the world. Although access to information is becoming increasingly unrestricted and the world continues to grow more complex, providing the tools for understanding has become imperative to avoid sinking into paranoia or paralysing anxiety.
Secondly, these groups and their peddlers are sincere: they believe in what they say. They defend sinister or violent ideas with uncompromising belief. When contrasted with political figures whose convictions too often fluctuate, this sincerity is enticing, especially for the young.
Thirdly, they have the advantage of putting their rhetoric into action. Islamists massacre people, subjugate women, kill free thinkers, fight against secularism, and pursue the expansion of their imperialism. Extreme nationalist supporters discriminate, engage in hate speech, and authorise or support violent acts. Although many promises are not kept, this alignment between action and words, however dark, is seductive.
Fourthly, they offer a place for young people. The killers at the Jewish museum in Brussels were young – as was right-wing terrorist Anders Breivik, who killed members of the Workers' Youth League at a summer camp in Norway in 2011. The democratic youth struggle to find their place in their economic, intellectual, artistic, social, and political lives, too often shut out by older generations.
Finally, they offer enticing adventure, particularly on an international level. To engage, for some, with nationalists across our continent, or with Putin's Russia in the defence of Christianity in Europe and beyond; or with Islamists in Syria, Iraq, and Mali searching to create a contemporary caliphate. These are international adventures with historic objectives.
With a growing number of groups and individuals alike feeling less valued, these adventures bring a meaning that transcends the individual, that allow one to raise their head, to rediscover their dignity, to make sense of the suffering around them and to feel reinvigorated with hope for the future. For young people and others alike, this is an attractive proposition.
Faced with these facts, it is imperative, for the sake of democracy, to act now.
It is time to re-launch a collective adventure: to reinvest in international solidarity, to begin to trace a path for our country and our continent founded on democratic values, and to place young people at its core.
This adventure of living together could be realised, for example, through the creation of a European identity and civil society by establishing "Universal Erasmus".
Such a project would involve the circulation of all students, from primary school to higher education, in Europe and on the south coast of the Mediterranean.
Explicitly, this would mean that each student, at each level would gain an international experience: during primary school, a class trip abroad for two weeks; in secondary school, integration into a foreign classroom for a month; in college, a semester or trimester exchange.
Naturally, this action would be reciprocated, with students from abroad being welcomed into schools for the same amount of time. A European civil service, directed primarily towards poorer countries, much like the American Peace Corps, could also be put in place.
Sought after by young people, who are at the origin and heart of this proposition, the implementation of "Universal Erasmus" would be able to put into force and breath life back into the values of democracy, and push back Islamism and far right nationalist extremism in France and further afield in Europe. It is urgent, for democracy, that we recognise our young people are disaffected – and respond positively.
Join our new commenting forum
Join thought-provoking conversations, follow other Independent readers and see their replies