Amber Rudd announces Universal Credit to be paid to women who are main carers
What the loss of my mum taught me about the burden of care on young women
When you lose a parent as a child or take on caring responsibilities, you mature more quickly than your peers. I never felt I had the luxury of being a tumultuous teen and often felt angry at my friends who were more rebellious. In hindsight, I think I resented their freedom
One of the most important things that losing my mum has taught me is that the burden of care falls to women and girls. My mum died of ovarian cancer 10 years ago, when I was 11. So, in my teens, I took on a different role in my family than most of my peers who still had their mums.
After she passed, I found that I gradually began to shoulder more responsibility for looking after elderly relatives, including my grandmother, and negotiating family dynamics. I know that if my mum were alive, the responsibility would have fallen to her. I feel I have inherited the role of caregiver, where my brothers did not. The burden of care refers to the physical, emotional, social and financial problems experienced by caregivers. For me, this burden mainly surrounded physical and emotional tasks.
My grandmother lived around the corner from me, so I would often do her shopping and run errands for her. When she became unwell I would do cooking and cleaning, help her take her medication and try to make sure she did not feel isolated. Even during exam periods, I would try to see her every day, so that I could spend a few hours helping her. I began to feel very anxious when I hadn't seen her for a few days and would feel guilty for not being there. Eventually, she began to accept paid carers coming to her house, so when I visited I mainly just provided emotional support.
When you lose a parent as a child or take on caring responsibilities you mature more quickly than your peers. I never felt I had the luxury of being a tumultuous teenager and often felt angry at my friends who were more rebellious. In hindsight, I think I resented their freedom and the lack of expectation for them to care for family members.
Japan's robot carers

Show all 18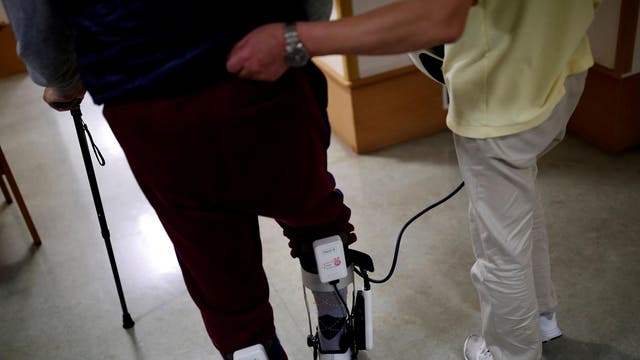 The expectation that I felt is reflected in the UK's care system. We know women are more likely to be unpaid carers than men and that a care worker shortage after Brexit could mean that women suffer an increased burden of care. This might lead to women reducing their hours in work and education in order to facilitate the care of those around them.
This care shortage would likely have a significant impact on young carers too. According to Barnardo's, the average age of a young carer is 12. Young carers often experience traumatic life events and feel pressure to provide care. I felt that it was my duty to care for my grandmother, and any admission it was causing me anxiety would mean I had failed to care for her properly.
This pressure is partially why many young carers fly under the radar. The Carers Trust reported that 39 per cent of young carers said nobody in their school was aware of their extra responsibilities. This lack of awareness is reflected by the fact figures on the number of young carers in the UK vary so drastically.
The latest census found there were around 166,000 young carers in the UK, but a survey by the BBC and the University of Nottingham indicate there could be four times as many young carers in the UK as previously thought, and put the number closer to 700,000.
Of these young people, surveys suggest they are more likely to be young girls or children from black and minority ethnic communities. Barnardo's 2017 investigation "Still Hidden, Still Ignored" found that young carer respondents were twice as likely to be female than male, and the Children's Society found that young carers are 1.5 times as likely to be from black and minority ethnic communities.
The pressure on me to provide care was fuelled by societal expectation, rather than external pressures from my family. But I know I would not have felt these pressures to the same extent should I have been born a boy.
Support free-thinking journalism and attend Independent events
My brothers help look after our elderly relatives and certainly are caring people. My older brother is even training to become a social worker – a good example of a job where the gender imbalance in care is reflected by the lack of men in the role. But I have always felt that the expectation of care falls to me. The care they provide is an extra, altruistic, act as opposed to a responsibility.
It is important to tackle this gender bias by distributing caregiving amongst family and society. This starts with getting rid of the idea that women and girls have an innate special gift for caregiving, improving the ways in which young carers are identified, and helping young carers find time to themselves to study and relax. My grandmother could afford for some paid carers to come to her home, which ultimately eased the burden on me and allayed my anxiety. For others, financial support should be provided through care allowances and help with finding jobs which can fit around caring responsibilities.
Losing my mum at a young age has changed how I view the social narrative surrounding caregiving. It has taught me that young girls are expected to have more emotional capacity to give care than adult men. So, given the current expectations of care in society, I now realise that although this inherited care burden was inevitable, mine was just premature.
Join our new commenting forum
Join thought-provoking conversations, follow other Independent readers and see their replies