Morrissey's first novel has been released by Penguin. It's called List of the Lost and is about a 1970's relay team who accidentally murder someone - who happens to be a demon - and are thereafter cursed.
Speed readers have taken to finishing the book already, only 11 hours after it hit book stores, and the very first review is in. It is, without a doubt, one of the most damning book reviews to ever be printed by a national paper.
"Do not read this book; do not sully yourself with it, no matter how temptingly brief it seems," says Michael Hann of The Guardian.
"All those who shepherded it to print should hang their heads in shame, for it's hard to imagine anything this bad has been put between covers by anyone other than a vanity publisher. It is an unpolished turd of a book, the stale excrement of Morrissey's imagination."
Morrissey's most controversial quotes
Morrissey's most controversial quotes
1/22 On dance music:

"It's the refuge for the mentally deficient. It's made by dull people for dull people."

Getty Images

2/22 On Beyonce:

"The rhino is now more or less extinct, and it's not because of global warming or shrinking habitats. It's because of Beyoncé's handbags"

Buda Mendes/Getty Images

3/22 On royal family:

"The arrogance of the British royals is staggering, absolutely staggering"

Getty

4/22 On Prince Charles:

"I wish that Prince Charles had been shot. I think it would have made the world a more interesting place."

5/22 On creativity:

On being creative: "I'd rather produce art than become art."

Getty Images

6/22 On Bob Geldof:

"Bob Geldof is a nauseating character. Band Aid was the most self-righteous platform ever in the history of popular music."

Getty

7/22 On hairstyle:

"Long hair is an unpardonable offense which should be punishable by death."

©Credit Kevin Cummins

8/22 On growing old:

"Age shouldn't affect you. You're either marvellous or you're boring, regardless of your age."

Getty Images

9/22 On being alcoholic:

"Life would be so colourful if only I had a drink problem."

GETTY IMAGES

10/22 On being sexy:

"I think I must be, absolutely, a total sex object. In every sense of the word."

EPA

11/22 On music industry:

"I lost myself to music at a very early age, and I remained there."

All images ©Paul Spencer. All rights reserved. Reproduction of images in any format subject to copyright law and strictly prohibited.

12/22 On grooming:

"I do maintain that if your hair is wrong, your entire life is wrong."

Rex Features

13/22 On Elton John:

"He is pushing his face in all the time and telling us about his private life. Nobody's interested. He should just go away."

AFP/Getty Images

14/22 On charisma:

"I'm not very good at being dull."

Getty Images

15/22 On musicians:

"Artists aren't really people. I'm actually 40 per cent papier mache."

Getty Images

16/22 On love:

On romance: "I do think it's possible to go through life and never fall in love, or find someone who loves you."

Getty

17/22 On animal cruelty

"You can't help but feel that the Chinese people are a subspecies."

Getty Images

18/22 On failed assassination attempt on Prime Minister Margaret Thatcher:

"The sorrow of the IRA Brighton bombing is that Thatcher escaped unscathed."

Getty Images

19/22 On music addiction:

"Music is like a drug, but there are no rehabilitation centres."

Associated Press

20/22 On vanity:

On vanity: "Well, I am an extremely beautiful person."

Rex Features

21/22 On death:

"I have an unswayable obsession with death. If there was a magical pill that one could take that would retire you from the world, I would take it."

Reuters

22/22 On his legacy:

"When they bury me in a church and chuck earth on my grave, I'd like the words 'Well, at least he tried' engraved on my tombstone."

All images ©Paul Spencer. All rights reserved. Reproduction of images in any format subject to copyright law and strictly prohibited.
Ouch. Here's the synopsis of the story, from the singer himself:
"The theme is demonology … the left-handed path of black magic. It is about a sports relay team in 1970s America who accidentally kill a wretch who, in esoteric language, might be known as a Fetch … a discarnate entity in physical form. He appears, though, as an omen of the immediate deaths of each member of the relay team.
"He is a life force of a devil incarnate, yet in his astral shell he is one phase removed from life. The wretch begins a banishing ritual of the four main characters, and therefore his own death at the beginning of the book is illusory."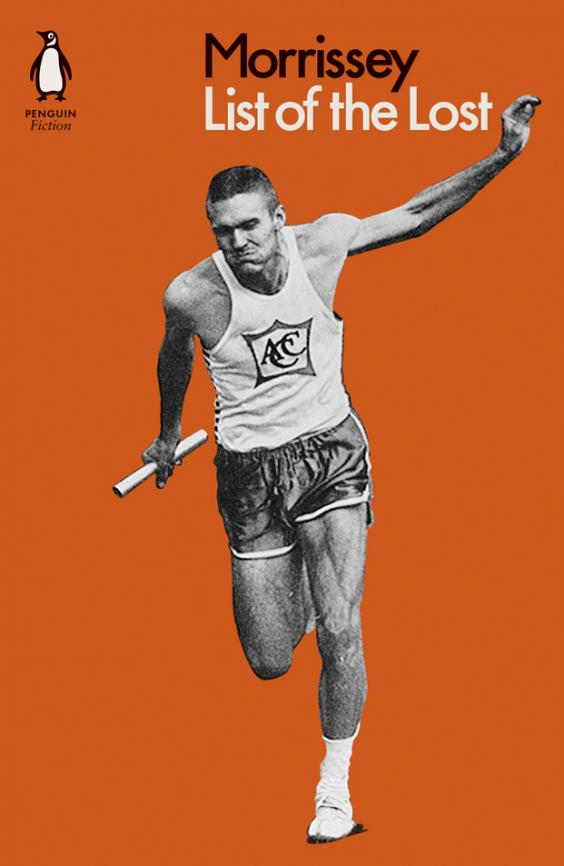 If you're a little confused let me help you out. It seems List of the Lost focuses on a 1970's relay running team who accidentally kill someone. That wretch, who may be known as Fetch, is actually a demon, who goes on to curse the team.
Have you read the book? What do you think of Moz's foray into fiction?
Reuse content