Charlie Parker's Yardbird, Hackney Empire, London, review: Lawrence Brownlee holds everything together with magnificent authority
Daniel Schnyder's jazz-infused classical opera about saxophonist Charlie Parker is a bold experiment
3
Click to follow
The Independent Culture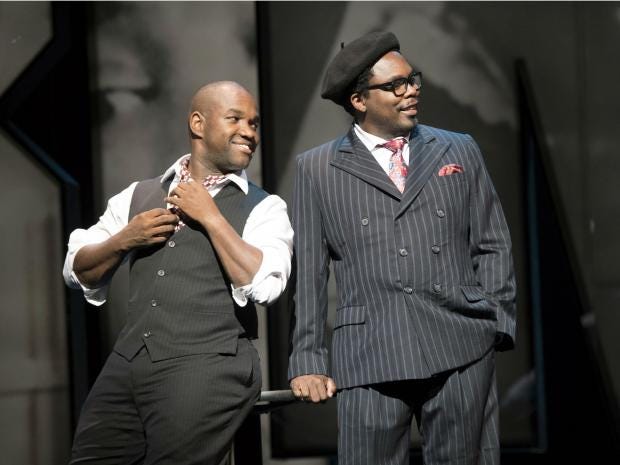 The shadow cast by Charlie Parker, who died 67 years ago, grows ever longer. Young saxophonists still strive to reproduce his classic solos with fidelity to every small inflexion; the bebop he created with Dizzy Gillespie lurks powerfully behind the jazz played today. His art was mercurial, mysterious, and amazing; his life was a short chronicle of self-destruction, with the heroin a necessary concomitant to the creativity.  
The show imported by English National Opera and the Hackney Empire from Opera Philadelphia and Apollo Theater Harlem is a rumination more on the life than the art. Consisting of a series of flashbacks from the day Bird died, with him encountering his mother, sundry girlfriends, Dizzy, and a drug-dealer, this is neither a jazz opera nor a musical. But its composer Daniel Schnyder's insistence that it's a "through-composed classical opera" does less than justice to its prevailing jazz colouring: musically we're sometimes in the world of Bernstein and Sondheim, and we are emphatically in New York. 
The supporting cast are all first-rate. And although Lawrence Brownlee – the Rossini tenor who was the work's inspiration – doesn't play his sax, his charismatic vocalism holds everything together with magnificent authority. Lasting 90 minutes without an interval, this bold experiment may be syrupy and moralising, but it's also dramatically vivid, and exudes a life-enhancing warmth. 
Reuse content
Comments