Daniil Trifonov, Barbican, London, review: One of the most gruelling pianistic programmes I've heard in a long time
The Russian superstar pianist, who was spotted buying some honey for energy in Tesco, just before his concert, didn't disappoint, even when it got to the encore
4
Click to follow
The Independent Culture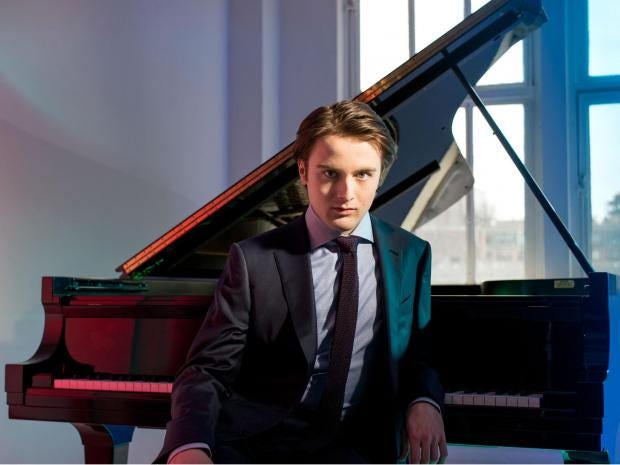 As I nipped into Tesco's, Daniil Trifonov's recital was due to start down the road in 20 minutes. The queue at the till was moving so slowly that everyone was getting restive – apart from a young man in bomber jacket and jeans just in front of me. He half-turned: Daniil Trifonov! What was he buying? "Honey, for energy." Shouldn't he be togged-up and poised ready backstage for action? "It's OK, I'm fine." He talked about the tour he was finishing, and strolled off cool as a cucumber. 
He was just four minutes late when, immaculate in tails, he strode onstage to launch into one of the most gruelling pianistic programmes I've heard in a long time. First he gave a delicately poetic account of Schumann's Kinderszenen, before tearing full-pelt through the same composer's exuberant "Toccata in C major". Then it was down to serious business with Schumann's Kreisleriana. He'd looked deeply into this multi-faceted masterpiece, and came up with ideas and effects which I had never heard before. Some were disputable, but all were interesting. His second half began with five pieces from Shostakovich's Preludes and Fugues – again deeply pondered – before exhibiting the requisite showmanship in his Stravinsky finale, Petrushka. 
This amazing young Russian has hitherto made a point of destroying his own magic with ill-chosen encores, but not this time: we got two rarely-performed Medtner pieces. But his magic was more effectively ruined than usual: we emerged into the foyer to be ear-blasted by some grotesquely over-amplified rap. An essential part of any concert experience consists of the echoes it leaves in the mind, and this repellent aural shock comprehensively trashed all possible echoes: I've never seen an entire audience so keen to get the hell out. Who sanctioned this? Do the classical-music and social-engineering departments of the Barbican not talk to each other?
Reuse content
Comments