Patricia Kopatchinskaja, Wigmore Hall, London, review: You come away rather amazed by what you have heard
The Moldovan-Austrian violinist is Wigmore Hall's artist in residence this season and performed with Australian keyboardist Anthony Romaniuk
4
Click to follow
The Independent Culture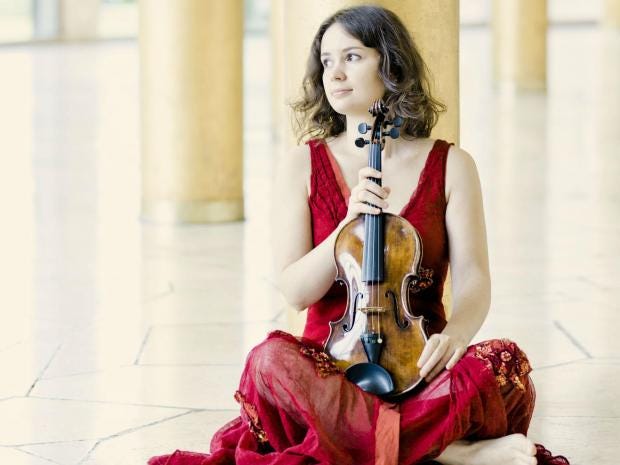 Patricia Kopatchinskaja, hailed by Strings magazine in 2013 as the world's most exciting violinist, is currently artist in residence at the Wigmore Hall. In a programme spanning four centuries presented with Australian keyboardist Anthony Romaniuk, she didn't so much invite you to listen anew, as stipulate you listen strictly on her terms, then come away rather amazed by what you have heard.
Disorientation began early, as Romaniuk, improvised on an unlit stage before opening with Fantasie in F Sharp Minor by CPE Bach, with Kopatchinskaja on the floor to one side before she joined him on stage. There followed pieces by George Crumb, Ligeti, Kurtág, replete with all the high-wire artistry, plucking, banging, tremolo, snap pizzicato – the whole panoply of techniques to extract the maximum from the instrument. Biber's Sonata Representativa for Solo Violin and Continuo with its humorous depictions of a nightingale, frogs, and cuckoo, seemed all of a piece, though more visceral and given more wellie than usual.
The scherzo from Beethoven's Spring Sonata was deconstructed before our ears by American composer Vanessa Lann, and the show came to a close with Bach's famous Chaconne from Partita No 2, with improvised accompaniment. This usually solo piece was altered by its harpsichord halo, as Kopatchinskaja's performance changed how you heard it. It's the notion of utterance that fires her: she plays with all the passion of a protest song and the absolute directness of a folk singer.
Reuse content
Comments