Semele, Royal Welsh College of Music and Drama, Cardiff, review: A cautionary tale for the social media age
Handel's 'Semele' is placed in contemporary times, complete with mobile phone selfies and strobe lighting, in a co-production between Mid Wales Opera and Royal Welsh College of Music and Drama
4
Click to follow
The Independent Culture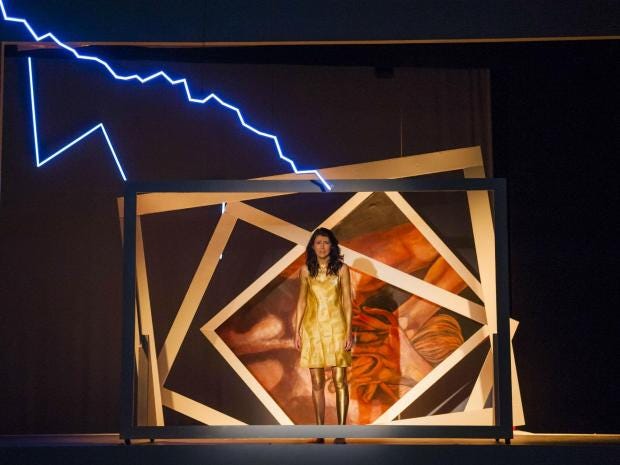 For the ancient gods as for modern humans, vanity, jealousy and sexual impropriety were par for the course - and were hardly unknown in 1744, when Handel's bawdy opera-oratorio, Semele, offended religious sensibilities. Director Martin Constantine brings the supposedly archaic into sharp contemporary focus for a resurgent Mid Wales Opera; combining baroque specialist players the Academy of Ancient Music with young professional singers and students from the Royal Welsh College of Music and Drama in an invigorating - sometimes quirkily comic - cautionary tale for the social media age.
Neon zigzags frame a (post-truth?) world in which visual artworks blur with kitsch; Arcadia is a rave, and Juno and Jupiter cult leaders. Semele pursues the god with naked lust, but her real fetish is narcissism; the craving for immortality revealed as addiction to self - and selfie - when strobe lightning becomes the flash of cameras, and crowds gape voyeuristically at phones and laptops.
If short on experience and vocal authority, the cast exuded freshness and spirited commitment. Helen Stanley's badass-Goth Juno stood out, with Jupiter (Tom Smith) and Semele (Ellen Williams) suitably self-absorbed lovers. There were untidy moments from the band, but Nicholas Cleobury conducted with admirable pace and panache.
Comments