In an empty corner of The Ivy Club in London, the comedian Reginald D Hunter yawns expansively, and passes a hand over his face, losing his fingertips in the scratchy unkempt grey mass of his beard. He is tired and weary, and for a few minutes now, as he recounts just how tired and weary he is, the man looks far older than his 44 years.
"It's tour fatigue," he says. He's currently halfway through his latest, In the Midst of Crackers, which has just been released on DVD. Yeovil was last night; Canterbury looms. "It's a known phenomenon. You start losing things. You're always late. You get this blank look." He demonstrates the blank look, with some conviction.
But there is another reason for the fatigue. Hunter, so warm and cuddly on Have I Got News For You, has become this past year what surely all comedians (save perhaps for Michael McIntyre) crave to be: controversial, headline-grabbingly so. The current tour is prompting an awful lot of online traffic, some of it scathing.
"These last few weeks I've experienced a whole new tension at the shows because of all the social-media fun and games I'm having," he says. Rarely does a man speak the word "fun" and make it sound quite so bitter.
At a show in Aberystwyth at the end of October, a woman called Jo Cooper, a woodlands project manager, walked out in apparent disgust, largely over his reliance upon the word "bitch", and later vented that disgust on Facebook. She cited the "misogyny and violence" of his set, which was, in her summation, "a rambling, offensive, arrogant mess." Hunter swiftly responded in kind. Referring to her as "Ms Chastity Fearbucket" and himself as "Dr Heathcunt Bitchspank III Esq", he wrote, "I am pleased that my performance hurt you last night. You, and the rest of the bitches of your ilk… the ones who never want to solve issues, just have them, the ones who destructively presume to speak for all of femininity but only do for a few… tell them that I am coming to intellectually and emotionally mutilate their collective, dumb, divisive asses, too."
The touchpaper duly lit, each successive show now crackles with anticipatory atmosphere. People are no longer attending his shows merely to laugh, he suggests, but to appraise and judge – and, the moment they take issue, to post angrily about it.
"What amazes me is that no matter how clear you try to make something, people will still misinterpret," he says. Being referred to as a misogynist, he believes, is "rude, a huge charge, tantamount to calling a white person racist. It disturbs me how liberally folk dangle that word around." Furthermore, he adds, "it bugs me that people who feel offended then have the right to be offensive themselves."
But, I ask him, does he believe they may have a point? Is he ever guilty of offending people? "Guilty of offending people? The very question presupposes that offending someone somehow makes you guilty. See, I'm sure most of the people I'm offending were offended long before they got to my show. I'm just the latest platform for them to use."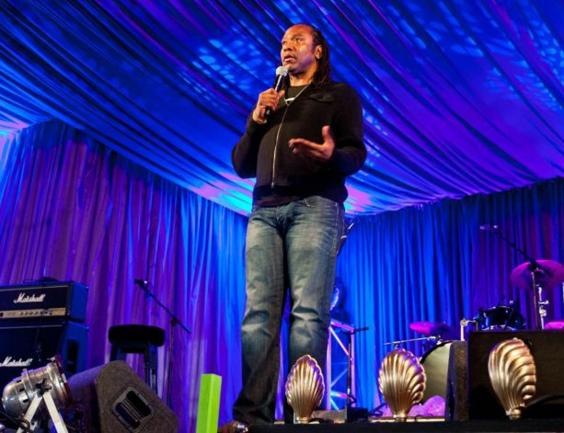 He tells me about a recent show in Croydon, where, close to the front, six "such women" were present. "They were sat there, arms folded, frowning. I don't know if they bought a ticket, or sucked cock… who knows. But they got in. They got in. I guess that since the whole social media furore, people are now coming to see if I really am extra crude, or if I have lost my mind, or whatever…"
He recounts that show to me now in detail, so much so you wonder whether he spent its entirety eyeballing them with a mixture of fear and suspicion. "Two of them may have cracked a smile by the end, but three of them, not even that," he says. And the sixth? "The sixth walked out."
This isn't, of course, the first time Hunter has found himself in hot water this year. In April, the man who once toured a show called Pride and Prejudice… and Niggas was invited to perform at the Professional Football Association Player of the Year Awards, in front of the premiership's multi-cultural elite. During his set, he liberally used the 'N' word, much as he always does, and the show, he relays now, went well. People laughed, applauded, posed alongside him for photographs. It was only the morning after, with the morning papers, that he realised his set had actually been a disaster, and that the PFA regretted booking him in the first place.
"I'm still learning why it was quite so controversial," he says, shrugging what is clearly an habitual shrug. "Seems to me I tapped into a pre-existing anger happening with football, and football fans, in this country. I only get full appreciation of it when I talk to people like you – and I'm not being facetious, incidentally. But as far as the people who populate my world are concerned, it was just another gig."
It's difficult to know how to buy this. Whether Hunter – who, in the flesh, is utterly charming, the archetypal, if not stereotypical, Southern gent – is merely playing faux naive here, while shrewdly realising – much as fellow comic Frankie Boyle (whom Hunter describes as, "a decorated admiral in our fleet") does – that it never hurts to be talked about. To be, in inverted commas, "dangerous".
"I'll be honest with you," he says. "I've always preferred absurdist humour to humour revolving around race or gender. But that's what I'm saddled with because nobody else will talk about it. You want the truth, I'd much rather be talking about anal sex and farting."
Hunter was born and raised in Georgia, one of five children. Being American, his childhood dreams were preposterous ones. "I wanted to become president, Superman, the next James Bond." He was 20 before he realised he needed more achievable ambitions, and so trained to become an actor. But an acting internship in Jackson, Mississippi, left his confidence destroyed. "They kicked my ass," he says. "But an actress, a white woman, did say I had a raw gift, and that I should go study in the best place in the world."
Three years later, in 1997, he showed up at RADA in London, where one has to presume his confidence took a further knock, because he soon ditched acting altogether in favour of comedy. With good reason: he was funny. His shtick, which he debuted at a club in Birmingham at which Frank Skinner was compere, was essentially an American in England, far from home and perpetually confused at our endless idiosyncrasies. He then returned to London, and has been fine-tuning it ever since; he has been nominated for a Perrier Award three times. These days, he is a familiar face on TV comedy panel shows like QI, 8 Out Of 10 Cats, and Have I Got News For You. In the latter show, particularly, the matter of race is routinely, almost mandatorily, brought up. "If I ever talk to any white people in this country, and eventually they are going to initiate a conversation on the subject of race," he says. Really? Surely his colour is not that much of a curiosity? "Well, you're talking to me about it now, aren't you?"
He is not, he points out, complaining. It's become his "thing", just as Peter Kay might talk about garlic bread, and Michael McIntyre the perils of being a contented father and husband. It's made him who he is, and comedy, he says, is his abiding obsession in life, with all the negative connotations associated.
"I ask myself lately, when I look at my personal life..." Hunter, not too far off 50, has no children, is currently single, and the three times he mentions ex-girlfriends to me he does so longingly. "And I wonder whether I've paid too high a price. I've given a lot to this job, and I've made a lot of people who have tried to become attached to me learn to be patient. Which is difficult. I sometimes wonder if all this, what I do, is really worth it." And his conclusion? He sighs. "Well, you have to remind yourself that, before coming to any firm conclusions, you first need to remember that, right now, you are tired, you are coming down from whatever last night's drinks were, you've got tour fatigue, you are lonely and horny. So accept that your mind might be compromised." In other words, he'd rather not dwell on it for fear of arriving at an answer?
"Oh, you know, battling these demon chicks on the internet hasn't helped," he says. "I work in a business where people are always trying to work out if you are a nice guy, or whether you are simply up your own ass." As if to underline the fact that he is the former, he apologises for sounding so grumpy, and quite so defeated.
"By the time of my next tour, my nuts will be swinging again," he promises, forcing up a smile. "But right now? Right now, I'm just tired."
Reginald D Hunter's 'In the Midst of Crackers' is out now on DVD; he tours until 30 November (www.reginalddhunter.com)
Reuse content